If you're thought process is to make you bathroom radiate class, then a vintage vanity would be right up your alley.  Antique or traditional vanities, for the most part, have a few main characteristics between all of them that you may want to pay attention to if you are considering an entire bathroom remodel.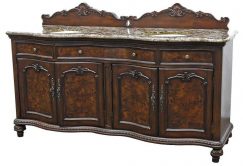 The first characteristic that these vanities have in common is that they often have ornate detailing in the woodwork. The edges are rounded and may or may not feature unique scrollwork to further customize their look. This differs from modern pieces as modern furniutre features sharp edges and smooth lines. So, with this in mind, when accessorizing around your antique bathroom vanity, you'll want to steer clear of mirrors and other items that are simple in design, opting more for the fancier finishes and pieces.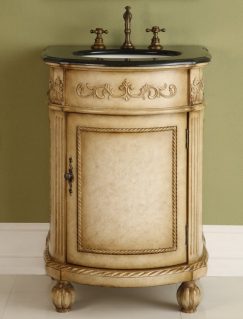 The second characteristic that many of these pieces have in common is that they often appear as pieces of furniture. The edges of some of these vanities will go all the way to the floor, while still others will feature legs like you would see on traditional tables. You can expect that most antique bathroom vanities will look just as the name would suggest: as antiques. Some look like restored dressers, tables, or bureaus.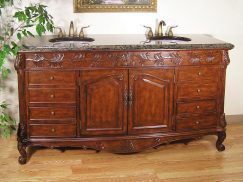 The third and final characteristic that you will see in most antique bathroom vanities is that their finishes may be distressed or worn looking. In keeping with looking aged, many manufacturers are distressing the finish on these vanities to appear faded or even chipped.
Looking for more options of bathroom vanities antique or otherwise? Visit us online or call one of our gals at 866-526-1843! We'd love to help you find the perfect vanity for your bathroom remodel!
Contributed by: Hillary Hansen