9 Bathroom Vanity Styles That Will Inspire You
Posted on

September 21, 2019

by

The Hoth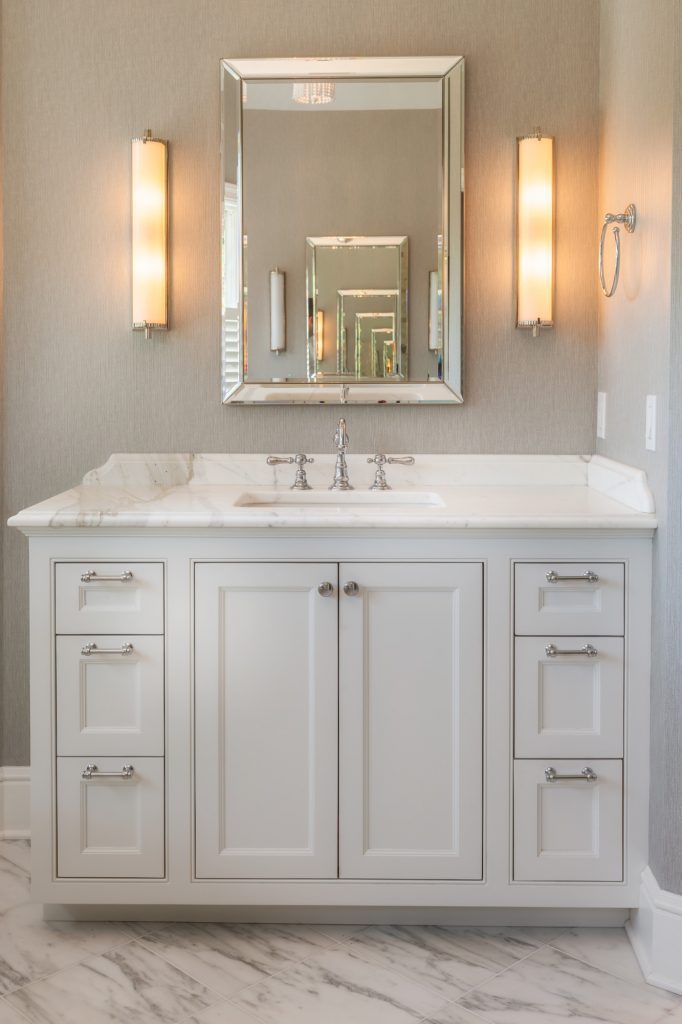 Did you know that bathrooms as we know them today, and the vanities that represent their centerpieces, really didn't exist a little over a hundred years ago?
The first bathroom vanities were little more than washstands with a pitcher of water and bowl to wash your face and hands in the morning. In fact, separate bathrooms didn't even exist until the Victorian age.
Of course, with the advent of indoor plumbing, the bathroom evolved by leaps and bounds. While bathroom technology has changed drastically over the past century, bathroom washstands remain a durable fixture with plenty of possibilities.
Let's take a look at nine bathroom vanity styles sure to inspire your next bathroom remodel.
1. Traditional Vanities
Traditional bathroom vanity base units bring convenience, comfort, and sophistication to any bathroom setting.
Exuding the luxury of old-world European comfort, they are considered to be "furniture-style" vanities. In other words, they come with elegant hardware, ornate designs, and intricate molding.
Although you'll find them in a variety of colors, most traditional vanities come in neutral or wood colors. They sometimes include a mirror as a focal point and often incorporate intricate metal or gilded wood features.
2. Modern Vanities
From a style perspective, modern vanities are the polar opposites of traditional vanities. Instead of gilded accents, metal hardware, and carved woods, modern designs celebrate minimalism.
Characteristics associated with the modern style include bold colors, unadorned decor, and simple lines. You also have many choices when it comes to tall bathroom vanities.
Modern vanities are often constructed from different materials than traditional vanities. They come in plastic, molded plywood, teak, leather, and polished metals.
With the modern vanity category, you'll also find Mid-Century Modern vanities. You'll recognize them by their geometric shapes, blocky hardware (without embellishments) and thin or tapered legs.
3. Transitional Vanities
This year, transitional vanities rose to prominence, and this trend shows no signs of slowing. But what are transitional vanities, and are they right for your home?
A transitional vanity represents the middle ground between a traditional vanity and a modern vanity. The elaborate carvings, hardware, and flourishes of traditional vanities are more subdued when it comes to transitional pieces.
Yet, they avoid being so subdued that they become boring. This is where the modern style lends transitional vanities excitement through bold color contrasts, modern proportions, and brushed metal hardware.
4. Rustic Vanities
Unlike traditional, modern, and transitional vanities, rustic vanities channel the freewheeling spirit of the frontier. To achieve a woodsy, primitive look, they rely on gorgeous wood, such as that from up-cycled old barns, in their construction.
These pieces look amazing in a log cabin-style home or one with outdoorsy decor. While they often contain elements similar to traditional vanities, they prove far more primitive in their overall construction and design.
5. Farmhouse Vanities
You'll find a certain amount of overlap between rustic and farmhouse vanities. But while rustic vanities place a major emphasis on the look of the wood, farmhouse vanities are often painted a pale color and exude a Shaker-like ambiance.
Part of their country feel comes from their sturdy, durable hardware, and they should look simple, old-fashioned, and functional all at once.
6. Industrial Vanities
Much as their name suggests, industrial vanities incorporate materials from the industrial world. These include concrete, galvanized pipes, reclaimed wood, metal, and more.
The result? An effortlessly contemporary look with plenty of appeal.
Concrete proves one of the most popular industrial materials out there. That means purchasing a custom concrete sink doesn't have to break your bank.
What's more, it's a durable material that can be combined with a variety of other materials including wood and metal. The industrial look is also exemplified by open metal towel hangers and shelving.
7. Coastal Vanities
Coastal vanities come in a variety of styles. They are sometimes grouped with farmhouse vanities but have a unique look that's well-suited to small houses and beach homes.
Nothing says "salt life" quite like a shutter beach style vanity in white. But for a more traditional look, the shutter style also works beautifully in shades of brown, wood color, and gray.
Besides shutters and colors, coastal vanities boast clean, simple lines and understated hardware.
8. Glam Vanities
For Old Hollywood charm, look no further than glam vanities. They're all about mirrors and lights, which will turn your makeup application routine into a veritable spectacle with you in the spotlight.
Many of these vanities are plated with mirrors from their countertops down to the floor. That said, some exude a more traditional vibe with wood construction painted in pale pastels.
But all provide plenty of lighting for applying makeup and handling other parts of your beauty routine.
9. French Country Vanities
French country vanities evoke another era. One of farm-fresh goods and long evenings spent drinking wine and feasting. Similar to farmhouse vanities in some aspects, they prove a bit more elegant and refined.
The style is dominated by sophisticated yet organic textures from traditional fabric accents and wood to pastel colors and small flower patterns.
Which Style Is Right for You?
As you can see from the list of nine styles above, you've got plenty of options when it comes to fancy bathroom vanities.
Still not sure which type of vanity's right for you? Contact us today to discuss your bathroom remodel and how we can help you find the vanity of your dreams.
Whether you opt for a vanity that's traditional or modern, French country style or glam, we can help you create the perfect mood in your bathroom.
Transitional vanity styles are also enjoying a moment right now as are Mid-Century Modern pieces. Of course, if you live in the mountains, near a beach, or in a rural area, you've also got corresponding options — rustic, coastal, and farmhouse style.
We can help you wade through all of these options to find the perfect unit for your bathroom.
The Right Bathroom Vanity Styles for Your Home
No matter what your style, one thing's for sure. Few elements of your bathroom have a bigger impact on its overall look than bathroom vanity styles. So, don't settle for ordinary when you can have extraordinary.
Ready to start shopping for the perfect piece for your home? Browse our wide selection of stylish, functional, unique pieces now.