Powder Room Decorating Ideas
A well designed powder room will reflect your personal style and make guests feel welcome. Because of their size, changing a few small things can improve the entire space. This means you don't have to spend a lot to achieve great results. The pieces with the most impact on the design are: the mirror, wall finish (paint, wallpaper or tile) and vanity/sink. If you have a small budget and just want to refresh the space, swapping out accessories is great way to do that. Here are some affordable ideas for making your powder room unique.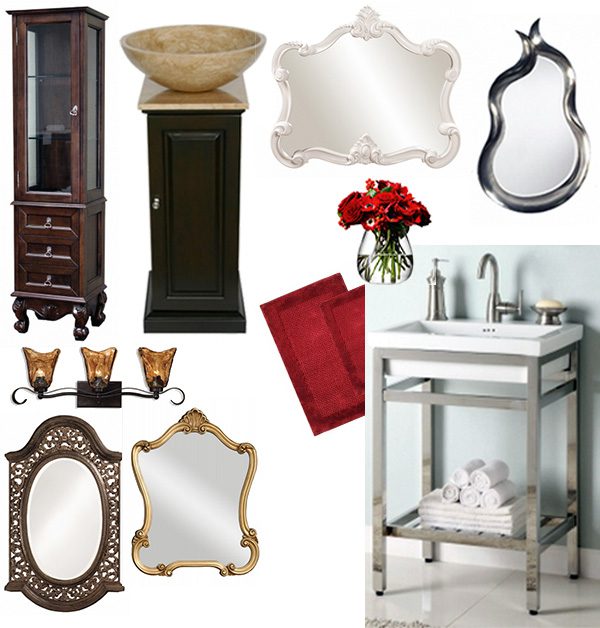 Powder Room Vanity Cabinets: The vanity is usually where the eye will be drawn in a powder room, so money spent here will go a long way in establishing the style and atmosphere. You can choose to go contemporary: straight lines and minimal details, or traditional: intricate carvings and curvy lines. You could also pick a statement vanity and use it as inspiration for other elements of the design.
Vessel Sinks: A cool vessel sink can be unforgettable. Stone vessel sinks are literally one of a kind, whereas glass vessel sinks have less visual weight, so they help give the appearance of a larger space.
Paint: Don't be afraid to try bold colors. Small square footage means less room to mess up, so try colors you've avoided in the past.
Backsplash: A mosaic or glass tile backsplash can add a pop of color or provide a neutral base for ever-changing decorations. Think about how often you like to switch things up in a room. If it is frequent,  stay neutral so you're not tied down when picking new accessories. Go for a colorful tile if you tend to stick to one theme or color family in the powder room. To add character, take the backsplash all the way up.
Mirrors: For more impact with less commitment, try a decorative mirror. Colored frames or unusual shapes will set your powder room apart. Plus, they are even easier to swap than paint color!
Here are the links for the products shown in the first image above:
Traditional Linen Cabinet: Click Here
Vanity with Stone Vessel Sink: Click Here
Traditional Wall Sconce: Click Here
Modern Vanity: Click Here
Glossy White Mirror: Click Here
Content provided by: Julia Ritzenthaler