Your Guide to ADA Bathroom Requirements – Creating Handicap Accessible Facilities
Handicap accessible bathrooms must comply with a wide range of rules and regulations set forth by the ADA and the Department of Justice. The Americans with Disabilities Act (ADA) requires that business and homeowners take specific steps when creating bathrooms to comply with state and federal law. Understanding those requirements ahead of time is vital, and you'll find they're quite comprehensive, covering virtually every conceivable area of bathroom design and construction.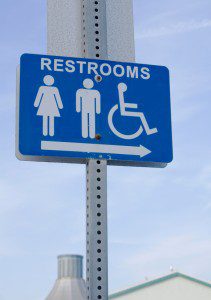 Compliance by Year
The ADA guidelines originally went into effect in 1992, and were heavily amended through 2005. The last major alterations to ADA requirements were set forth in 2010 (but that doesn't mean codes won't change in the future). Title III of the ADA deals specifically with bathroom requirements.
It's important for all business and homeowners to understand that many states have enacted further legislation designed to improve on the requirements set forth by the federal government (California, for instance). For facilities in those states, compliance with state law is vital, and trumps federal law, so long as the state regulations are more intensive than the federal requirements.
Floor Space Requirements
One of the biggest challenges for wheelchair users is simply getting into and around in the bathroom. To combat this, the ADA requires that a minimum of a 60-inch diameter be used for floor space in the bathroom as a whole to ensure wheelchair users are able to complete a 180-degree turn. In stalls, there must be a minimum of 30 x 48 inches of space for the wheelchair users to approach the equipment (either a forward or lateral approach by the user). The ADA does state that some of that space can be located under fixtures, so long as there's enough room for the user to move their legs under the equipment.
Toilet Fixture Requirements
For handicap accessible restrooms, at least one handicap toilet is required. That toilet must comply with government-mandated size and installation requirements. Any handicap-accessible toilet must be a minimum of 60 inches in width, and there must be enough space for the wheelchair either in front of or beside the toilet. Each toilet must have horizontal grab bars installed both behind the toilet and on the nearest wall or upright partition. Handicap-accessible toilets must have seats a minimum of 17 inches from the floor, with a maximum of 19 inches. The flush lever must be mounted on the side of the toilet with the most free space, with a maximum height of 44 inches above the floor.
A Note on Grab Bars
All grab bars must be fully anchored with a "smooth surface that can be easily grasped". Towel bars are not acceptable replacements. For ADA-compliant grab bars, the tube must be a minimum of 1.25 inches in diameter, with a maximum of 1.50 inches. It must be no more than 36 inches from the floor, with a minimum of 33 inches. Between the tube of the grab bar and the wall surface, there must be a minimum of 1.50 inches of clearance for the user's fingers to wrap around the tube for grip.
Counters and Sinks
In order to ensure that wheelchair users are able to access counters and sinks, the ADA requires that these are mounted with specific requirements. Sinks and counters can have no more than a 34-inch maximum height above the floor. Sinks within counters must be no more than two inches from the front edge of the counter to ensure wheelchair users can reach the controls. If an apron is installed under the sink/counter, there must be a minimum of 29 inches of clearance present, and the installation must extend at least 17 inches from the back wall (for sink installations only – counter-mounted sinks must accommodate a maximum of two inches of space beyond the edge of the sink).
Hand Dryers and Towel Dispensers
The current ADA requirements mandate that bathrooms be equipped with either a touch-free hand dryer or a model that's motion activated. If an old-style push button activated hand dryer is present, it must be removed. Hand dryers must not extend from the wall more than four inches, and should be located with a minimum of 30 inches of clear space to the finished floor underneath. For paper towel dispensers, the ADA requirements are that they be installed at least 15 inches above the floor, with a maximum of 48 inches.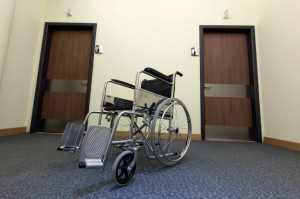 Check State Guidelines
As mentioned, many states have enacted specific legislation that supersedes the requirements of the federal government. California has some of the strictest requirements, but several other states have similar legislation, either already in effect or in the works. Check with your state's guidelines before construction or modification of a bathroom to ensure you are complying with all applicable ADA requirements.
Content Provided By: Julia Ritzenthaler