With the holidays fast approaching, you are already thinking about all of the different ways you can decorate your home. Perhaps you've already started. You have decked the halls, the living room, and maybe even some of the bedrooms. The tree is up, the lights are on the house, and you feel that you are ready to go. However, you might be forgetting something. Consider adding some holiday cheer to your bathrooms. Below are some simple tips and ideas that will make it fun and easy.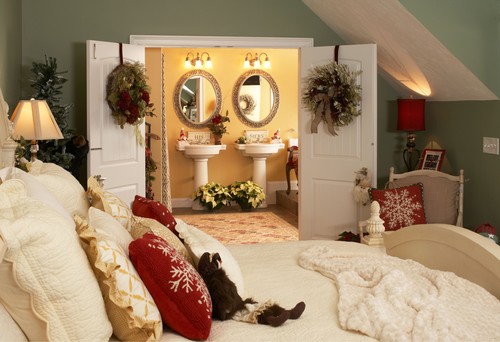 Remember: Color Is Often More Important than Theme
One of the other things you want to keep in mind is that the colors you use will typically be more important—and better looking—than just using a theme. Rather than decorating everything like Santa's Workshop in your bathroom, just figure out some of the best colors that will help to evoke the Christmas spirit. Typically, this will be red, green, silver, and gold.
Of course, these colors might not fit in well with the paint, finishes, and faucets you have in your bathroom. If that's the case, don't feel limited by the standard Christmas decor color palette. Think about wintery colors for the season and see if they will match better with the rest of the bathroom decoration.
Just because color tends to be the most important element, it doesn't mean that you have to entirely give up on the theme of Christmas in the bathroom. Just make sure it's tasteful and that it fits in well with your aesthetic. Let's get a closer look at some of the ideas you can use.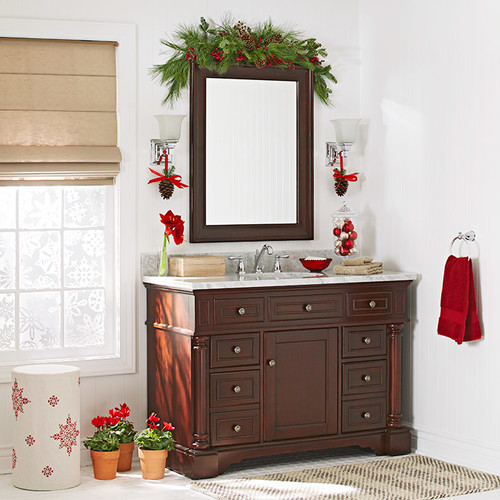 Towels
One of the simplest ways to add some holiday cheer to the bathroom is by switching out your towels for the season. You can find some towels in holiday colors, or those that have a holiday theme on them, such as a winter wonderland, mistletoe, reindeer, etc.
Something to keep in mind is that if these are towels that will be used, and they aren't just for decor, they should still be comfortable and work well. Don't sacrifice functionality for holiday fashion.
A Wreath for the Bathroom Door
Just as you might hang a wreath on your front door, you could also use wreaths inside of your home. The wreaths don't have to be ornate to be effective.
However, you will generally want to be sure that they are smaller than the large outdoor wreaths you have. Additionally, you should find options that are going to work with the other decor you have in your house since they will go on the outside of the bath door.
A New Shower Curtain
This is a quick and simple change you could make to the bathroom for the season. You can find a new shower curtain that you can put up for a month or so. You can simply choose a color that you feel works well, or you could get a curtain with some subtle—or not-so-subtle—nods to the holiday. You can find shower curtains with winter landscapes, stylized trees, curtains that look like wrapping paper, and more. How subdued or outrageous you go will be up to you.
Little Knickknacks
A few little trinkets placed here and there can do a good job as well. Some little figures of deer, Santa, etc. on the vanity, toilet or a shelf will help to set the mood nicely. However, there is often the temptation to go overboard here and add too much. You should try to reign it in somewhat, though. Simple is better in most cases.
Holiday Bathroom Accessories
Along the same lines, consider some of the bathroom accessories you have, such as your toothbrush holders, trash cans, towel rings, etc. Temporarily switch them out for some holiday options. This might include a toothbrush holder shaped like a stocking or a tree, or a towel holder in the shape of a wreath.
A Miniature Artificial Tree
If you want to go a little further, you can find battery-powered miniature trees that you can place in the bathroom on the vanity or a shelf. Make sure they are small enough that they don't make it difficult to get ready in the morning or before bed. You can find relatively plain little trees or those that come with all of the decorations you will need.
Flowers
What about some flowers? Depending on where you live, it might be difficult to find a wide variety of flowers. Fortunately, poinsettias are easy enough to find during Christmas, and they could look nice sitting on your vanity.
If you don't like poinsettias, or you simply want a different type of flower that's not in season, consider getting artificial ones. There are some good options available, and they have the benefit of being reusable next year and beyond.
Scented Candles
Here's another easy idea that can work well. Get some scented candles or scented oils that evoke the holidays. You could get some that smell like apple cider, trees, cinnamon, vanilla, and peppermint. Keep in mind that you usually don't want to mix the scents, choose just one. If you get bored with the scent, you can change it out for a different one in a week or two.
Soap
This is also a simple idea. Get some red or green bars of soap that you can put into the soap dish on your counter. Just this little splash of color can help to evoke the holiday mood. If you use liquid soap, consider getting a dispenser that is holiday-themed. You can find some that are shaped like snowmen, Santa, trees, etc.
What's Right for Your Bathroom?
There's no right or wrong answer when it comes to decorating your bathroom for the holidays. You have certain colors and decorations that you love and that could make a great addition to the bathroom for the Christmas season. Do what works well for you but remember to keep the size of your bathroom in mind. You won't want to overcrowd the bathroom vanity and floorspace. It still needs to be usable, after all.