When your bathroom needs a new vanity, there are a lot of choices out there. Of course, the size is important, but so are the design, finish, and the decision of whether to install a single or double vanity. Whether you have a small powder room or a huge master bathroom, a new vanity can breathe new life into the space more than anything else.
Bathroom vanities are the centerpiece of the room. Of course, you use it to show off your style, but it also needs to be functional to make getting ready each morning a breeze. If you're considering a 42 inch bathroom vanity, there are several options available to you. Continue reading to learn more about the choices you have.
Related: Decorating a Half Bath: Tips and Insight to Create the Perfect Aesthetic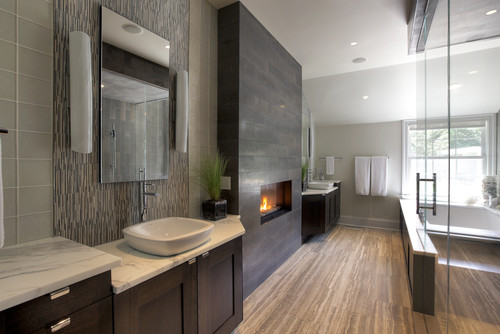 What Size of Bathroom Vanity is Right for Your Space?
The dimensions of your bathroom will determine what size vanity is right for you. First, you'll want to measure the width and height of the room in the space where you intend to place a vanity. Depth measurements are also crucial for maneuvering the new vanity into place.
The standard height for a vanity used to be around 30 to 32 inches, but that isn't true today. Many people appreciate vanities that accommodate people who are taller. However, if kids are using the vanity, a 32 inch model might be a good choice.
The width of a vanity will vary but usually falls into 24, 30, 36, 42, 48, 60, or 72 inches. For a standard bathroom, the most common width range is between 30 and 48 inches. However, if you intend to install a double vanity, you may wish to go wider.
The depth of bathroom vanities ranges from 17 to 24 inches, with the standard measurement clocking in at 21 inches. So if you have a small bathroom, a narrow depth would be something under 18 inches. These are shallow and increase room for opening drawers as well as space for foot traffic.
Related: Bathroom Vanity and Sink Buying Guide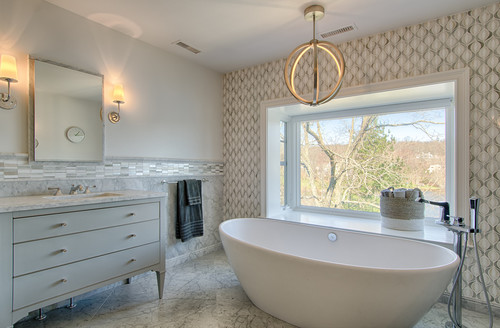 Which Styles and Finishes Are the Most Popular Today?
Wondering what styles and finishes are trending today? There are plenty of options, so you're sure to find something that fits your style. Check the list below for some standard options today, but don't be afraid to go against the grain if you prefer a different style.
White, gray, or black vanities
Under-mount sinks
Vanities with brushed metal hardware
Minimalistic style vanities
Open bottom vanities
Vanities with open shelving
Versions with vessel sinks
Floating vanities
Quartz or marble sinks
This will give you an idea of where to start when choosing a new vanity. But remember that what you like trumps what is popular. You should make sure your bathroom is a space you enjoy spending time in.
Related: How to Choose a Modern Vanity for Your Powder Room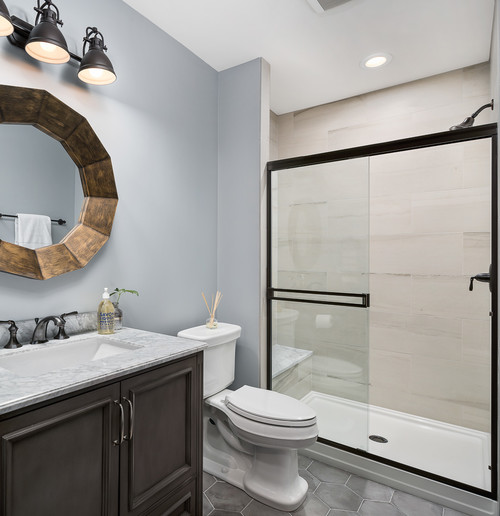 The Top Selling 42 Inch Vanities
Rather than leaving you to search dozens or hundreds of vanity options, we've pulled together a list of our favorite six. Browse each of them and picture them in your bathroom. You might find that one of them is the perfect solution for your new or soon-to-be remodeled bathroom.
Traditional Style Antique Brown Bath Vanity with Marble
This traditional vanity has a cream marble countertop and comes in antique brown. It has three doors and two drawers for plenty of storage space. The vanity measures 42 x 22 x 36 inches and includes antique brass hardware for a rustic or country feel. A 16 inch undermount sink made of white ceramic is included. All you need to do is add a faucet and backsplash!
Traditional Single Bathroom Vanity
Transitional Style Mango Wood Bath Vanity with Quartz
For a unique vanity, try this single sink version in light mango wood. It comes with white quartz with grey veining on top, or you can get it without a top and add your own. It measures 42 x 22 x 36 inches. For storage, it comes with two drawers with brushed nickel hardware. The sink is 17 x 13 inches, rectangular, ceramic, and made for under mounting. The wood is dense and does well with excess humidity.
Single Sink Bathroom Vanity in Light Mango Wood
Transitional Style White Bath Vanity with Marble
White is in, and this vanity takes advantage of that fact. It has a pristine white surface, a white marble countertop, and a white ceramic undermount sink. To complement all the white associated with this vanity, it comes with antique brass hardware. The vanity is 42 x 22.5 x 35.5 inches in size and has two doors and an interior shelf for all your health and beauty items.
Single Sink Bath Vanity in White
Transitional Style Espresso Bath Vanity with White Marble
On the other side of the spectrum is this single sink vanity in dark espresso. It has a dark brown sheen that looks black in some kinds of lighting. The vanity measures 42 x 22.5 x 35.5 inches and has a white marble countertop. It also includes an oval undermount sink, antique brass hardware, and two drawers with soft close hinges. It comes fully assembled and ready to place in your home bathroom.
Single Sink Bathroom Vanity in Dark Espresso
Modern Style Gray Oak Bath Vanity with Integrated Ceramic
Enjoy the perks of wood and a neutral color scheme with this gray oak modern bathroom vanity. It measures 42 x 18.13 x 33.75 inches and has a white ceramic countertop. In addition, it offers chrome hardware and comes with a white ceramic integrated sink with overflow. This is an ideal choice for those who have lots to store in the bathroom. It includes two doors, five drawers, and one interior shelf.
Gray Oak Modern Bathroom Vanity
Modern Style White Bath Vanity with Ceramic Vessel Sink
Our final choice of 42 inch vanities is another that comes with a white aesthetic. It's a stylish choice with a gorgeous white ceramic vessel sink on top. This vanity measures 42 x 18.13 x 35.63 inches and has a white ceramic countertop. This is a beautiful vanity that comes with two doors and five drawers to hold all your necessities.
Vessel Sink Bathroom Vanity in White
Selecting the Right 42 Inch Vanity for Your Needs
With a knowledge of the different sizes, finishes, and styles of vanities available, you're ready to choose one for your own bathroom. All you have to do is look at your options and consider what fits your space. There's a 42 inch vanity for everyone. All you need to do is decide which is your dream vanity!
Related: 5 Bathroom Makeover Ideas That Won't Break the Bank
Resources:
https://www.bellacor.com/bathroom-vanity-size.htm
https://www.hayneedle.com/tips-and-ideas/bathroom-vanity-buying-guide/
https://theflooringgirl.com/decorating/bathroom-vanity-trends/