When it comes to the half bath, many people don't know where to start with design. It's not as difficult as you think, and it starts by taking the time to use the resources you have to get some insight. In this article, we'll go over some of the best ways to decorate and design a half bath to help you better understand what to do with yours.
Whether you've already started planning or you are just beginning to look for ideas, you'll find everything that you need to know below. Let's talk about what a half bath is and how you can choose the best features.
Related: 5 Bathroom Makeover Ideas That Won't Break the Bank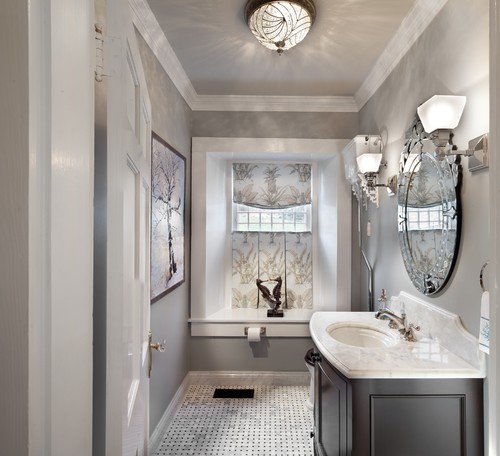 What is a half bath?
A half-bath is a bathroom with a toilet and a sink but no shower or bathtub. Essentially, it only serves part of the purpose of a "full bath", so it was dubbed "half". These spaces come in all shapes and sizes; just because it's a half bath doesn't imply a small space. It could be a larger space that just doesn't need a shower or tub.
A half bath is what you make it. If you are limited on space, there are some storage and style considerations to keep in mind, which we'll discuss below when we get into the details of choosing the right vanity and getting enough storage.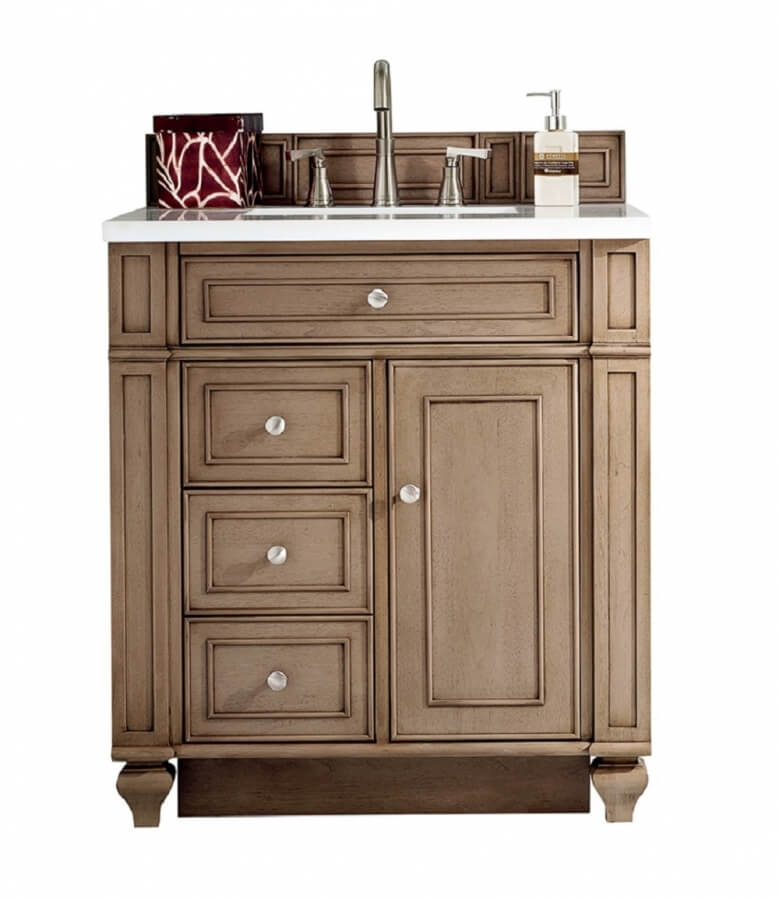 30 Inch Single Sink Bathroom Vanity in Whitewashed Walnut
Speaking of storage…
People usually wonder about having enough storage for everything when it comes to a half bath. Fortunately, modern bathroom trends and designs have created several different options. You can choose a single-sink vanity that has a spacious cabinet for storage. You could also choose to install shelving or over the toilet storage solutions.
There are a lot of storage options when you have a half bath. If you're limited in space and want to make the room appear bigger, try floating shelves instead of bulky cabinets. Consider a floating vanity, which will still give you storage with the illusion that it takes up less floor space. You can get creative, and you'll have no trouble finding design options to help you with that if you take the time to look around online today.
Related: Why Consider A Floating Bathroom Vanity?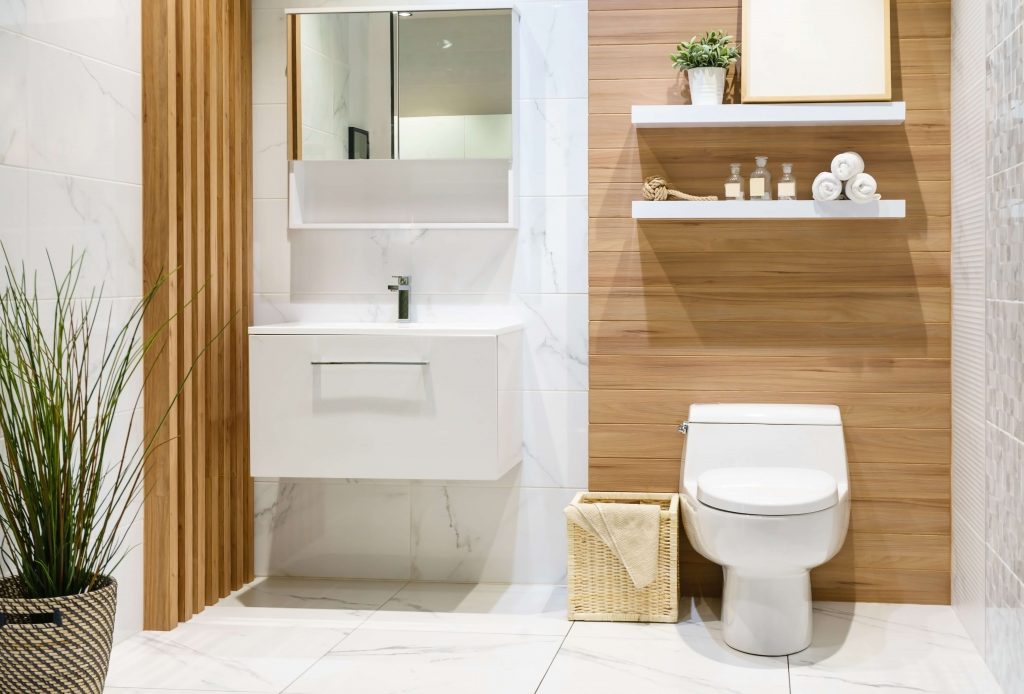 How to choose the right vanity for your half bath
Several factors are at play here, but we've covered most of them. You'll need something that fits the space's size and the storage you need if you're intending to use it for storage. If you've chosen to store things elsewhere, a pedestal or floating sink could be an option, as could a vanity cabinet with less storage.
Consider the color or finish of the cabinet. Vanity cabinets come in various wood finishes and paint colors, including white, blue, black, and many more. There's no right or wrong answer here. Just choose something that fits your space accordingly.
Related: How to Choose a Modern Vanity for Your Powder Room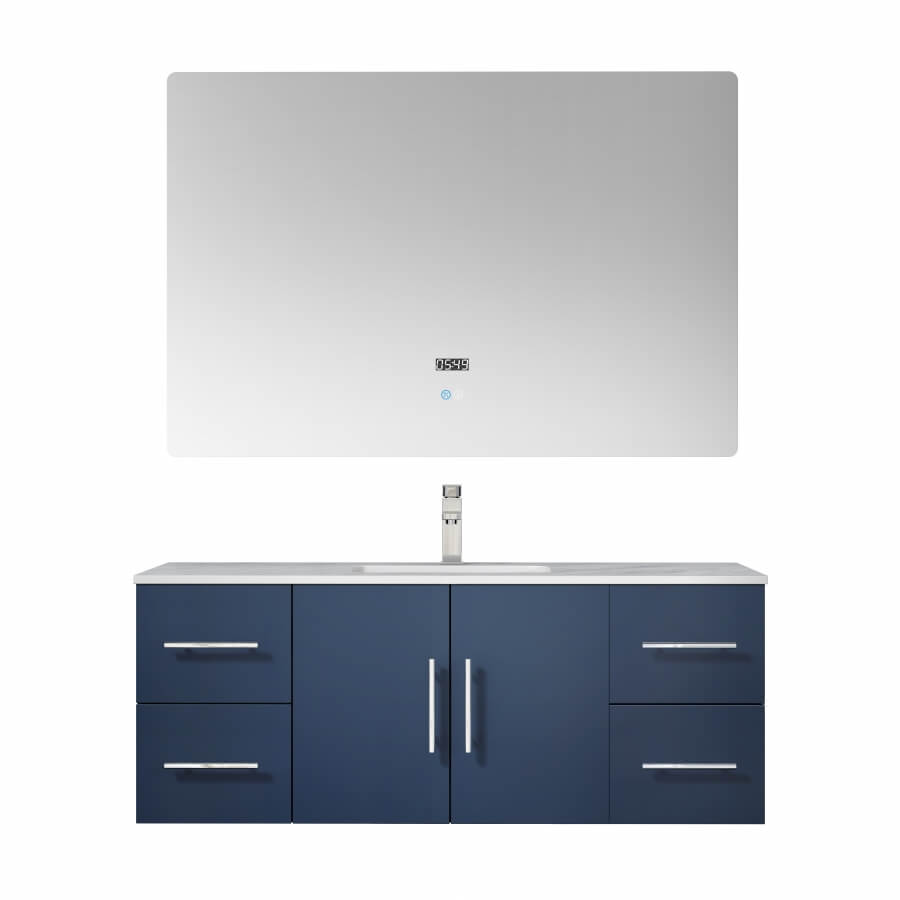 48 Inch Blue Single Sink Wall Mounted Bathroom Vanity
What about other décor? Are there tricks to make the space bigger?
There are many ways to make your bathroom space look bigger and still create a great design. As we mentioned with a floating vanity above, you can get storage without sacrificing the look of space if you know what you're doing. Stick with a minimalist toilet design and limit other furniture and décor in the space. Maybe one or two pieces of wall art are enough, and you should choose a low-profile mirror or medicine cabinet above your vanity to help open up the space, too.
If you've got the option, windows can help open up the space. You can also use mirrors to make the bathroom appear larger. Minimize anything in the space on the floor that doesn't have to be there…that includes the plunger and toilet brush. Store those somewhere nearby. Not only does it look better, but having those behind closed doors is more sanitary.
Related: 6 Ways to Maximize Bathroom Space
Adara Polished Chrome Rectangular Mirror
The benefits of upgrading your half bath are many
When you upgrade and renovate your half bath, you're not just giving yourself a new space. You're also increasing the value of your home, which will be good if you ever refinance or sell the property. It will also give you a better space to enjoy in your home and could give you more usable space than you thought. Some people renovate a half bath only to find out they have room for a shower stall and upgrade to a ¾ bath instead.
No matter what you do or why you do it, a half bath renovation is a great way to spruce up any space. In addition to your vanity and medicine cabinet, make sure that you think about new light fixtures, paint, exhaust fans, and other features that you want to stand out in your space. After all, a full bathroom renovation will go much beyond just upgrading the vanity.
Related: Trending 36 Inch Bathroom Vanities: Planning for Your Remodel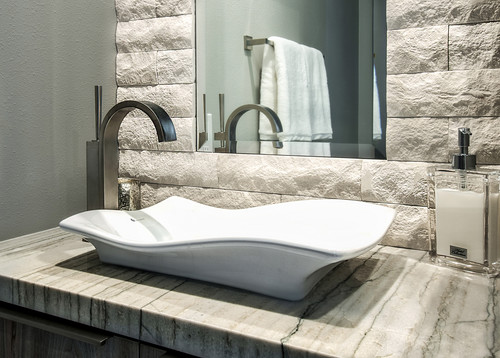 The bottom line
As you can see, several ways exist to create the ideal half bath, even if space is a concern. With the right single sink vanity, you can match style and function without breaking the bank. And speaking of the right vanity, remember your checklist when you're shopping to get the ideal piece.
Single sink vanities are, by far, the best way to create the illusion of more space. You can add as much counter room as you have space for and only need one small sink, which makes the entire room look bigger since there's more open counter space. Of course, some small baths have dual sinks, but it's not recommended because it tends to look cluttered.
To get inspired and find your perfect half bath piece, check out the single sink vanities at UniqueVanities.com. You'll find an array of vanities in all styles and sizes to fit your half bath perfectly, no matter what you have in mind.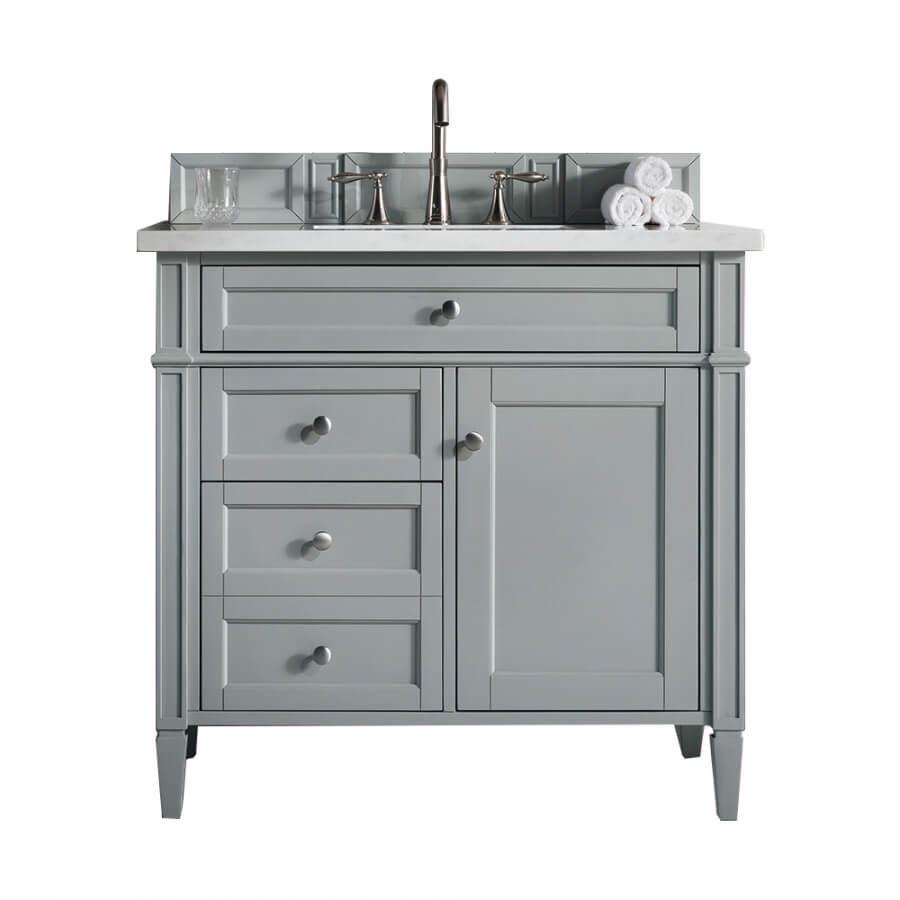 36 Inch Single Sink Bathroom Vanity with Choice of Top
---
My name is Julia Ritzenthaler, Founder and President of Unique Vanities, started in 2005. I started this business as an extension of our residential remodeling business, which focused on the design and build of custom cabinetry and architectural trim. I also worked as a financial advisor for 10 years at Ameriprise Financial, helping clients make sound money decisions, including budgeting for home improvement expenses. This expertise led me to start Unique Vanities, which offers a handpicked selection of high quality bathroom vanities, sinks, mirrors and more. You can find me most days sitting in Starbucks, my second office, or in my car driving my daughter across Dallas to gymnastics training.
---
Resources
https://www.dwell.com/article/how-to-choose-a-bathroom-vanity-23249306
https://www.bhg.com/bathroom/vanities/small-bathroom-vanity-ideas/?
https://www.apartmenttherapy.com/half-bath-ideas-36755344
https://www.countryliving.com/home-design/g31081734/half-bathroom-ideas/
https://justagirlandherblog.com/half-bath-powder-room-decorating-ideas/
https://www.thisoldhouse.com/bathrooms/21018665/how-to-plan-the-perfect-half-bath