Showers today are much more unique and functional than ever before. One option that used to be chosen primarily for functionality is the curbless shower. It's becoming a popular style choice for people who want a sleek, modern space with a seamless look. Of course, several reasons exist to consider investing in a curbless shower. It will be up to you to explore the options and find what you like best.
In this article, we'll help you by discussing what "curbless" showers are, their pros and cons, and things like installation costs, space required, and other practical concerns and considerations. First, let's talk about what we mean by a curbless shower.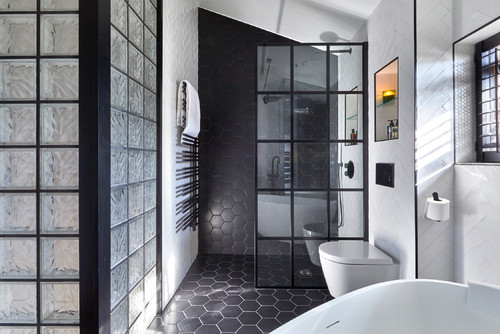 What's a curbless shower?
A curbless shower stall has no curb or lip at the door or point of entry. Usually, there is a lip, or curb, to prevent water from leaking out of the shower stall during use. However, newer models for accessible spaces can be designed with curbless entry and still provide a waterproof space when done correctly.
A curbless shower is often chosen for function by those with accessibility needs, such as those who are disabled or elderly adults with limited mobility. Today, these showers also offer an aesthetic appeal to homeowners who like the look of clean lines and the modern illusion created by the curbless shower.
Related: Freestanding or Built-in Bathtub: Which One Should You Choose?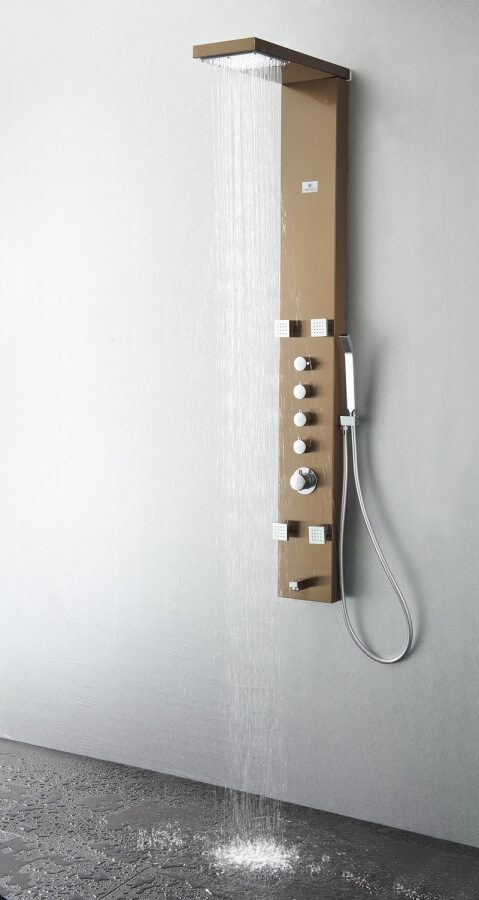 Stainless Steel Thermostatic Shower Massage Panel
What are the pros and cons of this type of shower?
There are several advantages to installing a curbless shower. For starters, it provides accessibility for those who need to use a walker or wheeled seat to get into and out of the shower. The lack of a curb ensures a smooth transition that increases safety for everyone involved. These showers also have fewer seam leak issues because there's one less seam at the door.
In addition to being more accessible and stylish, these showers are a great way to modernize a space when you don't want to make a huge investment or overhaul the entire bathroom. Of course, there are concerns with leaks or water getting out if these showers aren't properly installed, so you'll want to ensure that you always choose trained professionals for this installation.
Another concern with this type of shower is privacy– but then you can always lock the bathroom door or tell everyone to stay out when the shower is in use. Depending on how they are installed, there are also options for making these showers a little more private. This is where a custom installation could come in handy.
Related: The Use of Barn Doors in the Bathroom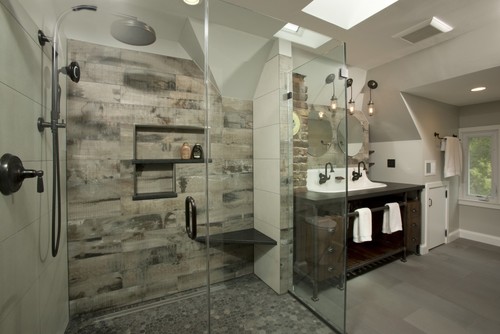 How do you contain the water in this type of shower?
The way that these showers are designed helps control the flow of water. Namely, the placement of the curbless section and installing a proper door or curtain is enough to keep the water contained. Of course, these showers contain water so well because the floors are sloped toward the drain, which is always installed further away from the curbless entry when possible. That way, it will require maximum effort for water to get out of the shower.
Ceiling Mount Square Shower Head
How much does it cost to install a curbless shower?
It costs between $3,000 and $6,000 to install a curbless shower with a door, which is about $500-$1,000 more than a standard walk-in shower because of the modifications and special considerations required. Of course, these are just average costs, and you may spend more or less on your actual project, depending on the specific details.
It's best to find a model you like and talk to professional installers about the options for installing them properly. Then, you should rely on someone who can do the job correctly and perfectly, regardless of the cost. Generally, they'll offer a guarantee or warranty on their work, making it well worth the investment.
Related: 5 Bathroom Makeover Ideas That Won't Break the Bank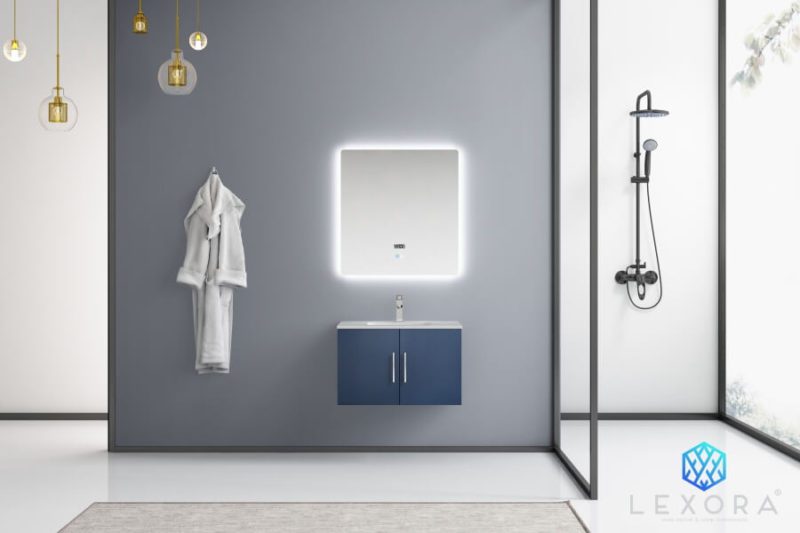 30 Inch Blue Single Sink Wall Mounted Bathroom Vanity
Do I need a lot of space in my bathroom?
The good news is that you don't need more space than you'd need for a standard shower stall. You might need less. The ADA requires an opening and space of 36 inches by 36 inches to provide accessibility, and even that isn't a lot of room. If you have room for a standard shower, you have room for a curbless model. You can even choose to set it in the corner or create a certain placement to help reduce the amount of space it appears to take.
These can be larger, spa-like showers if you want them to be. That's going to require you to take the time to consider your options and then create the design that best suits your tastes. Like a standard shower, a curbless shower can truly be whatever you want it to be. As long as you comply with state or local size requirements, the rest is up to you.
Related: How to Make a Bathroom Look and Feel Luxurious
Adjustable Slide Rail Hand Shower Unit
The Final Call
The curbless shower has several perks. It's accessible, easier to clean, and offers a much more modern, stylish appearance. However, it will also require additional installation costs and the use of an expert who understands how these showers are installed, making it a bigger undertaking. Nonetheless, it seems to be a well-made investment because it can increase home values and offer a bigger buyer network when you make it curbless AND ADA compliant.
Talk to shower installation experts about what you want from your new shower installation, whether that's curbless or any other design. They'll be able to help you explore the options and decide on the best one, including figuring out the most cost effective way to get the shower you deserve. Upgrading your bathroom is great for the functional use of your home, but it's also one of the best ways to increase resale value. Consider the benefits this upgrade could add if you ever go to sell or refinance.
Now that you know more, get started on your search for the perfect new shower today.
Related: Bathroom Trends to Avoid in 2021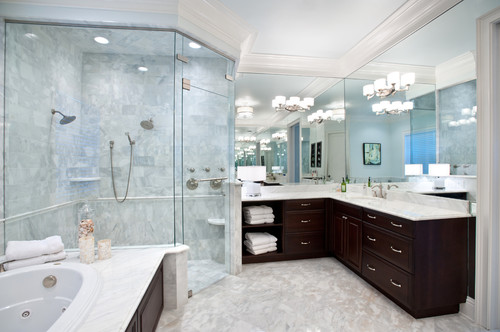 ---
My name is Julia Ritzenthaler, Founder and President of Unique Vanities, started in 2005. I started this business as an extension of our residential remodeling business, which focused on the design and build of custom cabinetry and architectural trim. I also worked as a financial advisor for 10 years at Ameriprise Financial, helping clients make sound money decisions, including budgeting for home improvement expenses. This expertise led me to start Unique Vanities, which offers a handpicked selection of high quality bathroom vanities, sinks, mirrors and more. You can find me most days sitting in Starbucks, my second office, or in my car driving my daughter across Dallas to gymnastics training.
---
Resources
https://www.bobvila.com/articles/walk-in-showers/
https://plankandpillow.com/the-benefits-of-a-curbless-shower/
https://makeitright.ca/holmes-advice/home-renovation/curbing-the-curb-pros-cons-to-building-a-curbless-shower/
https://www.epichomeideas.com/curbless-shower-pros-cons/
https://www.weekand.com/home-garden/article/big-doorless-shower-need-be-18035382.php