There's a constant debate in the bathroom: one sink or two? While an extra sink means you can share the space, you'll eat up more of that space with the counter or bathroom vanity you choose. Ultimately, the pros outweigh the cons when choosing a double sink bathroom vanity.
In this article, we'll cover the eight biggest perks of choosing a double sink vanity for your bathroom upgrade. We'll discuss everything from space considerations to design to ensure you get the eye-catching double sink for the bathroom you've always dreamed about.
So, what's the fuss about double sink vanities? Check out the biggest benefits below.
Related: What Size Vanity Do I Need for Two Sinks?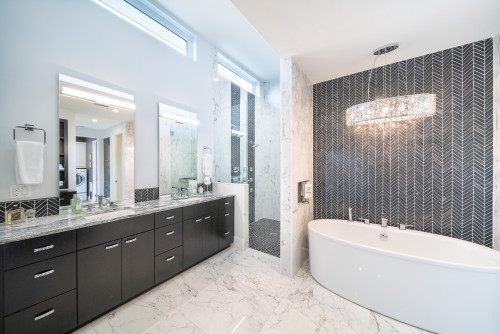 Benefit #1: Storage Space
One of your biggest considerations in choosing a vanity is size. You should always choose something bigger that offers more storage space if you can. Did you know that double vanities and single vanities have different sizes available, too? In several cases, you can get a lot more storage space with a dual sink vanity than you'd find with a single cabinet style. Plus, you'll have more ways to separate stuff when sharing the space.
Benefit #2: Countertop Space
While you might think a second sink means less counter space, that's only true if you stick with a vanity of the same size. For example, you can upgrade to a longer vanity that measures 68 to 72 inches, choose smaller sinks, and still have tons of counter space available. Adding a second sink might seem counter-intuitive when you need more room to work in the bathroom (see what we did there?). However, it's a great way to get more options for counter space and an additional sink.
Related: Trending 72 Inch Bathroom Vanities: Everything You Need to Know
89 Inch Double Sink Bathroom Vanity with Offset Sinks
Benefit #3: Increased Home Value
If you upgrade your bathroom with a double sink vanity will typically help increase your home value. Renovated bathrooms are a big upgrade for buyers and families who love the his-and-hers sink options. It feels more luxurious for the average homeowner, so it's always a good investment in your design. Believe it or not, a bathroom renovation can increase your home's value by as much as 25% in some cases, depending on just what you upgrade and how.
Benefit #4: Improved Aesthetics in the Bathroom
The bathroom will look better when you update it with new fixtures, like a double sink vanity. The extra sink always makes the space look just a bit more luxurious and helps add some unique details as well as another functional feature that will help when it comes to selling your home in the future. For now, you'll just enjoy a more well-designed, cohesive space that looks better with two sinks than it ever did with one.
Related: The Use of Barn Doors in the Bathroom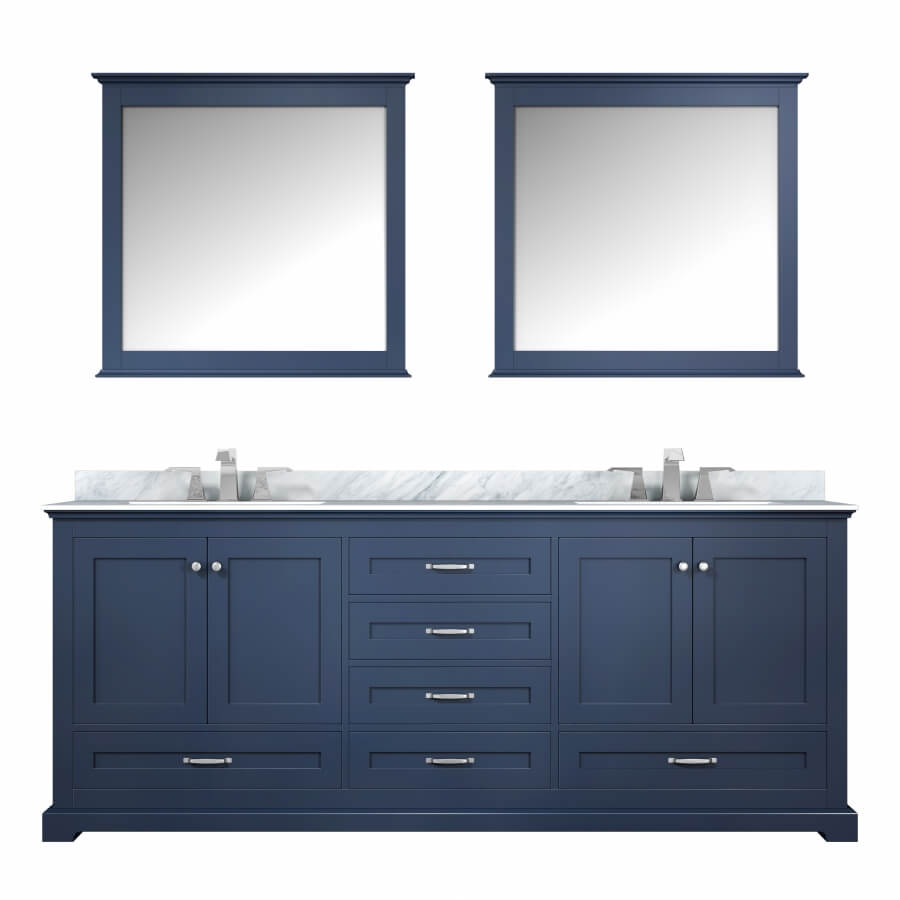 80 Inch Double Sink Bathroom Vanity in Navy Blue with Choice of No Top
Benefit #5: More Personal Space for Multitasking
Even if you're not sharing the space, you can use both sinks to do things faster or get more done in less time. You'll also have more counter space to work with and won't be fighting with someone to get in front of the mirror. Whether you need the sink or not, you'll have one, along with plenty of extra space to get things done.
The bathroom is busy, and the more you can get done on those hurried mornings, the better.
Benefit #6: Always Have a Backup
If you've ever had a plumbing issue with your bathroom sink, you know how valuable it could be to have a backup on hand. When you have dual sinks in the bathroom, they have entirely separate plumbing connections. That means the other shouldn't be affected if one has an issue. Therefore, you'll always have an extra sink in case one is acting up or in case you suddenly need to be on top of each other in the bathroom and need more sink space.
Related: How to Protect Wood Bath Vanities from Moisture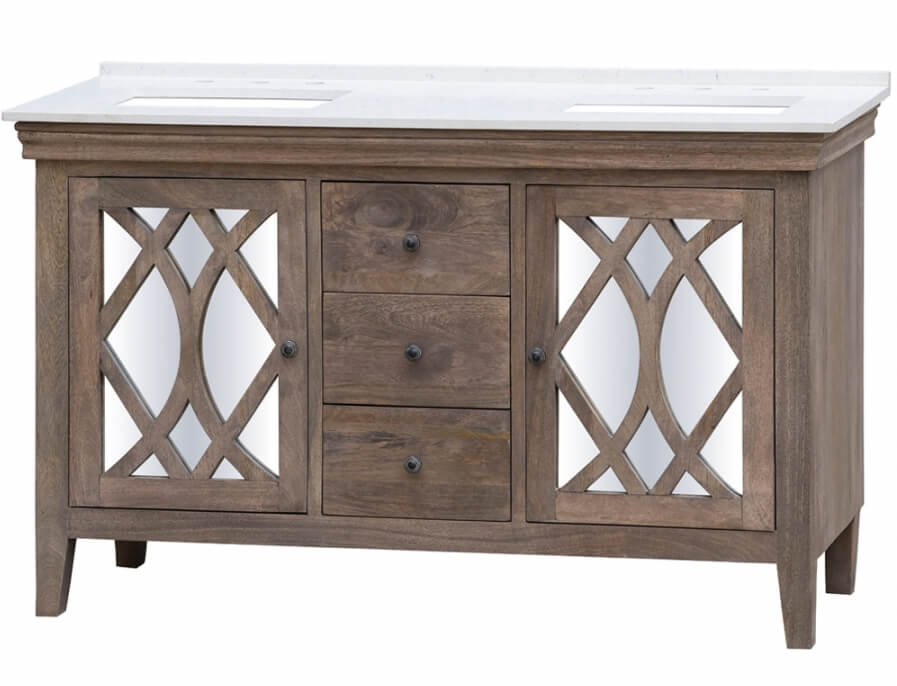 58 Inch Double Sink Bathroom Vanity in Mango Wood
Benefit #7: More Design Choices
When you choose to add a second sink, you're doubling your options (or more) for the available vanities and sink designs. You can do so much with a double sink bathroom vanity, and you'll surely find modern styles, traditional designs, and everything in between. Adding that second sink and additional space gives you much more to work with in the design. You'll get a lot of different layout options, sink style options, and other details to consider. It's all about getting more, and that's exactly what dual sinks offer.
Benefit #8: Affordability
This is something that a lot of people don't expect. The modern double-sink vanity is a lot more affordable than you think. Plus, it's more affordable than installing a second bathroom and less frustrating than constantly fighting over the same sink. You can find vanities in all shapes, sizes, and styles that fit almost any budget, allowing you to create the perfect space without breaking the bank.
Whether you realize it, you don't have to spend a fortune to get an eye-catching double sink bathroom vanity. There are so many styles and options today that there's something for all designs and financial needs. Take the time to check out the selection and find what you like, and you might be surprised at just how affordable it will be.
Related: Light Colored Quartz is Leading the Way for Bathroom and Kitchen Countertops
72 Inch Double Sink Bathroom Vanity in Driftwood Finish
The Dual Sink Vanity: What's Not to Love?
Check out the selection of double sink bathroom vanities available today to see what your options are. You might be surprised at just how much you can find to appreciate with dual sinks and the double sink vanity, but there's a lot to love. From the extra space to the room for multitasking and getting ready together and the chance to increase your home's value, you should consider plenty of things when considering adding a double sink vanity. You can find affordable styles, unique design choices, and a selection of types of counters, sinks, and combinations.
It's not about whether or not you should install a double sink. It's more a question of what you are waiting for because the benefits are clear. Check out the selection and find your perfect double sink vanity now.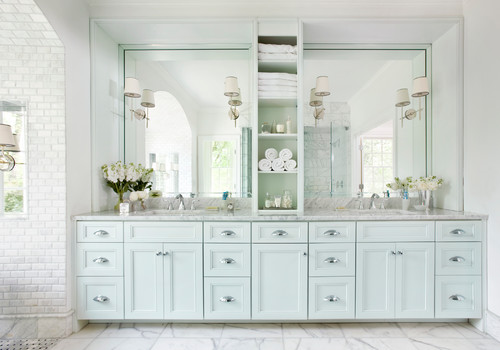 ---
My name is Julia Ritzenthaler, Founder and President of Unique Vanities, started in 2005. I started this business as an extension of our residential remodeling business, which focused on the design and build of custom cabinetry and architectural trim. I also worked as a financial advisor for 10 years at Ameriprise Financial, helping clients make sound money decisions, including budgeting for home improvement expenses. This expertise led me to start Unique Vanities, which offers a handpicked selection of high quality bathroom vanities, sinks, mirrors and more. You can find me most days sitting in Starbucks, my second office, or in my car driving my daughter across Dallas to gymnastics training.
---
Resources
https://www.modernbathroom.com/blog/post/2017/03/28/are-double-vanities-right-for-you
https://www.hunker.com/13725683/single-vs-double-bathroom-vanity
https://www.houzz.com/magazine/should-you-have-one-sink-or-two-in-your-master-bathroom-stsetivw-vs~18174266