Marble is a stunning material and while it's often deemed "expensive", it can be more affordable than you might think when you only need enough for your bathroom counter or vanity. There are several things to love about marble, including that it's so durable and often requires less maintenance than other materials.
It also offers a natural warmth and sense of refinement that you won't find with all surfaces, and it's always on-trend and in style. Even as other styles have come and gone over the years, marble keeps staying strong (pun intended) as a popular choice among those who want a more luxurious bathroom or kitchen space.
Marble is beautiful and luxurious. It's also known for being unique in every single piece, which makes it desirable for those who want to create a more luxurious space in their home. There are a lot of things to love about marble, but also a lot of things that you have to consider when you're putting this material in your space.
Unlike laminates and other materials, marble has and always will be a popular choice. Even if you're not outfitting the entire space, you can still do a bathroom renovation on a budget and splurge on a nice marble sink or countertop to add a beautiful finish to the space and make it look a lot more expensive than it actually is.
If you're considering marble sinks and counters for your bathroom, here's what you need to know. From the pros and cons to how to use marble and more, you'll find it all in the guide below. Once you get to know a little more about marble, you'll get to see how far it can go for you.
Related: Bathroom Countertop Buying Guide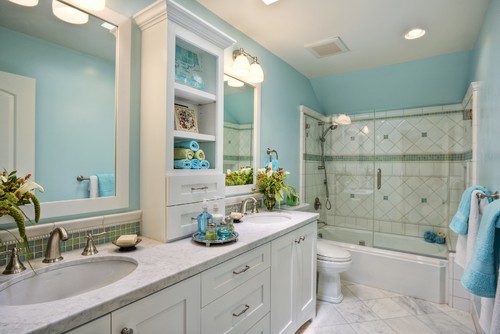 Where Are The Most Common Places to Use Marble?
You can put marble just about anywhere in your home, but for the sake of this article, we'll be focusing mostly on sinks and counters for the bathroom. Marble counters and sinks are also popular in modern luxury kitchens, and some people will use marble flooring in various areas of their home to create a premium look with a durable floor that requires little to no maintenance over time.
Luxurious marble sinks are available today that can make a statement for the entire bathroom, even being smaller and more minimal in their design than traditional bathroom sinks and vanities. This is proof that it's the style, not the size, that counts. In the modern bathroom, marble can be used for sinks, showers, and even for the floor itself. Of course, you'll want to make sure that you choose matching or complementary finishes so that you don't have a conflict of design with a bunch of different types of marble.
Marble sinks are a lot more affordable than you might think, and they're a great way to add a high-end upgrade to a simple space when you can't afford to go all-out on full luxury. Besides, for only a little more than you'd spend on other materials, you'll get a finished space that looks like it cost two or three times as much.
Related: How to Clean White Marble in your Bathroom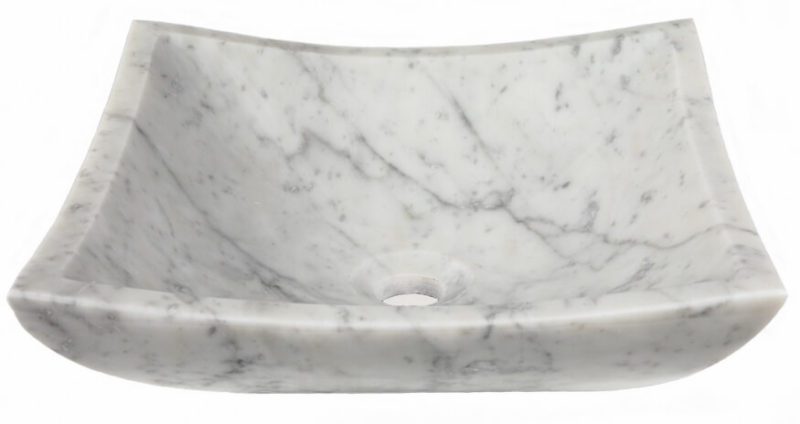 Carrara Marble Square Deep Zen Sink
Types of Marble
There are also several different types of marble out there. This metamorphic rock is formed inside the earth by substances being compressed together by pressure and heat, creating unique looks, colors, and textures. This all depends on the exact elements and impurities in each slab of marble, which is why there are literally thousands of different types of marble that you can put into your bathroom space.
The most popular options for bathroom marble include:
Calacatta marble, which is known for its shiny white surfaces with dark-colored veining
Carrara marble, which is one that many know by name, and is a bit darker and daintier
Talthello marble with silver and beige tones
Emperador marble with dark brown colors and bold veins
Nero Marquina, which is black marble that is becoming popular lately
Crema Marfil, which is a popular choice for its erratic veining
Marble has several different physical characteristics that help determine what type it is. These will also affect the appearance of the stone over time. You might find two pieces of marble sourced from the same place that look completely different simply because of their age difference.
Related: What Type of Bathroom Vanity Tops are Best?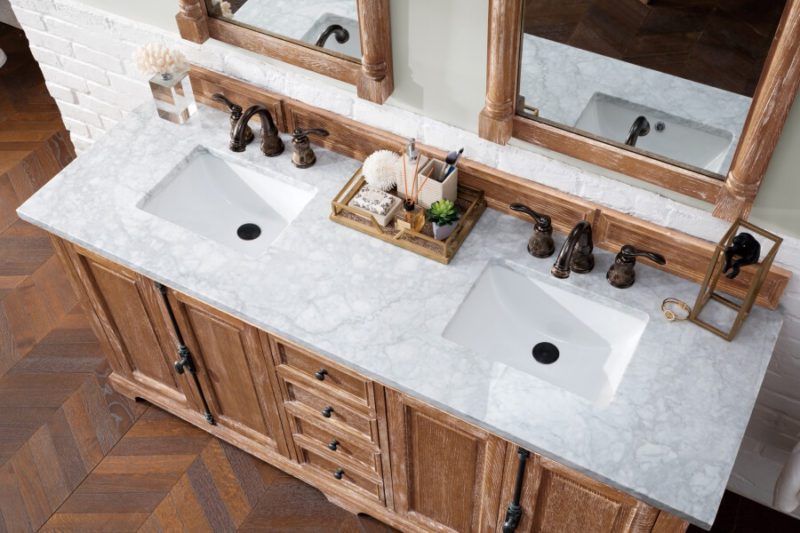 72 Inch Double Sink Bathroom Vanity in Driftwood with Carerra White Marble Top
Pros and Cons of Marble Countertops and Sinks
Marble is versatile and durable, which are perhaps two of its best features. Of course, when you're doing the homework to plan for your next renovation, there are other pros and cons to consider here, too.
Pros
Marble creates a luxurious look in any space.
Home values and marketability increase when you add marble.
There are several colors, sizes, shapes, and finishes that will fit almost any design.
Every piece is unique.
Marble conducts heat well, but also retains coolness to the touch, creating a temperate space year-round.
When you only need a sink or vanity, it can be an affordable option.
When properly sealed and cared for, marble can last for years to come.
Related: How to Make a Bathroom Look and Feel Luxurious
36 Inch Bathroom Vanity with Offset Sink with Cream Marfil Marble Top
Cons
Marble can stain or scratch if not cared for properly.
You can't use harsh chemicals on this surface.
Deep stains are difficult because chemicals cause damage too.
Marble requires regular sealing, but that can also cause discoloration or other issues if not done properly.
Marble is slippery, so for flooring, it can become hazardous.
High-quality marble is fairly expensive.
If you love the idea of adding marble, but just aren't sure it fits your budget, you'll be happy to know that installing a little in your bathroom in the way of a sink or vanity can do a lot more than you expect, and for a lot less than you think.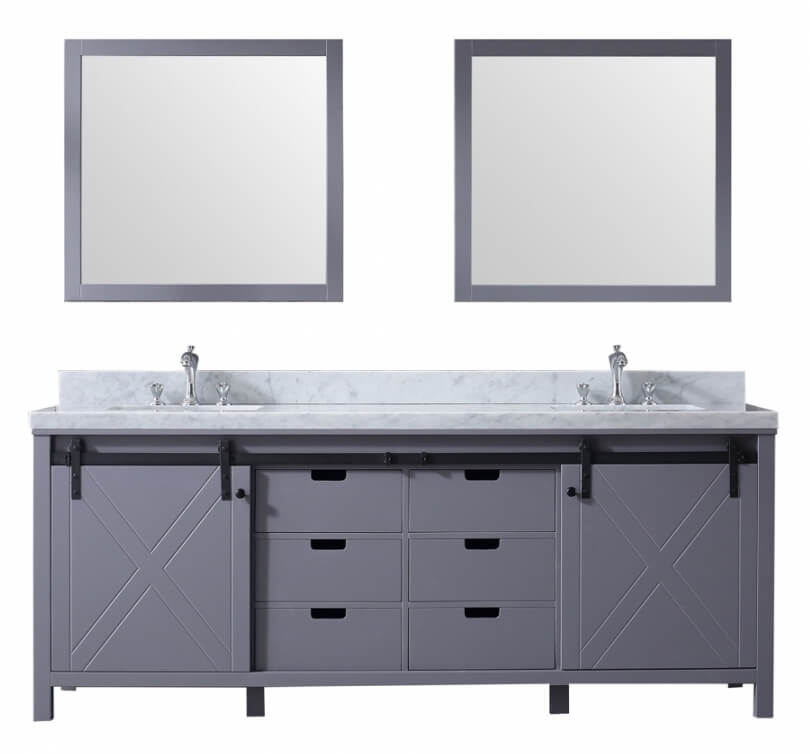 84 Inch Double Sink Bathroom Vanity in Dark Gray with Barn Door Style Doors – Carerra Marble
Marble: Care and Maintenance 101
There are some important considerations to keep in mind when you're choosing marble for your bathroom sink or vanity. Like any material, you'll want to think about how to care for this surface and what kind of maintenance it requires. Fortunately, you'll be happy to know that marble at least does not require a lot of routine maintenance and extra care. That's part of what makes it so desirable.
Regular cleaning and polishing will be enough to keep marble looking its best for many years to come. This material is porous until or unless it is sealed, so you will need to make sure that it is re-sealed and protected regularly. Deep cleaning should be done weekly with a marble-approved cleanser or just simple soap and water.
Remember to always sop up excess water and never leave a mess on the marble. Even makeup bottles, toothpaste, and other materials could lead to stains or damage if you aren't careful. It's all about caution, but when you do it well, the marble can give you a great look for your space.
If you're not sure about taking care of marble, talk to the pros and see what's expected. You'll generally find that for a bathroom, the work required is minimal and well worth the effort.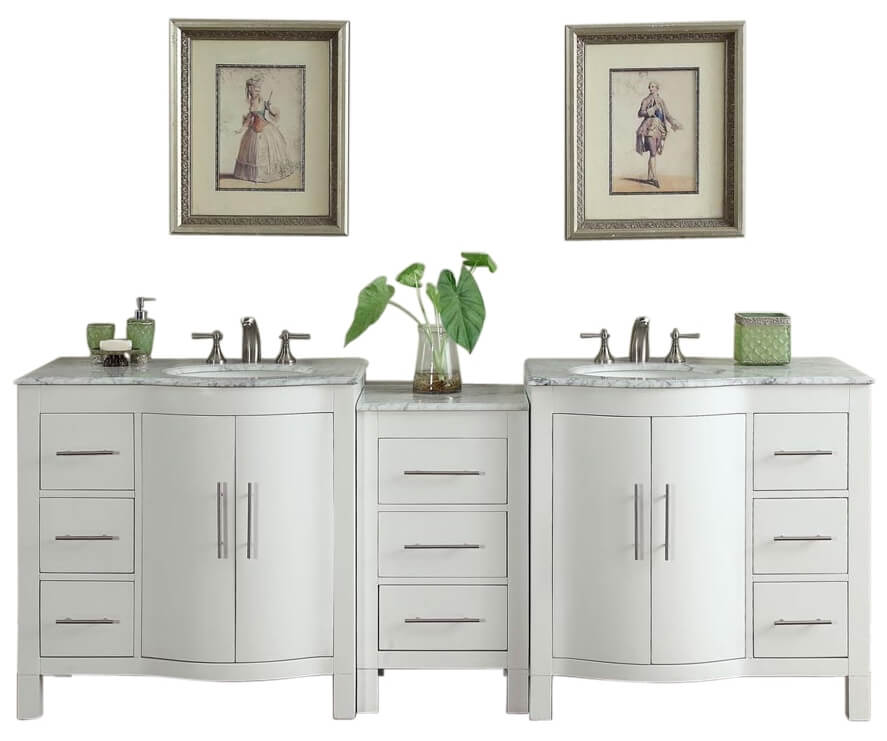 89 Inch Double Sink Bathroom Vanity – Carerra Marble
Speaking of care and maintenance, here are some big don'ts with marble:
– Don't use vinegar or bleach on marble counters or sinks.
– Don't use abrasive cleaning pads or cleaners.
– Don't place hot items directly on the marble surface.
– Don't let things sit on the marble and clean up spills immediately.
– Don't install marble in a space that's prone to heavy traffic, kids and pets, etc.
– Don't sit or stand on marble counters as it can cause the stone to crack.
– Don't sit items like toiletries directly on the marble or it can create etching rings.
– Don't forget to seal your marble regularly (usually every 2-3 months).
Marble is beautiful when you care for it correctly, but that also means that you have to know the proper steps to care for it in the first place. The biggest thing is to make sure that you're cautious and not doing anything you'd do with traditional counters.
Marble is unique. Learn about it, care for it properly, and you'll enjoy it for years to come.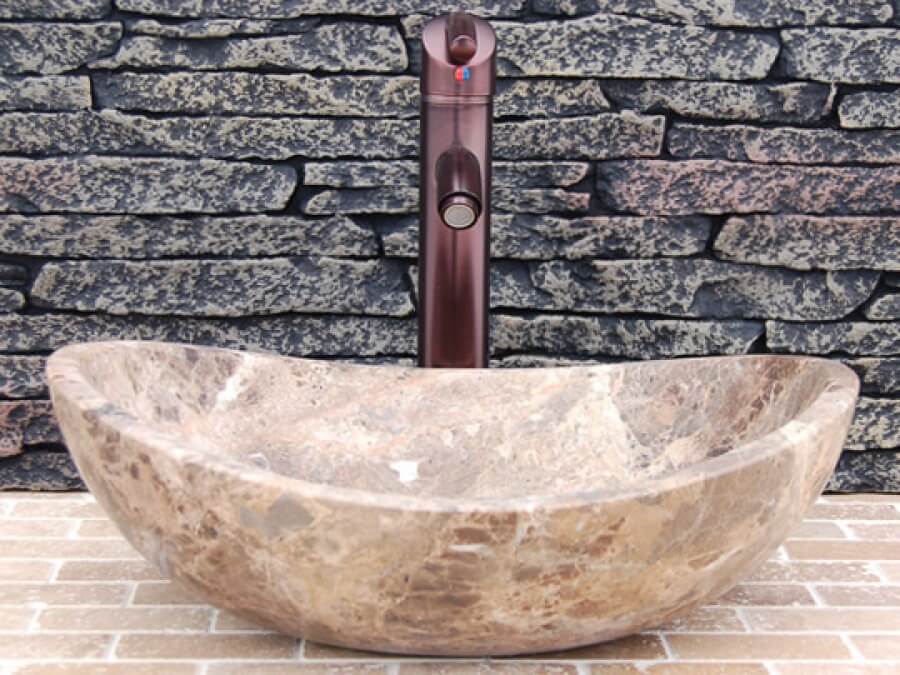 Natural Stone Canoe Vessel Sink in Emperador Marble
The Final Call: Marble, or No?
Ultimately, it will be up to you to decide whether this is the way that you want to go with your bathroom design. Now that you know more about marble and all that it has to offer, you'll be able to create the look that you've always wanted. Even when you're working with a budget, you'll see that you can do more than you think with this material. Make sure that you read up on it and get the facts so that you're ready for your new surface and you don't ruin it as soon as it's installed.
Fortunately, marble isn't as intimidating as it might seem. Today, it offers a lot of different designs and styles to choose from and will make your bathroom look better than ever. Just remember to follow the tips and guidelines here to help you get the most out of your own investment. No matter what you choose, you'll be sure to love your new marble sink or counter.
Related: Light Colored Quartz is Leading the Way for Bathroom and Kitchen Countertops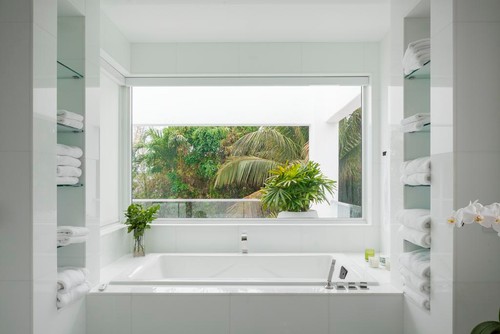 ---
My name is Julia Ritzenthaler, Founder and President of Unique Vanities, started in 2005. I started this business as an extension of our residential remodeling business, which focused on the design and build of custom cabinetry and architectural trim. I also worked as a financial advisor for 10 years at Ameriprise Financial, helping clients make sound money decisions, including budgeting for home improvement expenses. This expertise led me to start Unique Vanities, which offers a handpicked selection of high quality bathroom vanities, sinks, mirrors and more. You can find me most days sitting in Starbucks, my second office, or in my car driving my daughter across Dallas to gymnastics training.
---
Resources
https://www.apartmenttherapy.com/marble-sinks-kitchen-remodeling-ideas-255131
https://www.hunker.com/13730855/marble-bathroom-sink-ideas-and-inspiration
https://www.homesandgardens.com/news/marble-home-design
https://qualitymarbleindia.com/blog/the-marbelous-trends-for-luxurious-interiors/