Going to a spa is a great experience– but what if you didn't have to "go" anywhere? With some quick tricks and a few modifications, you can do a lot more to create a spa-like bathroom at home, even when you're on a budget. There are a lot of different ways you can enhance your bathroom with the right vanity, lighting, fixtures, and more. In the list below, we'll cover 10 best tricks to create your own at-home spa space without breaking the bank.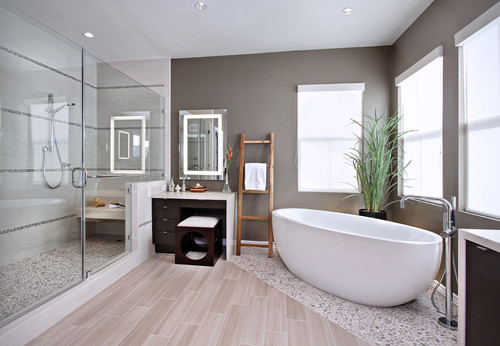 Choose Colors Wisely
First, you'll want to be mindful of the colors that you choose. For example, most spas are either all-white, or they might have cool colors on the walls, like greens or blues. The calming feeling is what you're going for and while some people like the starkness of all-white, it might not suit your space. If you do pick colors, stick to relaxing tones. Just ensure you create a space that says "relaxation" to you.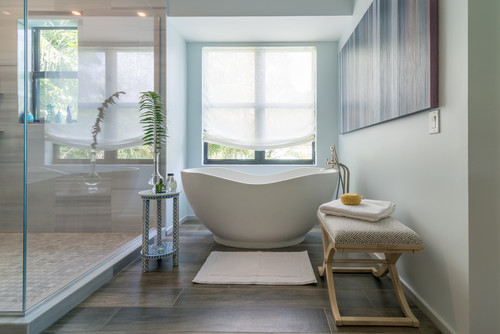 Go for the Gold
This is about your fixtures. Choose gold accents and décor where you can add a more luxurious touch. A gold faucet looks worlds more expensive than a brushed nickel one, even when they're of the same quality and price range. You'll find a lot of different options out there, and since they're generally painted or gold-plated, they aren't going to cost a lot.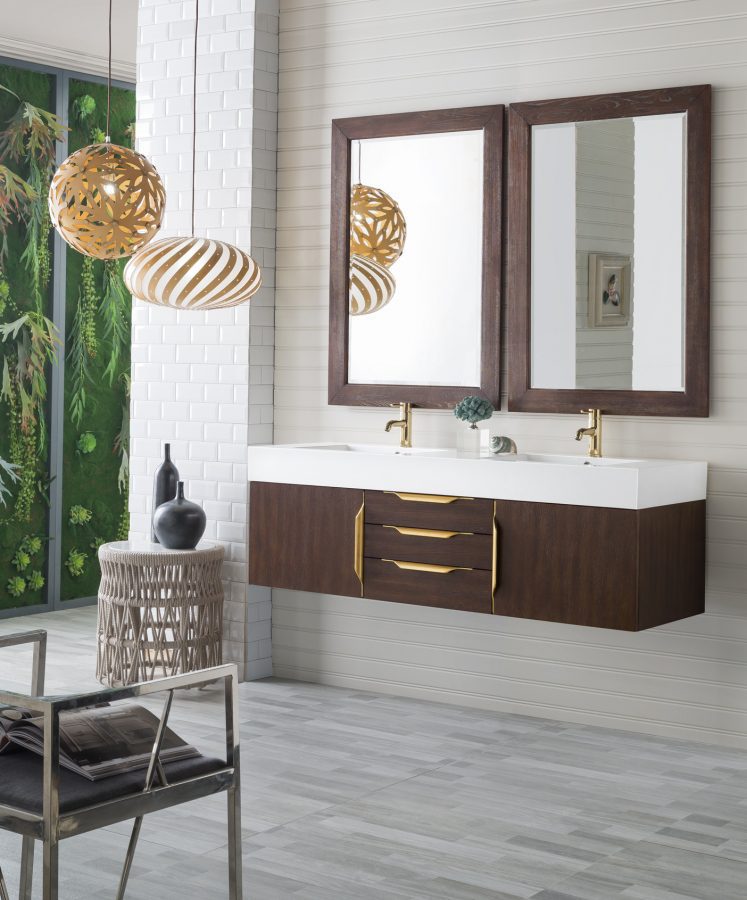 59 Inch Double Sink Bathroom Vanity in Coffee Oak with Radiant Gold Pulls
Put in a Freestanding Bath Tub
The freestanding tub is one of the best features to add to your home bathroom to create a more spa-like feel. For extra points, install it under a window for natural light and to create the perfect look in the space. A freestanding tub looks a lot more luxurious than some prefabricated combination models. If you choose one with gold accents, like clawed feet, that could also enhance the look of the space. Consider jetted tubs, as well, but make sure that you stick with the freestanding style.
Related: Freestanding or Built-in Bathtub: Which One Should You Choose?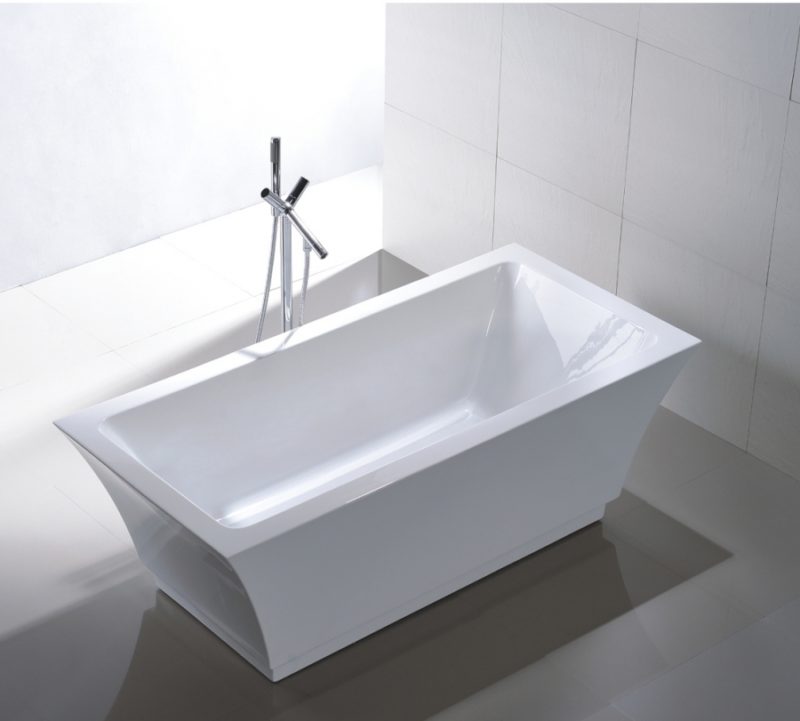 Massaging Shower Head
The right showerhead can change the look of your space significantly. Today, there are dozens of different options for shower heads on the market. Choose one that offers premium features like massaging, rainfall settings, or even color changing options for a cool look and to create the perfect ambiance in the space. Again, it's not essential, but it can do a lot. Removable showerheads or multiple heads in a single shower are also luxurious upgrades.
Related: Benefits of a Curbless Shower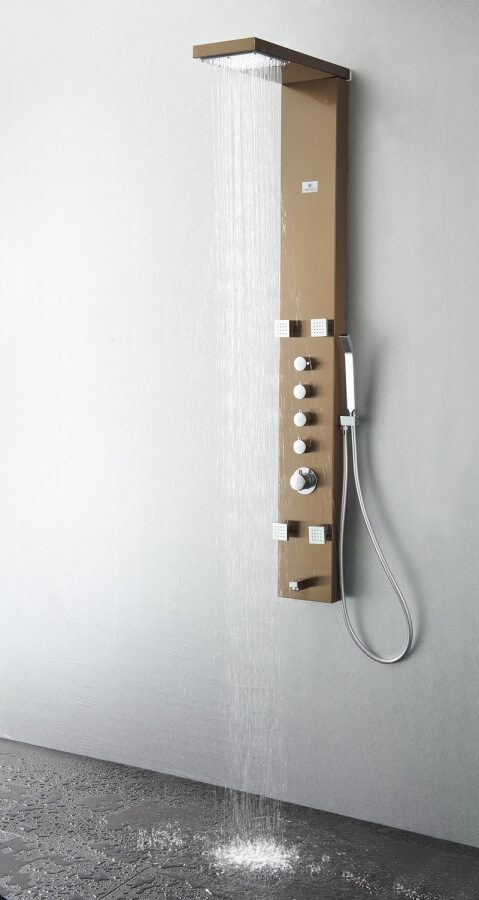 Stainless Steel Thermostatic Shower Massage Panel
Dim the Lights
Proper spa lighting is a big part of creating the perfect ambiance for your space. When creating a relaxing space, the last thing you want is to have stark, bright lights that hurt your eyes. You're here to relax. Make sure that you consider that when choosing lighting and stick with warm lights that give off more of a yellow or soft white glow. You'll want to consider overhead lighting, vanity lighting, accent lighting, and more to ensure that you create the ideal look in your space with all the right lights.
Related: Small Bathroom Lighting Tips: Make Any Space Shine with the Right Lighting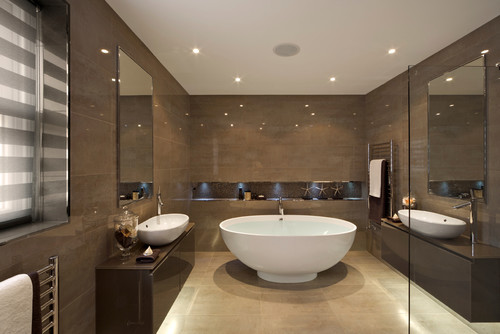 Heated Towels and Racks
What's more luxurious than stepping out of the shower on a cold winter day to find a heated towel waiting for you? Today, consumers can install heated towel racks in their bathrooms without spending a lot, and they come in various sizes and styles. You can choose wall racks or freestanding ones, giving you even more options.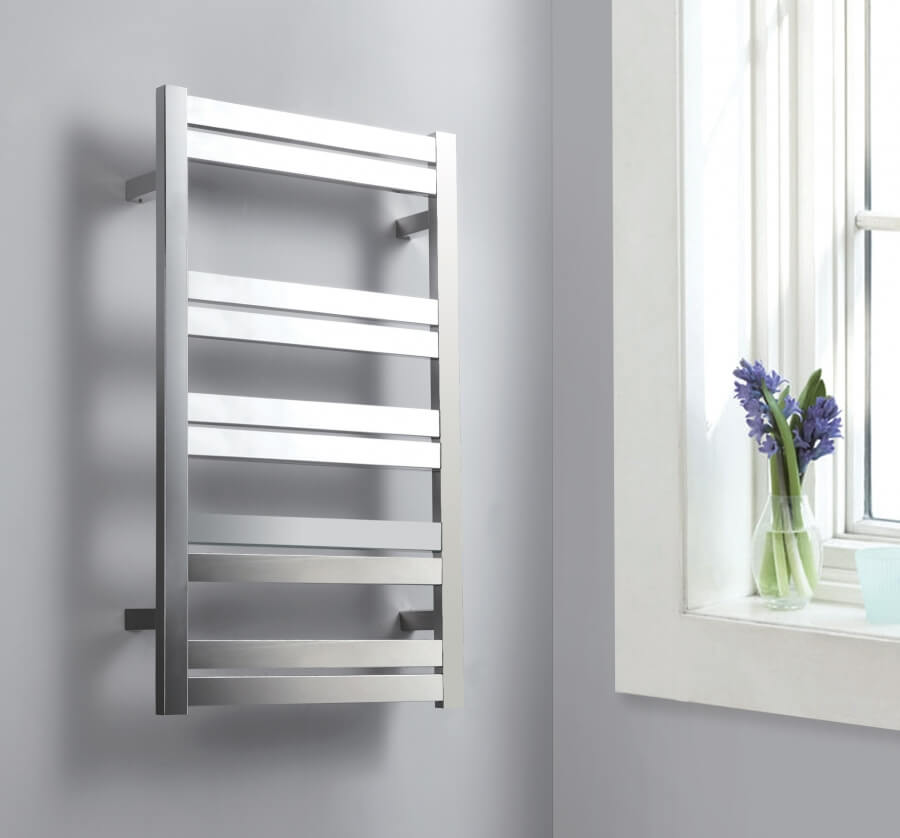 Brushed Nickel Towel Warmer with 10 Warming Bars
Natural Wood
Another simple but luxurious upgrade is to add natural wood to the space. You can do this with the vanity, other cabinets, or wood accents on the walls. There are décor pieces made of natural wood that you can also add. Make sure that you choose waterproof and moisture resistant products, of course, so that they hold up in the space over time.
72 Inch Double Sink Bathroom Vanity in Driftwood Finish
Plants Add Life
Now, let's think about adding some plants to the space. This can add a new layer of life and breathe fresh air (literally) into your spa-like bathroom. Choose low-maintenance plants that don't require a lot of attention. If you don't have a green thumb, you'll find plenty of artificial plants that give the same freshness without maintenance.
Related: 5 Bathroom Makeover Ideas That Won't Break the Bank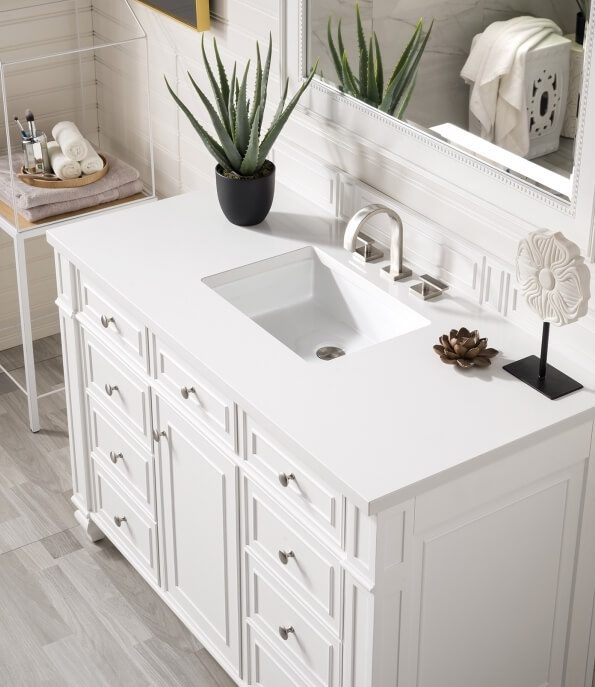 48 Inch Single Sink Bathroom Vanity in Cottage White with Choice of Top
Use Natural Stones
Speaking of life and creating that calming space, natural stone will be just as valuable as natural wood and plants. If you can bring nature indoors, it will add to the ambiance and relaxation of the space. Nothing feels more like a spa than a room filled with natural wood, stones, plants, and other signs of nature. You can create a rock garden or use stone-like décor to accent the space.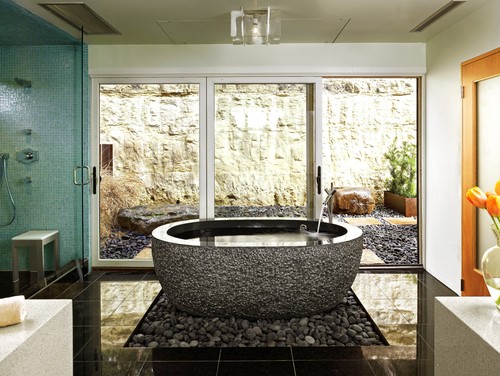 Add Candles
Finally, what would a good relaxing bath be without some candles? If you don't want to worry about real flames in the bathroom, you can choose various styles, including flameless candles. Some people like scented candles, which you can also choose, but make sure primarily that they fit into the décor and add to the ambiance of the spa-like space.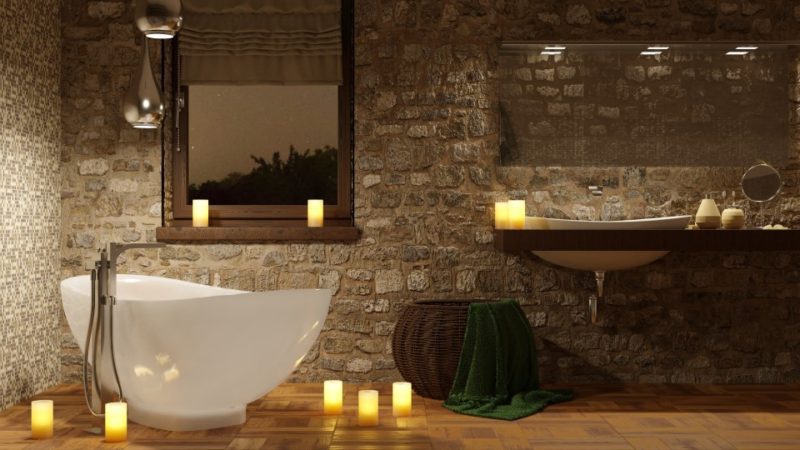 Get Cozy and Start Pampering Yourself
These are just a few of the biggest tips to create your dream bathroom, no matter what you have in mind. You can do more than you think to create that perfect spa space at home, even if you're on a budget. You can do other things, too, but the ultimate goal is to ensure that the space feels relaxing to you.
Don't skimp on your fixtures and furnishings here. You don't have to spend a fortune, but you shouldn't choose the cheapest materials. That will detract from the spa-like feel and create a cheap look that Isn't very relaxing or inviting. It's your bathroom. Get what you want.
With these tips, you will be on your way to the perfect spa-like bathroom in no time.
Related: Decorating a Half Bath: Tips and Insight to Create the Perfect Aesthetic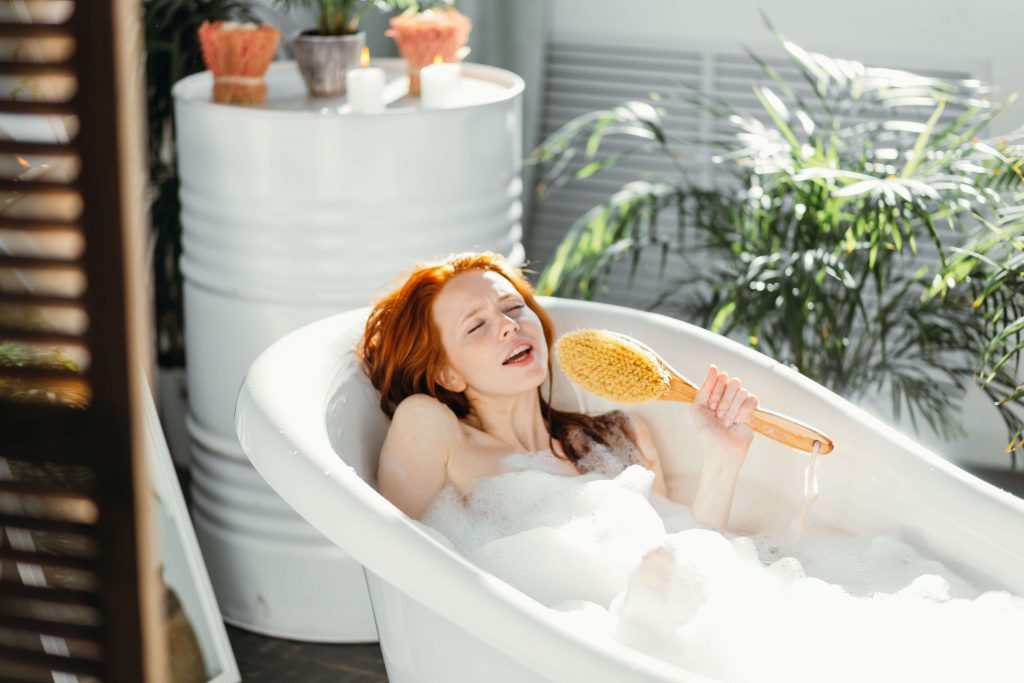 ---
My name is Julia Ritzenthaler, Founder and President of Unique Vanities, started in 2005. I started this business as an extension of our residential remodeling business, which focused on the design and build of custom cabinetry and architectural trim. I also worked as a financial advisor for 10 years at Ameriprise Financial, helping clients make sound money decisions, including budgeting for home improvement expenses. This expertise led me to start Unique Vanities, which offers a handpicked selection of high quality bathroom vanities, sinks, mirrors and more. You can find me most days sitting in Starbucks, my second office, or in my car driving my daughter across Dallas to gymnastics training.
---
Resources
https://www.thespruce.com/perfect-spa-retreat-style-bathrooms-1975792
https://www.homesandgardens.com/ideas/spa-bathroom-ideas
https://www.improvenet.com/a/10-affordable-ideas-that-will-turn-your-small-bathroom-into-a-spa