Are you planning a bathroom remodel for 2022? Before you get too far into the planning process, it might be helpful to know what trends will be coming soon. Then, even if you're building a bathroom in 2021, you can create a trendy, modern space using elements that are sure to be a big hit in the years to come.
Bathrooms are made for hygiene, but they can also show off your personality and style. It's a place where you can take a shower or bath or get some relaxation. This article will delve into the top bathroom design trends for 2022, so you're ready for the upcoming year.
Related: Bathroom Trends to Avoid in 2021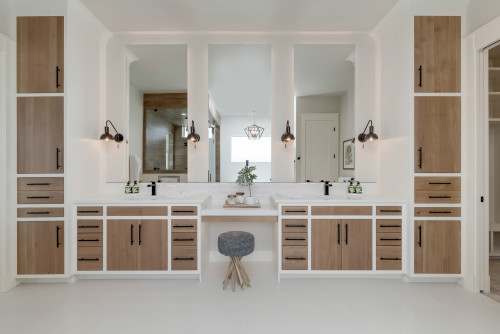 Minimalism
If you love minimalist spaces, you'll appreciate the bathrooms that are coming in the future. Minimalism is highly popular and likely to stay that way, so there's no reason to go overboard in your bathroom. When you're thinking about minimalism, consider furniture that blends in with the rest of the space. Colors like wood, white, and black are often seen in luxurious modern bathrooms.
Timeless hues are the best option going into 2022. But it isn't just about the vanities, showers, and tubs. You also want to think about the hardware and fixtures. To lean into the minimalist style, go with a faucet with a straight shape, perhaps in matte black or chrome.
Related: 10 Tricks to Create a Spa-Like Bathroom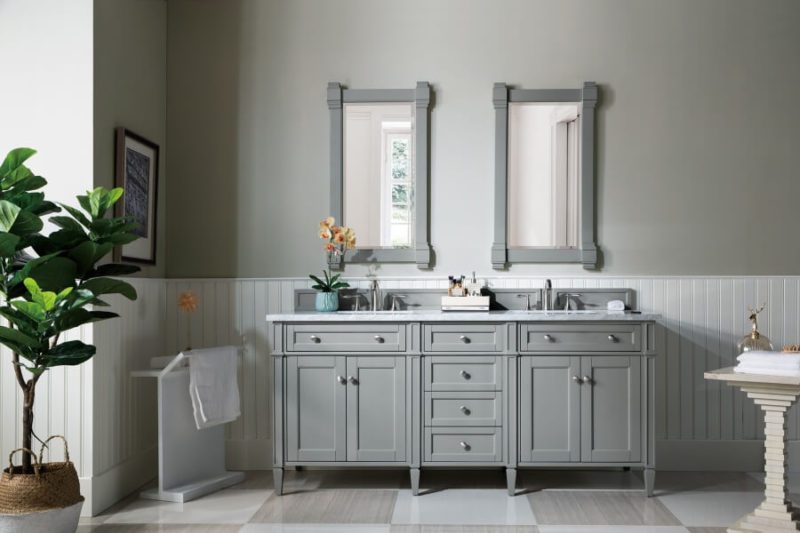 72 Inch Double Sink Bathroom Vanity with Choice of Top
Dual Showers
The only thing better than one modern shower is a set of them. Double showers are becoming all the rage and are the perfect addition to your new or renovated bathroom. There are a couple of ways that this can be carried out in your space. Go with two separate showers in their own contained space, or choose a large shower with dual showerheads.
While you're updating the shower, remember all the accessories. Consider adding rain heads to your showers, or try a hand-held model that is convenient to use as you like. Adding multiple faucets is another option to increase relaxation in the bathroom.
Related: Benefits of a Curbless Shower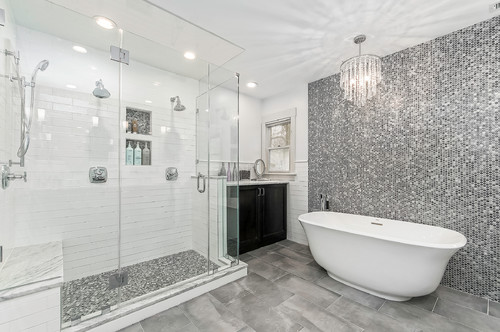 Wall Mounted Vanities (Floating)
Bathroom vanities come in all sorts of shapes, sizes, and configurations. You can get them in black and white, wood tones, and even bright colors. Of course, deciding on the right size, style, and color of your vanity is essential, but so is considering how it is mounted. For 2022, the most elegant option is a wall-mounted version.
This is another situation where minimalism comes into play. However, this doesn't mean that you will have no storage space for all your beauty products. Wall-mounted vanities are often quite spacious and add visual appeal to the modern bathroom. Make sure you have plenty of space by considering chic double sinks.
Related: Why Consider A Floating Bathroom Vanity?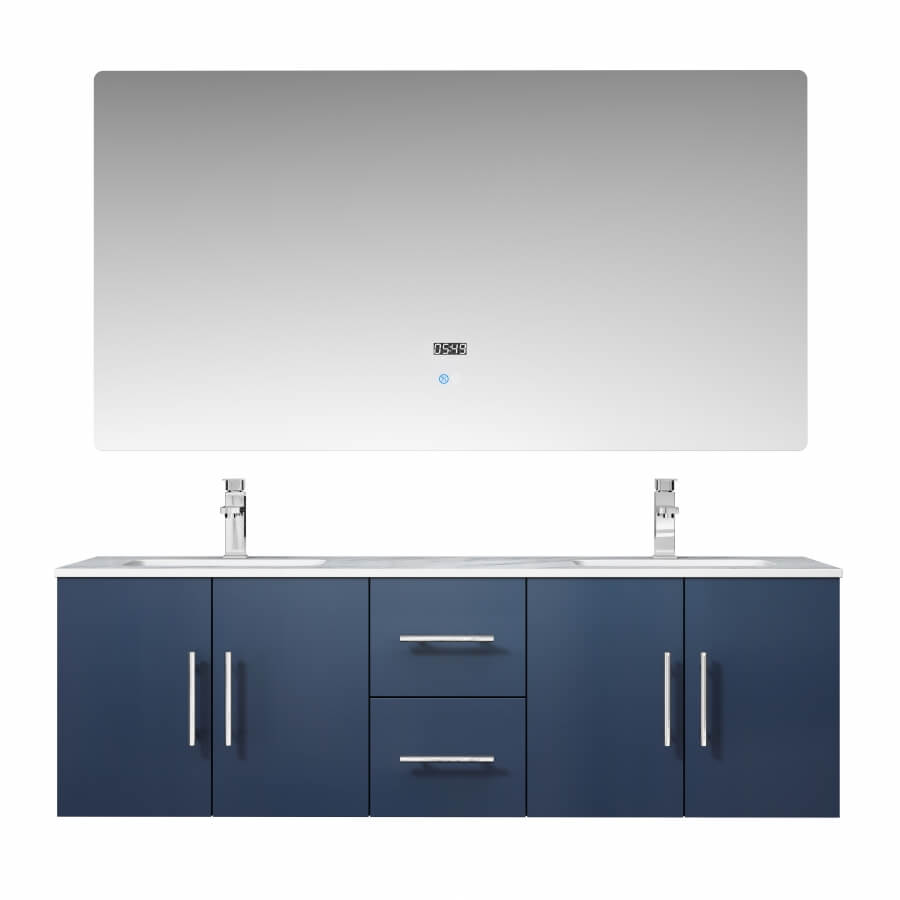 60 Inch Blue Double Sink Wall Mounted Bathroom Vanity
Wet Rooms
One of the unique ways to shake up your bathroom is by creating a wet room. The truth is that bathrooms can be hard to construct since some spaces are meant to be wet, while others need to stay dry to avoid problems. A wet room removes that challenge and ensures your bathroom is up-to-date.
With a wet room, the shell of the bathroom is designed to withstand moisture on a regular basis. Rather than having a particular stall for a shower, there's no longer a need. The shower, bath, and sink can all fit into the same space. This is an excellent way to maximize floor space and create an easily maintained bathroom.
Related: How to Protect Wood Bath Vanities from Moisture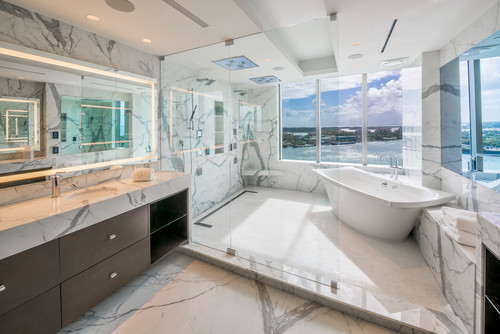 Wood Looking Tiles
Natural materials are always popular, and that goes double for wood. In a modern bathroom, wood can be used for all sorts of things, like vanities, walls, and more. Many people choose to install tile in the bathroom since it can handle moisture and is easy to clean. When you select tile with a wooden look, you get functionality and beauty.
This is another way that trends are moving toward organic items in bathrooms and beyond. Adding wooden (or wooden appearing) tiles makes a room feel more natural and tactile. You can also choose vertical tiles if you want to make the space feel larger than it actually is.
Related: The Use of Barn Doors in the Bathroom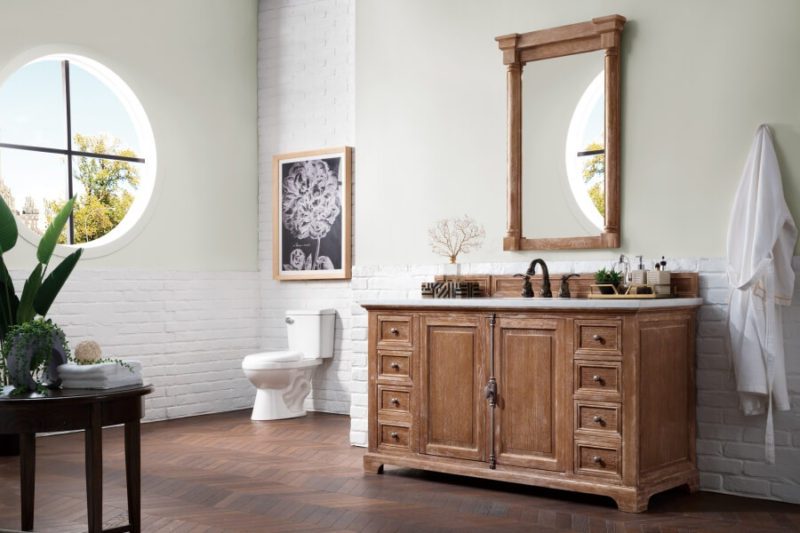 60 Inch Single Sink Bathroom Vanity in Driftwood Finish
New Technology
Most of us have chosen to incorporate technology into our lives and homes. We have streaming devices for our televisions, wireless remotes for our garages, and Bluetooth to play music in any room. But what about the bathroom? One way to bring your bathroom into 2022 is by adding some tech.
The same items you use elsewhere can also be used in the bathroom. However, there is one thing to keep in mind if you decide to go this route. Make sure anything you install is waterproof. Even if you're the ultra-cautious type, bathrooms are wet. Install waterproof devices, so you don't need to replace them quickly.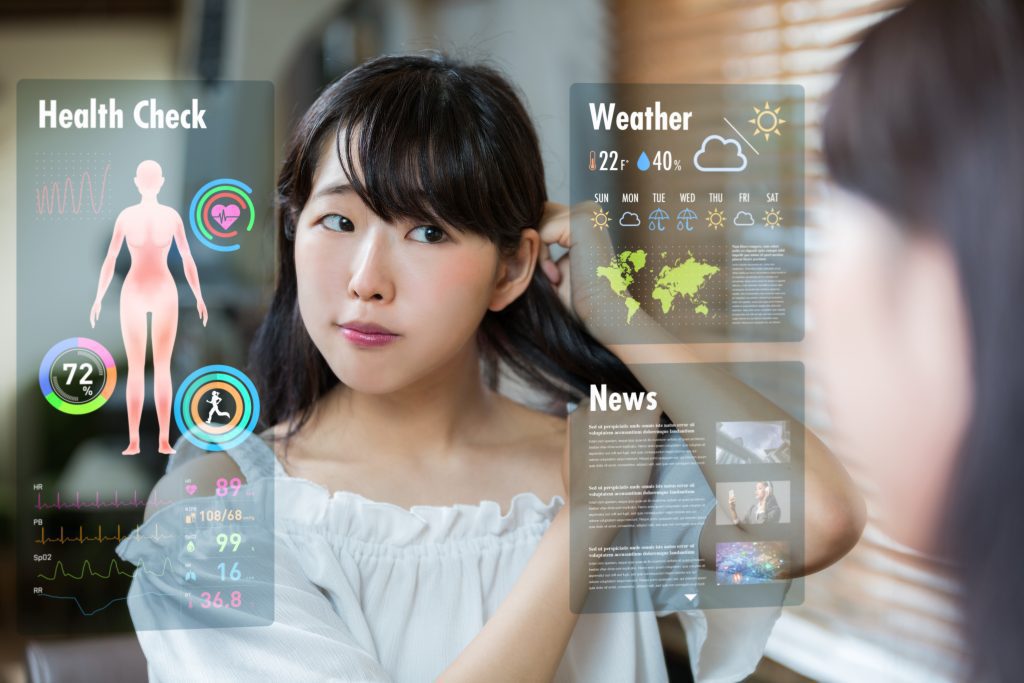 Gold Hardware
Gold is a luxurious color that creates a space that exudes elegance and glamour. However, you might wonder what the best way is to incorporate it into a bathroom. There are several options here. First, metals can have a touch of gold in them to contrast with the wood and natural materials.
The great thing about gold is that it complements a variety of styles and reflects light. In addition, the color is exceptionally gorgeous when used on hardware, such as for faucets, handles, and drawer pulls on vanities. Combine it with copper to add more visual interest in your bathroom and show off just how trendy you are.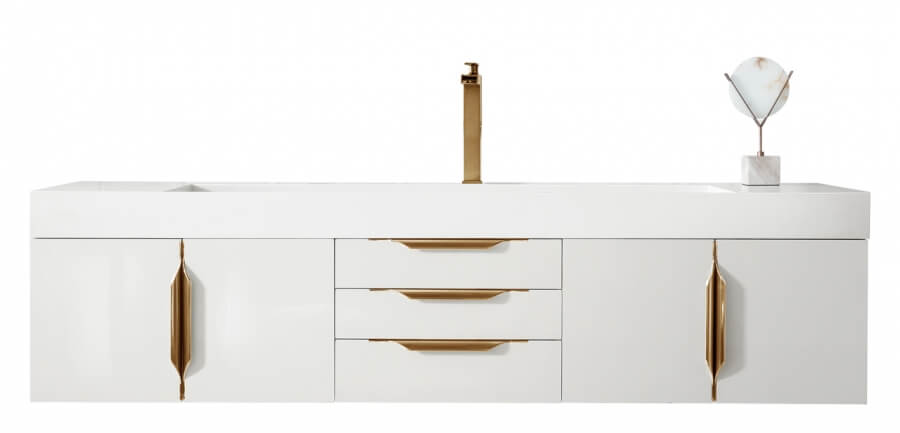 72 Inch Single Sink Bathroom Vanity in Glossy White with Radiant Gold Pulls
Creating the Perfect Bathroom in 2022
Every year brings about new trends when it comes to the home. The bathroom has some specific properties that make it different from other rooms, like bedrooms or kitchens. If you're looking to create a bathroom designed for modern life, consider the tips above to do exactly that.
Remember that you can mix and match the styles you like to build a bathroom that works for you. Your personality matters, so lean into what makes you feel good. Adding a few of the touches mentioned above can add a bit of elegance and style to the room. You may find yourself searching out your bathroom more often just to relax.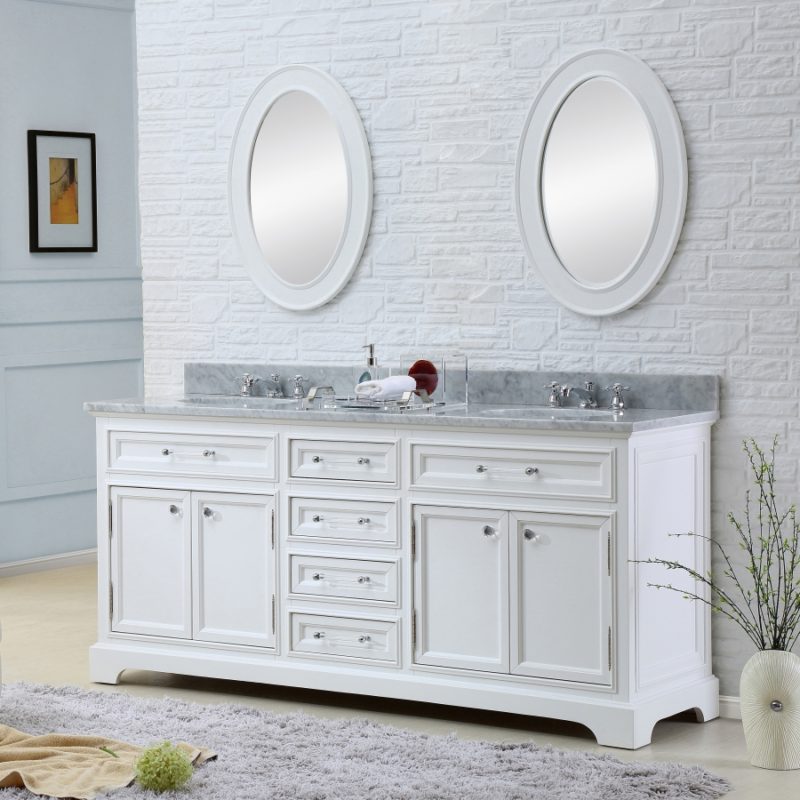 72 Inch Double Sink Bathroom Vanity in Pure White
---
My name is Julia Ritzenthaler, Founder and President of Unique Vanities, started in 2005. I started this business as an extension of our residential remodeling business, which focused on the design and build of custom cabinetry and architectural trim. I also worked as a financial advisor for 10 years at Ameriprise Financial, helping clients make sound money decisions, including budgeting for home improvement expenses. This expertise led me to start Unique Vanities, which offers a handpicked selection of high quality bathroom vanities, sinks, mirrors and more. You can find me most days sitting in Starbucks, my second office, or in my car driving my daughter across Dallas to gymnastics training.
---
Resources
https://www.decorilla.com/online-decorating/bathroom-trends-2022/
https://newdecortrends.com/interior-design-trends-for-modern-bathroom-2021-2022/
https://decordesigntrends.com/bathroom-ideas/
https://www.southernliving.com/home/bathroom/bathroom-trends
https://www.lushome.com/12-modern-bathroom-design-trends-2022-elegant-comfort-planned-imperfection/222814