The master bathroom in your home might be a private space, but that doesn't mean you shouldn't take time to upgrade it. It's a personal place where you keep up with all your self-care routines. Creating a luxury master bath gives you a relaxing and functional space where you can enjoy every moment when you slip away for some needed space.
This article will delve into various ways you can upgrade your master bath to feel more elegant and luxurious. We'll talk about small updates, as well as more significant renovations, so you can choose what best fits your needs.
Related: 5 Bathroom Makeover Ideas That Won't Break the Bank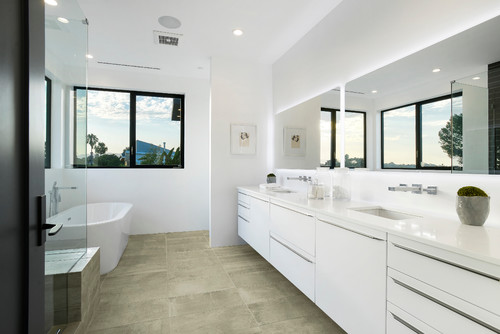 What to Include or Add in a Remodel to Make the Master Bath Look and Feel More Luxurious
A remodel to make your bathroom more luxurious could mean upgrading the vanity, adding new mirrors, swapping out the lights, or changing the flooring. There is no single way to create a chic bathroom that you want to spend your time in. It comes down to your own style and the things that make you feel good about yourself.
If you're tired of the look and feel of your bathroom, a remodel is the perfect solution. Add a few elegant touches, and you could have a bathroom that looks like it fits into a five-star hotel on a tropical vacation. Below, we'll talk about some of your options and give you ideas about where to start.
Related: Light Colored Quartz is Leading the Way for Bathroom and Kitchen Countertops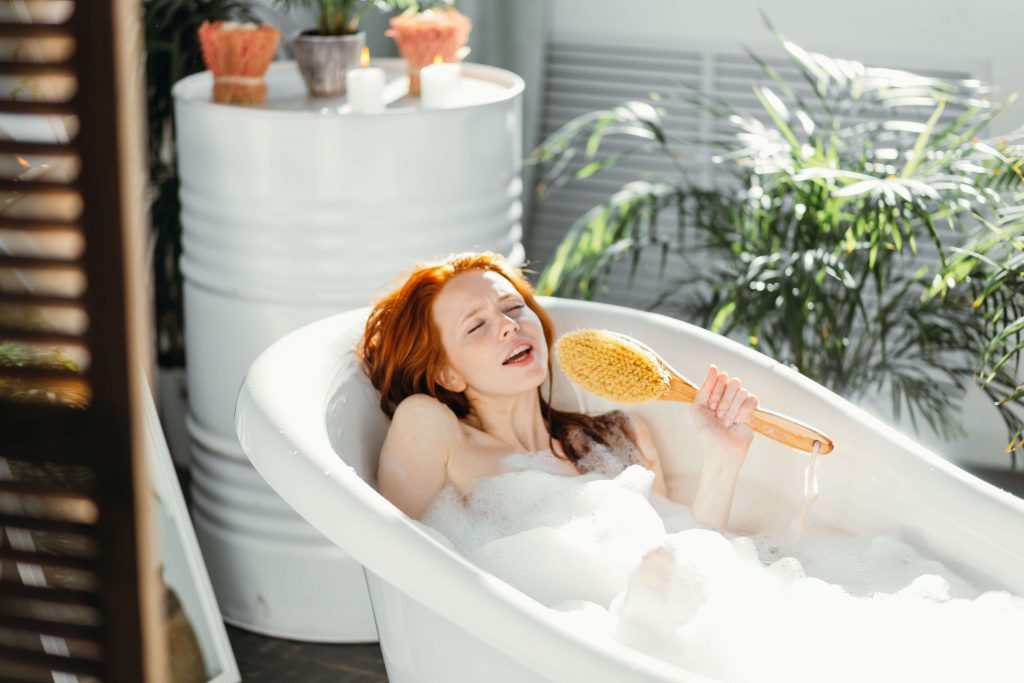 Freestanding Bathtubs
If you currently have a standard bathtub, there's room to upgrade. The same applies if your tub is too small, comes in the wrong color, or doesn't have the modern flair you want. Instead of putting in another traditional bathtub, it might be time to consider something new. What about a freestanding bathtub?
This tub is the perfect way to wash away stress at the end of the day. Deep soaking tubs are an excellent choice for roomy relaxation. Consider a whirlpool tub with lots of space to enjoy bubbles and jets while you bathe. Just remember that these tubs take more water than a traditional model.
Related: Freestanding or Built-in Bathtub: Which One Should You Choose?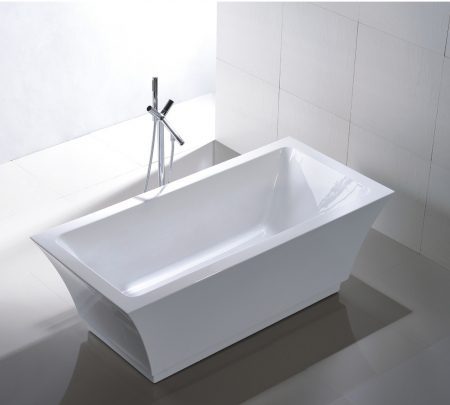 Frameless Glass Showers with Rainfall Showerheads
Another luxurious option for the master bath is a frameless glass shower. These look hip and modern, but looks aren't the only reason to add one during your bathroom remodel. There's no lip or ledge that users need to step over to get inside. This makes it an excellent choice for older adults or those with mobility issues.
The great thing about this type of shower is that you can customize it however you need it. For example, add a dual showerhead for two to bathe at once or install a rainfall showerhead for refreshing showers. If the shower is large enough, you can even add a bench to make showering comfortable for everyone.
Ceiling Mount Square Shower Head
Towel Warmers
Unlike the last two suggestions, this one is relatively small, at least in stature. But it can still make a massive difference to your bathroom. Rather than standard towel bars, consider heated towel warmers. You hang your towels on them, and they heat up so you can wrap yourself up in warmth straight out of the bath or shower.
The budget option is to install a conventional towel bar across from the showerhead. All the steam from your shower will help keep the towel warm when you get out of the water.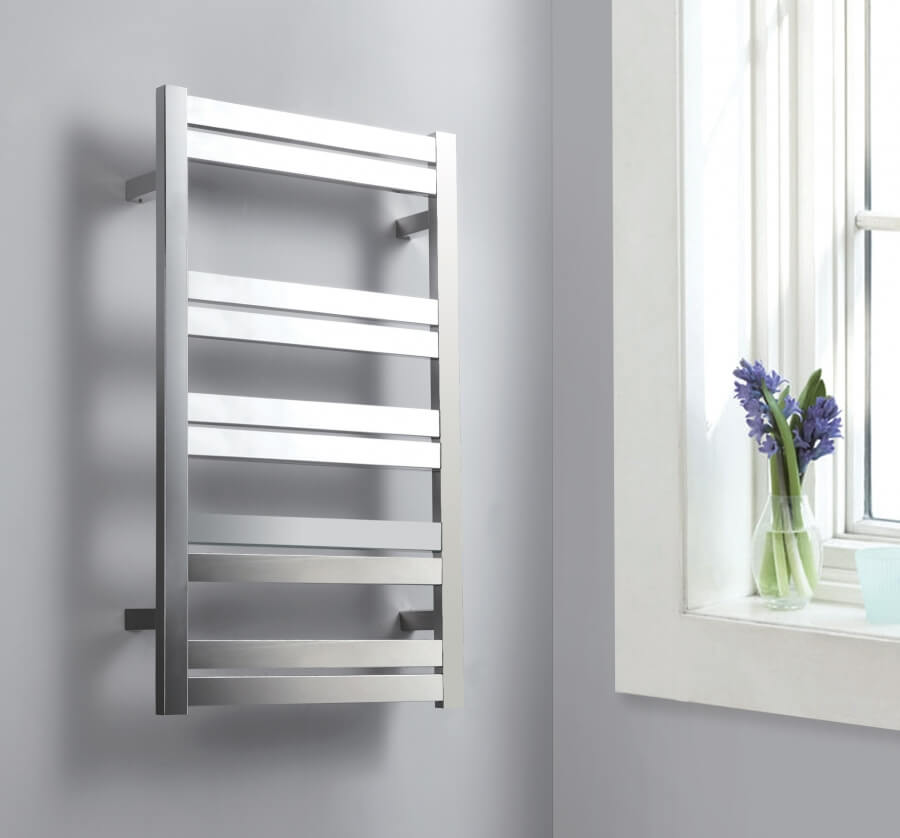 Brushed Nickel Towel Warmer with 10 Warming Bars
Heated Floors
Another way to stay cozy and warm is with heated floors. Radiant heat flooring keeps your toes warm whenever you step into your bathroom. It works incredibly well under a stone or ceramic tile. Walking around barefoot won't leave you with chills when you add this upgrade to the room.
This is an excellent upgrade but can be expensive. If you want to save money and stay warm, consider adding an area rug to the bathroom. Place it where you can step on it as soon as you leave the shower or tub.
Related: How to Make a Bathroom Look and Feel Luxurious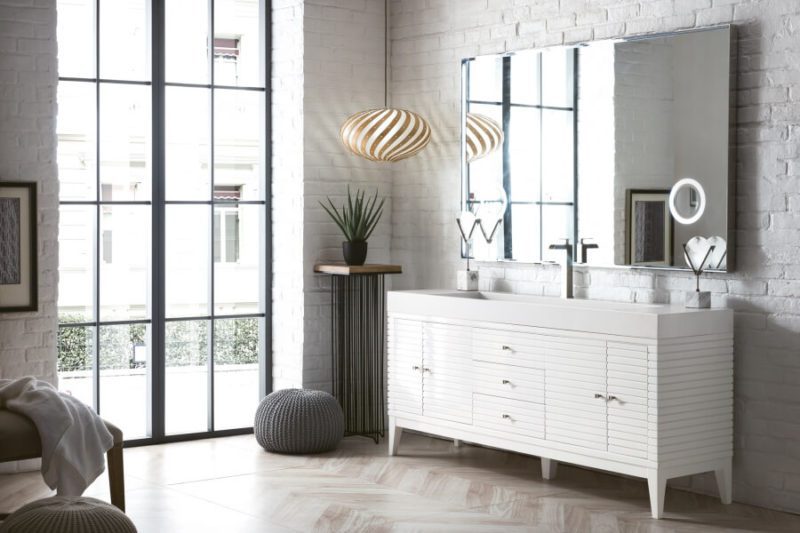 72 Inch Single Sink Bathroom Vanity in Glossy White with Electrical Component
Upgraded Lighting
Adding extra lighting is another way to make the room more beautiful. For example, add some under cabinet lights near the vanity. It looks great and helps you see the room during nighttime visits. Another option is adding sconces by the sides of the mirror. Or try pendant lights at eye level for great lighting at any time of day.
Campester 1 Light Watered Glass Mini Pendant
Consider a Chandelier
Nothing says luxury more than a chandelier, and there is no reason to avoid hanging one in the bathroom. Choose a gorgeous fixture and hang it over the tub to gaze on while you bathe. Or add one near the window, so the light bounces around the room. You can choose whatever version appeals to you and add something extra to the space.
Another tip that can help comes down to the chandelier materials. For instance, did you choose a chandelier covered in crystals? If so, you could take the knobs off your vanity and install imitation crystal knobs that match and make the room look grand.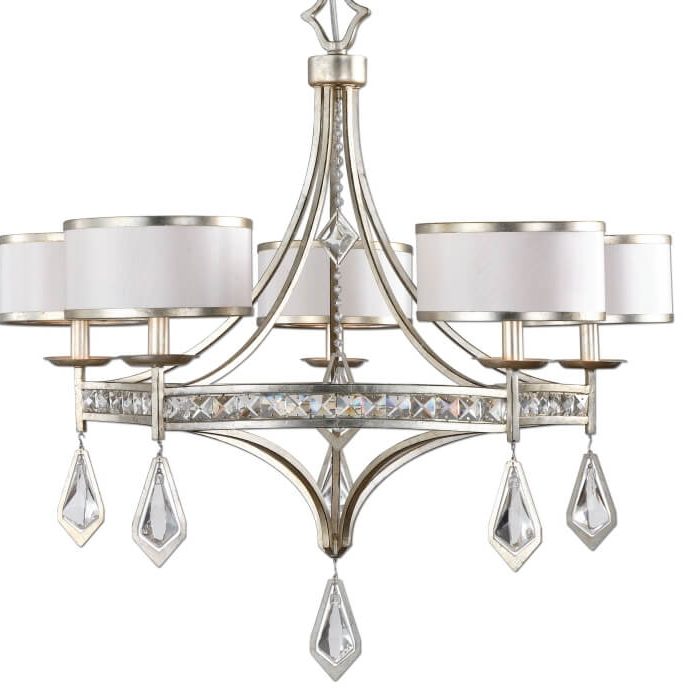 Tamworth 5 Light Silver Champagne Chandelier
Windows and Skylights
If your bathroom is dark or dull, skylights and windows can be a huge help. First, choose the features and sizes that best fit the room. A skylight is a significant upgrade when you lack wall space or want to avoid views you prefer not to see. Sky windows are another option that offers light and ventilation with frames that match windows on the walls.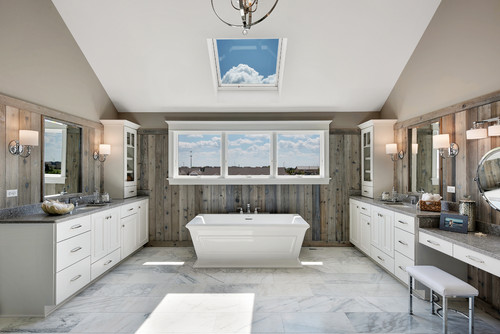 A New Unique Bath Vanity
One of the best ways to transform your private bath into a place of luxury is by adding an updated vanity. Instead of going with something straightforward, select something that matches your style. Choose a single or double vanity, decide whether you like a floating, offset, minimalist or farmhouse vanity, and then outfit your bathroom accordingly.
Related: Trending 72 Inch Bathroom Vanities: Everything You Need to Know
89 Inch Double Sink Bathroom Vanity with Offset Sinks
The Ultimate Master Bath You Can Be Proud Of
The addition of a vanity, new lighting, a modern shower, and a heated towel bar can completely change the look and feel of your bathroom. Whether you use one of the above tips or all of them, you'll create a space that you love spending time in. All you need to do is find the cabinets and fixtures that appeal to you and get them installed!
Related: The Use of Barn Doors in the Bathroom
72 Inch Double Sink Bathroom Vanity with Multiple Top Choices
---
My name is Julia Ritzenthaler, Founder and President of Unique Vanities, started in 2005. I started this business as an extension of our residential remodeling business, which focused on the design and build of custom cabinetry and architectural trim. I also worked as a financial advisor for 10 years at Ameriprise Financial, helping clients make sound money decisions, including budgeting for home improvement expenses. This expertise led me to start Unique Vanities, which offers a handpicked selection of high quality bathroom vanities, sinks, mirrors and more. You can find me most days sitting in Starbucks, my second office, or in my car driving my daughter across Dallas to gymnastics training.
---
Resources
https://www.mydomaine.com/master-bathrooms
https://www.janelockhart.com/blog/8-designer-upgrades-master-bathroom/
https://www.marthastewart.com/2140511/bathroom-upgrade-without-renovating-tips?
https://www.thepinnaclelist.com/articles/8-luxury-master-bathroom-ideas-feel-like-royalty/
https://www.bhg.com/bathroom/remodeling/planning/our-favorite-bathroom-upgrades/