The bathroom vanity is one of the most-used items in the modern bathroom. It will be important that you care for it to ensure that it provides the best use over the years and doesn't end up damaged or in need of replacement before its time. Fortunately, it's fairly simple to maintain your bathroom vanity with just a few tips and tricks.
Of course, each part of your vanity will require slightly different care. For example, if you have a wood vanity cabinet, you'll need to treat it differently than the marble or granite sink or countertop. The same goes for your faucet and hardware—it has its own considerations. Fortunately, there are several ways to ensure that your vanity always looks its best.
We'll break it down into sections to make it easier to follow along, and at the end, we'll even include a section on simple DIY and at-home solutions for bathroom cleaners and keeping your vanity in its best condition.
72 Inch Double Sink Bathroom Vanity with Multiple Top Choices
How to Care for the Bathroom Sink, Counter, and Hardware?
These are generally the easiest parts of the bathroom vanity to care for, but they also see the most use and abuse over the years. Hardware is generally easy to clean with baking soda or apple cider vinegar, but be careful not to use something that will cause corrosion or other damage depending on the finish of the hardware.
And for clarification, the hardware we're referring to is the faucet and tap(s) and the sink drain, usually made of stainless steel. Taking care of these elements isn't difficult. Be careful not to scratch chrome and other metal finishes when cleaning because that can ruin the aesthetic, even if it doesn't cause any real damage.
Related: Bathroom Countertop Buying Guide
Three Hole Waterfall Bathroom Vanity Faucet
The care for your sink and counter will vary depending on a few factors. Some vanities have a sink and counter that is a single piece and sits on a vanity base. Others include a separate sink and counter, where the sink could be inset, set on the counter, or even a bowl-style countertop sink. Usually, simple cleaners without abrasives or harsh chemicals will be effective while preventing potential damage from the cleaning process, which will help your vanity last longer.
Always start with a soft sponge or towel, and only use an abrasive surface if necessary (and if safe to do so). You may have to be careful about abrasions and stain removal on a soft, porous surface because of potential damage. If you're unsure, look up how to care for the material your bathroom sink and counter are made of.
48 Inch Single Sink Bathroom Vanity in Bright White with Choice of Top
How to Care for the Vanity Cabinet Base?
Depending on what your vanity base is made of, you'll have a few different options for cleaning. Usually, a simple cleaning solution that you can use to wipe the surfaces clean is sufficient. However, if you find more dirt or grime that needs to be removed, you may have to consider heavier duty cleaners, a scrub sponge, or another solution. Just be sure whatever you choose isn't going to damage the surface of the vanity.
If your vanity base is made of plywood or particleboard and has a laminate wood finish, cleaning with a wet paper towel will do to keep the basic dirt off. Add an antibacterial agent to remove germs, such as apple cider vinegar or an all-purpose cleaner designed for bathroom use.
Related: Bathroom Vanity and Sink Buying Guide
60 Inch Double Sink Bathroom Vanity in Victory Blue with Choice of Top
Should You Use Chemicals or DIY?
While there is a time and a place for some heavy-duty chemical cleaners, it's not usually on a bathroom vanity. The tub? Perhaps. A really dirty toilet? Of course. But for the vanity, you usually don't need anything so harsh. Simple DIY cleaners might be effective and save you money (and the health risk).
If you don't have the time to put together your own cleaners, there are many natural products on the market today, too. For bathrooms, the top five cleaning solutions that are not harsh chemicals include:
Apple cider vinegar

Baking soda and water

Mild liquid dish soap

Lemon juice

Peroxide (with or without baking soda)
Of course, you'll have to use caution in choosing the solutions that you use based on the surfaces you have. Granite, for example, could be damaged by something like lemon juice or vinegar, which will dull the finish of this shiny stone. On the other hand, a nice paste of vinegar and baking soda could clean a porcelain sink and drain in entirely new ways.
Related: Marble Sinks and Countertops 101: Luxury in Every Home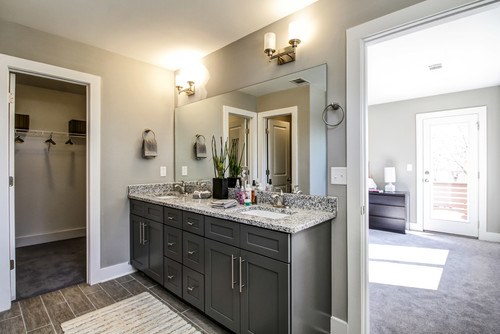 Final Tips
We'd have to write an entire series of guides to cover all the different cleaning requirements of the dozens of different material options. However, we can summarize everything you need to know with the information here. To add to everything you've learned so far, consider the following:
– When you have a new vanity installed, pay close attention to the manufacturer's instructions for care. They will tell you everything that you need to know. Take notes if necessary.

– If all else fails, do some research online. There are plenty of articles and videos that can show you all about cleaning the bathroom, including the vanity, no matter what materials or type of mess you're dealing with.

– If you take the time to clean regularly, you should never need harsh abrasives or chemicals, or anything more than a sponge or wet rage.

– Clean up messes and spills as soon as possible to help prevent set-in stains or potential damage. The longer things sit, the harder they are to remove. A once-simple cleaning job could become an all-day chore if it's not tended to properly.

– You can often find better alternatives to traditional cleaning chemicals and harsh products. The US EPA has a great resource on Identifying Greener Cleaning Products to help you take better care of your entire home without as much risk.
Caring for your bathroom vanity doesn't have to be a lot of work, as you can see. Take advantage of these tips and remember that preventive maintenance is best.
Related: 10 Tricks to Create a Spa-Like Bathroom
48 Inch Antique Two-Tone Single Sink Vanity
Resources
https://m.homethangs.com/blog/2014/09/a-quick-guide-to-cleaning-and-caring-for-your-new-bathroom-vanity/
https://vevano.com/blogs/bathroom-resources/caring-for-your-vanity
https://www.kbyd.com/simple-maintenance-steps-for-your-bathroom-vanity
https://www.cgdcabinetry.com/simple-tips-to-maintain-bathroom-vanity-top/