No one likes a smelly bathroom. Unfortunately, the nature of the space is going to lend itself to certain odors over time. The trick is to figure out how to minimize them, avoid the worst ones, and ensure that your bathroom doesn't just smell fresh, but is fresh, at all times. The first secret isn't much of a secret at all: you can't just drown the room in those spray deodorizers and aerosol air fresheners. Even the ones that help remove odors still aren't solving the problem of where the odors are coming from in the first place.
If you want to keep your bathroom smelling fresh, here are nine surefire must do's that you should add to your list immediately.
Related: 10 Tricks to Create a Spa-Like Bathroom
72 Inch Single Sink Bathroom Vanity in Glossy White with Electrical Component
#1: Ventilation, ventilation, ventilation
The most common reason that bathrooms have foul odors is mildew and mold. Bathrooms are damp spaces, between the sinks and the showers, and they need to be properly ventilated. Make sure that you have an exhaust fan properly installed and consider adding a window if there isn't already one in the room. Every little bit helps.
The good news is that you can find a great selection of ENERGY STAR-rated fans that offer the most efficient options available on the market today. That means you'll get premium ventilation without having to use a lot of electricity to do so. Plus, you can probably get something much better than what you currently have for less than you think, and with the added energy savings, end up coming out on top!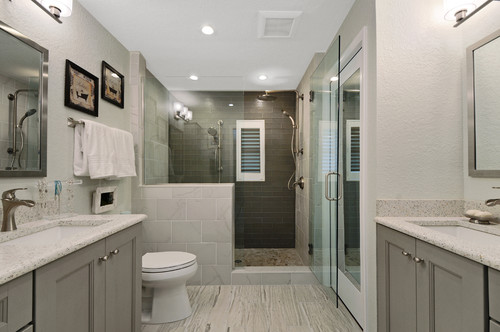 #2: No wet towels!
That mold and mildew we just mentioned? It's probably coming from anything in your bathroom that's left wet, including towels. Damp towels are one thing—these can air dry with proper ventilation and don't necessarily need to be laundered or removed every time. If, however, you have soaked towels or towels that are too damp to hang dry, take them out of the space so they don't attract foul odors and mildew.
The same goes for rugs here or other soft surfaces…don't leave anything that's too damp sitting for too long or it will start to smell.
Related: 5 Bathroom Makeover Ideas That Won't Break the Bank
Brushed Nickel Towel Warmer with 10 Warming Bars
#3: The power of baking soda
Baking soda is a neutralizer. It can neutralize several different odors and issues in the bathroom. You can use it on toilets, drains, and even the rug to freshen the space up. Do this once a week or so and you won't believe the results you get. Plus, when you use it on the rug(s), it can also absorb moisture, so it's doubly effective!
#4: Regular cleaning is a must
To keep your bathroom fresh, you have to clean it regularly. This includes the drains, the toilet, the shower and/or tub, and even the bathroom sink and vanity. Ideally, you should wipe down and clean all the bathroom surfaces, as well as clean the toilet, once a week. They also make daily shower sprays that help keep showers from getting dirty and make the deep cleaning easier. Set yourself up for success here and you'll smell a lot fewer odors.
Related: Tips for Upgrading to a Luxury Master Bath
60 Inch Double Sink Bathroom Vanity in White Washed Walnut
#5: Hand soaps
Instead of buying the plain antibacterial soap, consider choosing a nice, scented hand soap for the bathroom. That way, every time someone washes their hands, a burst of scent is released into the air. As a bonus, your hands will also smell amazing. Worried about germs or sensitive skin? You'll be happy to know that there are tons of options for soaps today, including many that cater to sensitive or otherwise unique skin needs.
#6: Consider wax warmers, diffusers, or homemade air fresheners
Aerosol air fresheners aren't the most effective choice. Even if they do help eliminate odors rather than just covering them up, they can leave residues and they don't always last very long. A wax warmer or diffuser, or even a homemade air freshener will provide longer lasting freshness and you can even pick and choose scents to change things up from time to time.
#7: Plants and herbs can add natural scents
Consider adding some greenery to the bathroom. Not only will this make it a more relaxing, inviting space, but it could also help improve the smell. Use jasmine, gardenia, and orchids for a floral scent, or consider lavender, rosemary, and even thyme, depending on the scent that you want to create. This will be a great way to dry herbs and improve the smell of your bathroom at the same time. Of course, you can also use herb or plant-scented diffusers and other products instead of actual herbs or plants if you don't have much of a green thumb.
Related: Decorating a Half Bath: Tips and Insight to Create the Perfect Aesthetic
89 Inch Double Sink Bathroom Vanity with Offset Sinks
#8: Deodorize the toilet tank
The toilet tank is one of the most innocuous parts of the toilet. People assume that since it's a freshwater tank, there aren't any germs or bacteria present. That is not always the case, however. Just because the tank is filled with fresh water doesn't mean that things like hard water and mildew won't still create smells inside that could leak out over time. Consider using fabric softener or detergent to create a long lasting clean scent AND keep the tank cleaner.
One Piece Dual Flush Toilet with Soft Close Seat
#9: Scented trash bags
Today's trash bag market is impressive. Some might even say it's a little overdone. However, that means that you have a lot of choices for scented trash bags and bags that kill or reduce odors and bacteria. Take the time to consider which scents you want, as well as what won't clash with other scents already in the space. If you choose linen-scented trash bags, that Hawaiian wax warmer isn't going to mix well. And if you don't want to spend money on scented bags, use essential oils in your bags or bins to freshen things up and keep trash from creating unnecessary odors.
With your bathroom smelling brand new and fresh, you might even consider updating with one of these new beautiful sinks or other fixtures to spruce up the space. In any case, you'll never have to worry about tough bathroom odors again when you keep these things in mind.
Related: The Top Bathroom Design Trends for 2022
Natural Petrified Wood Stone Sink
Resources:
https://www.mydomaine.com/how-to-make-bathroom-smell-good-5200534
https://www.thistinybluehouse.com/how-to-make-your-bathroom-smell-good/
https://brightside.me/creativity-home/10-ways-to-keep-your-bathroom-smelling-great-without-using-an-air-freshener-800640/
https://cottagenotes.com/2019/08/11/easy-bathroom-smell-hacks-and-tips/
https://www.whatmommydoes.com/how-to-make-your-bathroom-smell-good/
https://theseamanmom.com/how-to-make-your-bathroom-smell-nice/