A 5 Star Winning Classic Bath Vanity!
Here at Unique Vanities, not only do we feel as a company that reviews are fantastic to help us improve our client experience, but we know that, as consumers, reviews help us make informed buying decisions with people that have "been there, done that." That's why we encourage all of our clients to write reviews on the vanities they have purchased. And we encourage potential clients to read them! Each month, we're going to feature a product or two that has been reviewed by at least 3 clients with some basic information about it. And, as always, if you have any more specific questions on the piece–you know who you can call… US!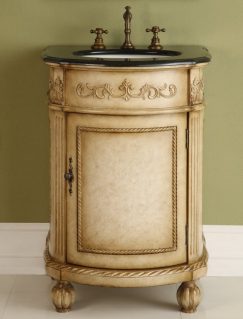 Today's feature is an old favorite. We've been selling this single vanity for quite some time and had great feedback on it. The reviews that you can find on the page note that the parchment finish you see in the image is actually true to life. (This is a huge relief when you're buying things site unseen!) Additionally, the black granite countertop and white undermount  sink compliment this classic 24 inch beauty perfectly in a small bathroom or guest bath.