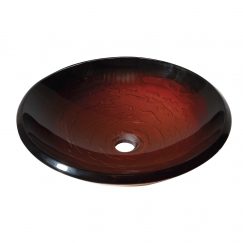 Adding a glass vessel sink can give your current bathroom the pop that you're looking for.  Decorating around this vessel is important regardless if you're adding it to an existing or new vanity.  The vanity of a bathroom is a focal point of it, so the right sink is essential for the surrounding décor.  It helps connect the space and give it the right feel you desire.
The color of the vessel should get the majority of your attention.  This is the most important part of trying to decorate around it.  If the vessel is clear or frosted some certain metal finishes work really well.  Try to avoid using a lot of color in these.  If the vessel is colored, use that color to help compliment the bathroom.  It's important to keep in mind, that you shouldn't over-do that color.  You don't want the bathroom to be too "matchy", you want to use enough color to just compliment the vessel.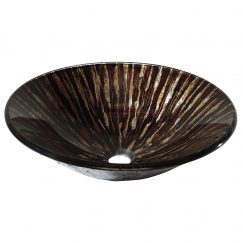 When thinking about pieces to compliment this colored vessel, think about using small pieces to bring a little accent color to the space.  There are many options for accent pieces within a bathroom.  You can use matching candles, rugs, or towels but with that said, remember that you're not filling the entire room with that color; you're only trying to compliment it.  So it's important to make sure you don't use everything that you find in that color.  Pick and choose your spots with these pieces, as you don't want to overdo it with the color as they are supposed to be accent pieces.  Too many accents will in turn take away from the focal point, which is the unique vessel vanity you've installed.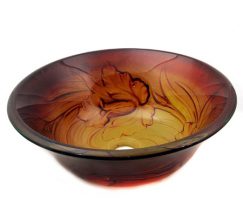 It's important to understand that these vessels are very modern pieces, so when thinking about accent pieces, try to use modern ones to match.  You also have the opportunity to mix and match a little bit, as with the decorative wall mirror piece you hang to compliment it. Sticking with modern accents will work best if you employ simple, clear lines. Your vanity is the focal point of the room, but don't neglect your sink!  Remember, your sink is part of that focal point!