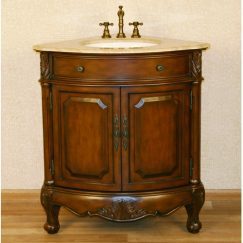 Trying to find some extra space in a small powder room? There are a few options that you could consider but there's only one that will give you the amount of result you desire. Instead of opting for a small vanity or a pedestal vanity, consider looking into a corner vanity. These vanities will provide you with more storage opportunities than your traditional small vanity or pedestal, which will drastically cut down on the amount of space used in your bathroom.
One drawback of a corner vanity is that the options for them are somewhat limited. But with that said, they offer space underneath for storage and a little more counter space compared to the other options of a pedestal or small vanity. Another concern that leads people to be skeptical of corner vanities is the mirror aspect. In reality, there's not much to worry about when it comes to matching mirrors. Many corner vanities have matching mirrors that are available to purchase with them. So that mitigates the risk of having to find a matching mirror that will fit in the corner.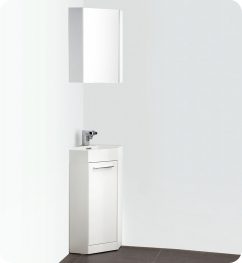 As stated earlier, your other options are the traditional pedestal vanity or simple small bathroom vanity found on many sites. Pedestal options are classic in their beauty, but you must be willing to sacrifice any hidden storage underneath. Small bathroom vanities feature a wide variety of styles, but then you are losing valuable floor space in your small bathroom.
Before you begin your remodel, it's often best to draw a mock-up of the space and then utilize cardboard cutouts of the fixtures you want to have in the bathroom. Make them to scale so you can move them around in the mock-up and see which arrangements will work best for you. As always, we've got experts on staff and Contractors on call to help you with any of your technical or design questions! Call us 866-526-1843.
Contributed by: Hillary Hansen