Whether you're designing the master bathroom for your new home or it's time to remodel your existing master bath, you have a few decisions to make. Will you choose a larger tub? What size and shape will you choose for your mirror or mirrors? What color will the walls be?
You and your spouse can figure out most of these decisions on your own without help from design experts, as most of these choices depend largely on your own personal taste. However, you may want to think a little more about whether a double sink bathroom vanity is the right choice for your bathroom.
A double sink vanity is a very attractive set of fixtures for most couples. When the two of you first moved in together, in your first apartment, you may have laughed at occasionally accidentally spitting toothpaste on one another's hand or (worse yet) the back of the head when you got out of sync. However, that kind of funny mishap stopped being funny a long time ago.
Now, when you have to share the sink, you sometimes feel like a pair of petulant siblings fighting over space. You both clutter the counter with cleansing and shaving products, and you crowd each other with elbows and poorly timed spitting and gargling.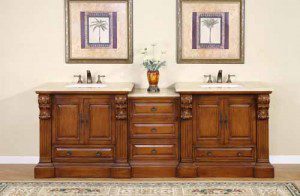 What Are Double Sink Vanity Pros?
If you install two sinks and two mirrors (or one large mirror), you will each have your own space to perform your morning and evening rituals. You won't have to worry about getting out of sync and having toothpaste land on the back of someone's hand or head. You'll feel much more like a grownup, successful couple and less like annoyed siblings.
You might also want to consider what your home will be worth a few years when you're ready to sell. Because so many couples prefer to each have their own sinks, an upgrade like this can be a big selling point and can add value to your home if you do the job right.
What Are the Cons of Double Sink Vanities? Why You Might Not Want to Install Them
Measure out the space you have available for vanities in your bathroom. Will the two of you crowd each other for counter space? Will you still be jostling each other's elbows because the sinks must be placed so close together on the counter?
You won't be very comfortable if you don't have enough counter space or space between your double sink vanities. Furthermore, the effect won't be very attractive, and the added value to your home will be nonexistent if future buyers stand next to one another and see that they'll be too close for comfort.
Even if you do have space, you'll still need to think about how much the job will cost you, not only for the vanity assemblies and mirrors but also for plumbing. It's much more expensive to plumb two sinks than plumb a single one.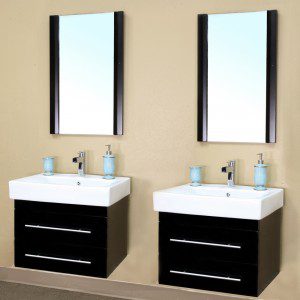 How to Work Around Problems
Now, before you give up all hope of having your own sink for your morning hygiene ritual, some options save space and give you everything you want. If you're short on counter space, build two floating vanities instead of two in-counter vanities and build cabinets and shelves into the wall around the two mirrors.
If you do this, you've created small double vanities with more storage space than you had with an in-counter vanity. Floating vanities with shelves and cabinets are attractive, clean, and cost effective. So, if you have your heart set on a double vanity but don't have enough counter space, you might still have options to work around the problem.
Double sink vanities for small bathrooms can also work with surface-mounted sinks on the countertop. These leave more counter space for cleansers, moisturizers, and shaving supplies at the base of the sink basins. The two of you can have plenty of splash space without fighting over the sink or making a mess, and you can still have your storage space.
Sometimes, though, the space is just too small. If you're not thinking about knocking a wall out or completely rebuilding your bathroom, you might want to consider a single, larger sink and a large mirror, along with some wall shelving or cabinets to give you both a little bit more elbow room. It never hurts to consult with an experienced interior designer when making big design decisions for your bathroom.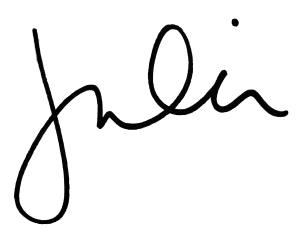 ---
My name is Julia Ritzenthaler, Founder and President of Unique Vanities, started in 2005. I started this business as an extension of our residential remodeling business, which focused on the design and build of custom cabinetry and architectural trim. I also worked as a financial advisor for 10 years at Ameriprise Financial, helping clients make sound money decisions, including budgeting for home improvement expenses. This expertise led me to start Unique Vanities, which offers a handpicked selection of high quality bathroom vanities, sinks, mirrors and more. You can find me most days sitting in Starbucks, my second office, or in my car driving my daughter across Dallas to gymnastics training.
---