Nobody really likes cleaning bathrooms. Unfortunately, if you don't keep your bathroom clean, it's going to get really gross, really fast. Even if you do the minimum – keeping the toilet moderately clean, wiping down the sink and counter, and taking out the trash – dirt, grime, and general chaos have a way of creeping in.
You can have a bathroom that looks as good as the ones in the design and architecture catalogues, even if what you have now is a giant mess. You can have the perfectly clean and organized bathroom you've been dreaming of, and you can do it in 7 simple steps. Let's get started!


1. When You Fail to Plan, You're Planning to Fail
To get your bathroom from the mess it is now to the clean and organized haven you want it to be, you're going to have to spend some time. You might be able to get the initial cleaning all done in one day, but you need to plan to maintain that state of organization and cleanliness. So, instead of making one huge effort, then forgetting about it until it gets really dirty again, let's make a plan.
First, block off a few hours on the weekend or whenever you have free time. This will be the only really big chunk of time you'll spend cleaning. For the next few days, you'll just block off little chunks of time to do all the rest and get on your way to keeping your bathroom perfect all the time. So, plan a little bit of time each day, for a week, around getting your bathroom in tiptop shape.
2. It's Time to Purge!
Okay, the time has come to start the big cleaning project! Open up all of your drawers and cabinets. What do you see? If you're like most people, you probably see a lot of half-empty cleansers, old makeup products, and all kinds of other junk that you'll never use again. It's time to get rid of all of that stuff.
Get a big trash bag and empty out all of the junk. If you haven't touched it in more than 6 months, you're not going to touch it in another 6 months. Throw it away!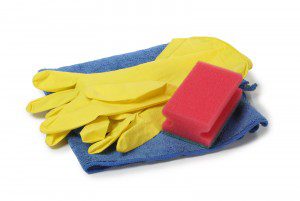 3. Scrub Everything!
Once you've cleaned out all the junk, it's time to get to the deep cleaning. This is the part you've probably been dreading. This is the part where you get out the toilet brush, all of the cleaners, the sponges, and the mop.
Move everything that you haven't thrown away out of the bathroom for the time being and scrub the whole room from top to bottom. Once you're done mopping, let the floor dry, and then put everything back where it was. This is the end of the first day's cleaning. If you're not exhausted, you can go ahead and move on to step 4, but if you want a break, you can wait until tomorrow.
4. Time to Organize!
This is actually the fun part for some people. If you don't have a lot of space in your cabinets, drawers, and/or linen closet(s), it's time to go shopping! There are all kinds of options for bathroom organization, from drawer organizers to hanging baskets.
Think about the items you have left in your bathroom and how you want to store them. Go into your bathroom and organize everything in the best way possible with the storage space you have available. The leftover mess will give you an idea of what you need to purchase in the way of organizers and small storage units.
When you get back from shopping, go ahead and put everything in its place. Now you're done with the organizing section of cleaning your bathroom. If you have a double sink vanity, you might want to get a couple of durable and cute little boxes to collect counter clutter on either side of the vanities.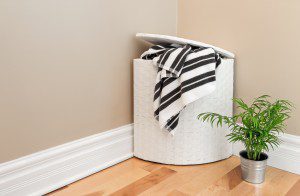 5. Take Care of the Laundry and Trash
If you don't already have a cute wicker or stainless steel hamper for your laundry that fits under the counter or in a corner, it's time to go shopping again. While you're at it, do you have a trashcan that looks attractive and hides your trash, too?
6. Now Get Fresh!
Your bathroom is clean and organized now. You have a system for containing trash and laundry. Now, all you have to do is make your bathroom smell fresh, too. Some people prefer plug-in air fresheners. Others purchase light potpourri. Some people make sachets by tying up some dry coffee grounds in pieces of cloth and tucking them in discreet places around the bathroom. Whatever you prefer, find a scent that works for you, and you'll have created a great bathroom experience for every time you need to go.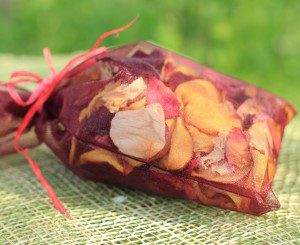 7. Don't Let It Happen Again!
This step actually doesn't require any cleaning or organizing. All you have to do is make a schedule for maintaining your bathroom. Set yourself small chores for every day of the week. For example, on Monday, you could take out the trash. On Tuesday you could clean around your small double vanities. You get the idea. Now you're all set to keep your bathroom looking great! Good luck!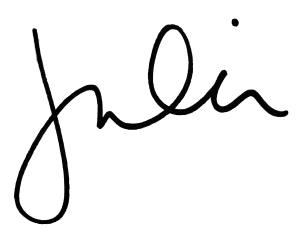 Content Provided By: Julia Ritzenthaler
---
My name is Julia Ritzenthaler, Founder and President of Unique Vanities, started in 2005. I started this business as an extension of our residential remodeling business, which focused on the design and build of custom cabinetry and architectural trim. I also worked as a financial advisor for 10 years at Ameriprise Financial, helping clients make sound money decisions, including budgeting for home improvement expenses. This expertise led me to start Unique Vanities, which offers a handpicked selection of high quality bathroom vanities, sinks, mirrors and more. You can find me most days sitting in Starbucks, my second office, or in my car driving my daughter across Dallas to gymnastics training.
---