So, it's time to remodel and update your master bathroom. Your master bath can be the most relaxing room in your house. It could be your sanctuary after a long day at work. You've probably been dreaming of how you'll remodel this room for quite some time, and the images you see in architecture and design magazines have filled your head with all kinds of dreams.
We're not here to dash your hopes and dreams, but let's think for a moment about the reality of your home, the space you have available, and how your floor plan is laid out. You need to know a few basic things before you begin planning. This way you'll be armed to face the challenges that lie ahead, and you'll be able to meet all of your needs and as many of your wants as possible.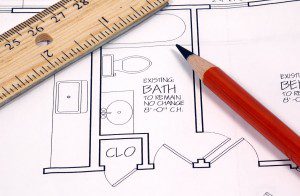 Measure Twice for No Regrets
First of all, let's talk about the size of the space you're working with. You've seen giant master bathrooms with beautiful vanities, spacious layouts, and giant tubs, and you probably want something like that. Well, you can't push the walls out of the way, but if you use the space you have wisely, you can make it feel that way.
So, before you do anything else, measure the dimensions of the room. Once you know the shape and size of the room, you'll be able to accurately gage how much space the Jacuzzi you've been dying to install will take up. You might find that you need to install a slightly narrower tub than you thought, but that doing so will create more space for vanities and lounging furniture.
How Is the Circulation?
Before you install new counters for your double bathroom vanities, look at how much floor space you have. While you and your spouse are getting ready for work in the morning, the two of you will most likely both need to freshen up in the bathroom. Make sure there's enough room to pass behind one another if one of you is standing at one of the vanities.
You don't want to bump into your spouse as they're washing their face, and they don't want to worry about bending over and bumping into you as you walk by behind them. The experts at Houzz recommend leaving at least 42 inches of free space beyond the countertops or vanities in your bathroom to avoid feeling cramped.
Again, this may mean that you decide on a narrower counter than you originally wanted, but you can make up for lost vanity space with some vertical shelving or cabinets over the vanity.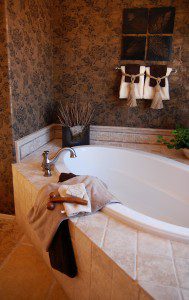 Build Up a Raised Platform for Your Tub
If there's a little bit of excess space around the alcove where you're going to put your tub, consider building a raised platform and purchasing a drop-in tub. This will create the illusion of a larger bathtub. It will give you space to sit on the edge and dip your feet in to relax after a long day at work, and it provides space to place plants, candles, or other pieces of décor that will give the room a more luxurious look and feel.
Use the Space You Have
Most master bathrooms aren't just simple squares or rectangles. Because they're fit into the space the floor plan of the house allows, they often have a couple of odd corners or alcoves. Look at the shape of the space you're working with and see if you can use some of that seeming excess space for built-in closets or cabinets. Out-of-sight storage areas are both convenient and attractive.
Speaking of space, let's talk about your tub and your shower. In larger master baths, the shower and bath are often separate entities. However, if you don't have an excess of space, you might want to consider combining the two to save space. There are a lot of really great luxury options for shower and tub combinations. With a little bit of research, you can find the right one for your bathroom.
Why do people with limited space choose to combine shower and bath? Well, sometimes the choice is between a separate shower and tub or a more luxurious vanity, like a 48-inch double sink bathroom vanity. If you want to both have access to the vanity to get ready in style, you're probably going to choose this option over the separate shower. It really depends on your priorities and whether or not you're sharing the master bath with someone else.
Here's one last tip, before we go. Remember, though you have limited floor space, you can actually build up in a lot of ways. If you incorporate linen closets and cabinets into the walls, you can free up floor space for your vanity and/or tub and shower. Look at the whole space, in three dimensions before you start building.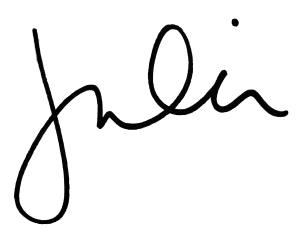 ---
My name is Julia Ritzenthaler, Founder and President of Unique Vanities, started in 2005. I started this business as an extension of our residential remodeling business, which focused on the design and build of custom cabinetry and architectural trim. I also worked as a financial advisor for 10 years at Ameriprise Financial, helping clients make sound money decisions, including budgeting for home improvement expenses. This expertise led me to start Unique Vanities, which offers a handpicked selection of high quality bathroom vanities, sinks, mirrors and more. You can find me most days sitting in Starbucks, my second office, or in my car driving my daughter across Dallas to gymnastics training.
---