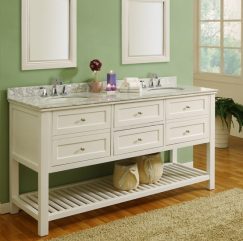 David Bakke writes about money management, home improvement, and smart shopping on the blog, Money Crashers.
There's nothing quite like giving that aging bathroom a facelift. A new tub, fresh and fun tiling, and a few luxurious amenities like heated toilet seats and towel racks can go a long way toward breathing life into your home. That breath of life, however, doesn't come free of charge. The average cost of a bathroom remodel is $16,552, according to Remodeling magazine, which, given the economic climate of recent years, is certainly nothing to sneeze at. Don't despair, though. There are plenty of ways you can save on your remodeling project. To find out how, read on.
1. Set a Budget
Creating a budget for your project can help guide you around any potential financial pitfalls. Thoroughly research all the supplies you require and be sure to get bids from at least three contractors for labor costs. Once your budget is set, do your best to stick to it. It's all too tempting to go with more expensive fixtures and finishings, but if you work within your preset confines, you're going to be that much better off in the end. Include a cushion of 5% to 10% to account for any unexpected costs.
2. Buy Your Own Supplies and Shop Online
Instead of letting the contractor pick up all the supplies for your project, consider doing some of the purchasing yourself. When doing so, don't just limit yourself to your local hardware store. While you may need a big retailer for basic building materials like lumber, there are many other great resources for bathroom fixtures, tile, and many other supplies online. Just be sure you go with a seller who has a stellar feedback rating. The last thing you want is a delay because a company shipped your items late or the wrong fixtures arrived.
3. Choose Your Contractor Wisely
You certainly won't have any issues with finding a contractor for your remodel, but finding a well-qualified contractor is another matter entirely. Start your search off at the National Kitchen & Bath Association and try using social media or Craigslist as well. Once you have a few names on your list, interview them with care. Ask how long they've been in business, and specifically how many bathroom remodels they've done in the past year. Ask for and follow-up with references, and be sure to inquire about cost overruns on previous projects.
4. Help Out
Offering to rewire the new lighting in your bathroom may not be a great idea, but there are several other smaller projects you can assist with. Tearing out the old flooring or wall tile doesn't take much expertise, and anything else you can do to shorten the subcontractors' workload is sure to reduce your overall bill.
5. Consider a Light Tube Instead of a New Window
Before you get any grand ideas about ripping a big hole in the wall or the ceiling to install a window or skylight, consider something called a light tube. This is basically a smaller-sized hole in the wall or ceiling that allows natural light into your bathroom. It's an attractive addition, and much less expensive than putting in a brand new window.
Final Thoughts
When you're finished, if you've got your sights set on that second bathroom, be sure to put the fruits of your current saving efforts aside. Set your surplus in a separate bank account and save additional money by cutting back on your monthly expenses. Build your home improvement fund up, and once it's big enough to meet your proposed budget, pull the trigger on that second remodel.