Remodeling a bathroom can take a lot of time and money but if done properly you can get the look you desire without too much headache. The key is to finding what works for you and your family. This article we'll talk about the do's and don'ts of a bathroom layouts, if will help you decide placement of major items for better flow.
Shower/Tubs
Do – It's best to remove an old shower or tub to make way for a new one, keep in mind that plumbing is extremely difficult to move around. Consider removing the tub and go for a walk in shower, especially if it's for the master bath, homeowners are done with traditional tubs so go for a stand alone style.
Don't – Make drastic moves of a shower or tub, unless your willing to pay for high plumbing costs, it's better to keep big items like this where they original were. Changing the style is perfectly fine. Also, don't interfere with a walkway to get to the shower or tub, remember water collects in this space so be aware of the placement of such an item.
Vanity/Countertops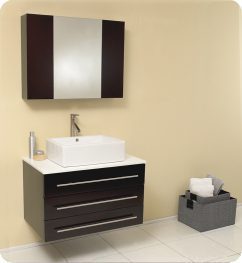 Do – Update the style or material that was used and go for something that provides more storage. You'll be thankful that you did considering this is the best use of a vanity. If you're not into the storage thing try a pedestal sink, smaller bathrooms may not have the room that's required of a full size vanity. Choose countertops that will suite the needs, natural stone is in so choose something that will hold it's value long term.
Don't – Overpay for a vanity or countertop, there are plenty of places to find what you're looking for. Try discount stores or online, you'll find unique designs for less. Another thing to consider is size, don't install a vanity that will take up to much space, be sure to measure that way you'll get the idea of how much space is needed.
Toilets
Do – Ditch the old toilet and select a low flow toilet, this will not only keep your water cost down it's a great way to conserve. Find a toilet that fits the space you intend it to be.
Don't – Move the position of the toilet, it's better to keep the toilet right where it should be. Moving plumbing like this will become very costly; besides you won't benefit much by doing so. Also, make sure there's enough room between the tub, vanity and toilet.
This post was brought to you by UniqueVanities.com and UniqueMirrorsOnline.com, where you can find some modern and trendy linen cabinets and bathroom vanity wall mirror.