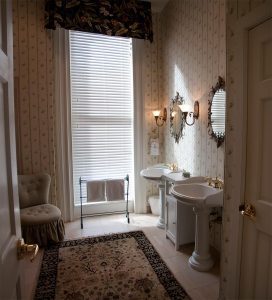 Kids' bathroom is all about fun and color.  You can get as creative as you like when you design one. Here is a Kids bathroom style guide that will get your creativity flowing.
Floor: The options are endless. White ceramic tiles with randomly placed red, blue and green tiles. Or you can add these colored tiles in pattern your kids can skipped around on and make a game out of it.
Wall: A vibrant yellow wall will give the bathroom an open sunny feel. Use stencils and paint puppies, bubbles, animals, sea theme or flowers based on the interests of your child. If you are designing a shared bathroom, paint one child interest on one wall and the other on another. Frame your child's masterpieces and display them on the walls.
Vanity: A neutral vanity with tons of storage is a perfect choice for a kid's bathroom.  Consider getting it installed at a lower height to make it easier for your kid to reach the sink. Or add a fun pull out step stool.
Vanity Mirror: Buy a simple vanity mirror and stencil in a frame around it that matches your theme.
Tub: if you get a free standing tub, you can stencil in pretty kiddy designs on the outside. If the tub has claw feet you can make it fun by painting each leg a different color.
Shower curtain:  Pick a bright curtain that goes with the theme and color scheme of the bathroom. Polka dots are a popular choice. Hang a red and yellow polka dot curtain. You can also paint multi-colored polka dots on the walls and then get a solid colored curtain in the color of one of the polka dots.
Accessories: Pick a theme such as ocean, princess, frogs or animals and buy colorful accessories accordingly. Add a bright area rug in the center. Install towel bars at lower height so that your child can be independent and hang their own bath towel. Put in a shower caddy and store their shampoo, soap and other toiletries in the lower shelf. Get some waterproof toys for your kids to play with during their bath.
Finally, safety precautions are paramount in a kid's bathroom. Do not keep any dangerous chemicals or medications in the kid's bathroom. Make sure the flooring is slip resistant. Add slip-resistant mats in the bathtub for additional safety.
This post was brought to you by UniqueVanities.com and UniqueMirrorsOnline.com, where you can find the best bathroom lights and accessories and as well as discounted large mirrors.