Bath Envy: A Soak With Seriously Unbelieveable Views
Posted on

September 18, 2013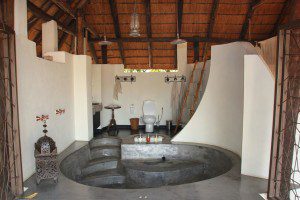 Recently a gal from Best Friends For Life (BFFL – a company that provides hard to find recovery products for women after breast cancer surgeries) responded to an inquiry I had posted about unique tubs and spa experiences. As you will see, this was definitely the most interesting response I received! This trip was brought on by founder Elizabeth Chabner Thompson son's desire to see his tennis coach's homeland Zambia, Africa. Here's what she had to say about her unique spa experience!
After an exciting morning game drive in the African Bush, there is nothing better than a hot soak in the tub and a nap.  The Bushcamp at Kapamba not only guarantees incredible snapshots of lions, hippos, giraffe, leopards and zebra (just to mention a few of the animals), but it also comes through with an incredible bath experience.  The 2,000 litre smooth cement tub fills in less than 5 minutes, as the water, heated by a solar generator spills into the stepped bath.  The cement keeps the water warm and you can recline and look out on the river and watch the elephants cross, the crocodiles sunbathe or just listen to the birds chirp. If you'd rather take a shower, there are 2 heads, so you and your mate can enjoy the view together.  When you are finished, you step up and out onto steps with baked in sand, so there's no chance in slipping.  The linen robes are perfect to wrap yourself up and dry in the sun (on your own private sun deck).  Oh and by the way, no need to bring your shampoo, conditioner, body wash or lotion; the bath products are heavenly.
A giant tub with a view of elephants?! Now that's unique!!
What's your most unique bath experience?