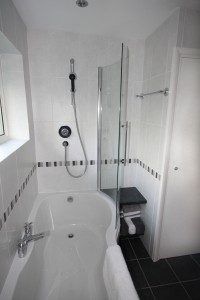 A window placement in the shower will bring in natural light, provide much needed ventilation to reduce humidity in the bathroom and stave off the claustrophobic feeling brought on by a windowless shower. If you are lucky, you may also have a nice view from your shower.
While a window in the shower has many advantages, it also brings up important concerns like privacy, water pooling in the sill and possible water damage such as rotting drywall or worse, rotting studs around the window area.
One option is to install a smaller window higher up in line with the shower head or install the window out of the shower range, like the back of the shower. While this is a practical solution, this may not be as aesthetically pleasing as the big, airy windows in décor magazines. If you are installing one, here are some points to consider:
Installation:
Install a Vinyl window in a wooden jamb for maximum moisture protection.
Ensure the cement board is in the same plane as the jamb and runs right up to it. Use silicone caulk where the cement board meets the jamb. Seal it with a completely waterproof membrane wrapped around the joint and wood jamb.
Pitch the window sill so that water drains towards the shower.
Extend the shower tile installation to cover the window inset completely.
Grout the tile joints and finish off with a sealant to prevent mold.
Add silicone caulking at all plane joints.
Finally, check for cracks in joints once or twice a year and re-caulk or re-grout as needed.
Privacy:
Install Opaque/Obscured or Frosted glass windows.
Despite using Opaque glass, your privacy may be compromised if you shower at night and your bathroom lights are on.  Argon charged one-sided window is another option for complete privacy.
Another foolproof method is to install a thick vinyl curtain. You can find pretty ones in the market. It will give your bathroom a shabby chic look. Cover the window while showering. This will also protect your window from moisture damage.
If your window faces your backyard or woods and is not in view of other houses or a busy street, a clear glass window with privacy hedgings like a fence or tall shrubs may be sufficient to ensure privacy.
With these precautions, you can enjoy an outdoor shower every day right inside your bathroom!
This post was brought to you by UniqueVanities.com and UniqueMirrorsOnline.com, where you can find some new designs of ornate bathroom mirrors and modern round mirrors for the bathroom.