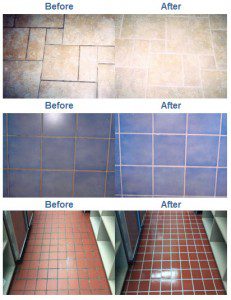 For today's "best of," we look at the topic of cleaning the grout in your tile (whether that be in the bathroom, kitchen, or wherever.) It's a job we have yet to find that anyone really "enjoys" doing around the house. So when we started chatting with Michael Stracuzza, founder of the product "Grout Shield," we were definitely intrigued. Since we've never tried the product, we asked Michael for his "elevator pitch" and then took to the web to find some real life reviews.
The scoop is that you no longer have to pay hundreds of dollars to have a tile contractor clean, replace, or change the grout between the tiles on floors, bathrooms, or shower walls…. Or spend hours trying to clean it yourself. The results produce professional results with durability backed by a guarantee. The colors of many popular paint brands can also be matched. Besides changing and matching colors, the grout is sealed simultaneously. All products prevent mold and mildew stains, are environmentally friendly, and are safe around kids and pets.
The Grout Shield™ $29.95 kit covers 250 sq. ft. and comes with an instructional DVD. To give you an idea of how easy the product is, all you have to do is apply cleaner using a regular scrub brush or our brush applicator (included in the kit) and let dry for 20-30 minutes before applying the sealer. Next, apply the sealer to restore the grout to its original look while ensuring the color will be protected for years.
Reviews from across the web show evidence of a great product that does what it advertises (which is always a plus.) The only negative we read was that it took a while to apply, but we will overlook that one because it would inevitably take quite a bit longer if a homeowner were doing it unaided!
We're going to go ahead and give this product a gold star for our best grout cleaner!
To check it out for yourself, go to groutshields.com and make sure to have a look at the before and afters!