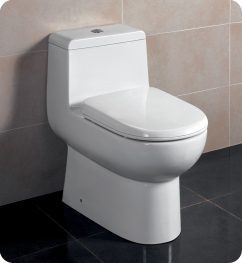 First-time plumbers and DIY plumbers need to understand how to make toilet rough-ins. Even the most experienced plumbers need it. A rough-in involves the planning, sketching, measuring, dry-fitting and initial plumbing installations before the actual piping. Toilet plumbing rough-in, however, is not for the amateur plumber since city permits and inspections are required. There are rules and standards in piping. City officials need to make sure that toilets adhere to such standards because a poorly set up toilet plumbing will not only affect a home but the entire community as well.
About Toilet Rough-in
If you wish to make a toilet rough-in on your own anyway, here are just some of the things you should keep in mind.
Make careful plans for the drainage. This, of course, is so important. Can you imagine building a toilet with a drainage that doesn't work? Excavate a trench for the drainage system and have a supply of clean sand or gravel to cover the pipe later.

Measure all the pipes (diameter, size and length) that you would need to use later on. Make sure pipes and valves fit, and that they shouldn't fall short from reaching end to end.

Make careful plans for the toilet seat. There are a number of fixtures to choose from in the market, but other than cost and beauty, you also have to consider size and fit. You should be able to foresee how your toilet will look like and be laid out. Decide where to place the toilet and the necessary piping.

Don't forget the fitting allowance. This means you should cut your pipes to the required lengths and be able to dry fit them together without using any glue. When the fittings are perfect, you may start gluing.

When you've successfully set up the pipelines, expect city inspectors to come knocking at your door. A toilet rough-in is a precise science. Any miscalculation will result in you having to re-do everything. If this is not your forte, it is better to call a professional plumber for help.
About the Toilet
If a rough-in is too much for you, try focusing your efforts in installing just the toilet seat. It is the most important part of your toilet anyway, and having the chance to install it on your own can be quite an achievement. Here are just three basic reminders when installing the toilet seat.
Get all the tools and materials necessary. You will need PVC pipes, fittings, cement, closet elbow and the toilet seat, of course, among others.

If there is an existing drain stub already, simply hook up and align your toilet. Set properly and begin screwing and cementing to the floor.

Install the toilet flush and test by flushing to see if everything will go down the drain.
Work dealing with fittings and vents that go with the toilet, it is better to call a licensed plumber to do it. Any mistake in installing the vent, trap and pipes can cause problems resulting to sewage backup or allowing toxic sewage gases to escape to your toilet.
Meanwhile, the easiest toilet plumbing chore to perform is toilet repair. The most dreaded problem in the toilet is a clogged drain. This, however, may be resolved by simply using the plunger. Again if this doesn't work, it is best to call a plumber or else things can be very messy.