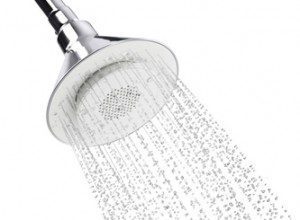 If you're like myself, music is an ever present backdrop in your life. I listen while I work, work out, cook, drive… the list goes on and on. I will occasionally listen to music in the shower, but that involves me carting my speakers, phone, and plug to the shower from my kitchen (which, if you can guess, is not my favorite thing to do.) So when I heard about Kohler's Moxie Showerhead, I was definitely intrigued. And, since our focus on the blog this month is technology in the bathroom, I had the perfect excuse to do some research on this latest innovation.
Before I even start to report my findings though, let me first state this disclaimer: DANCING IN THE SHOWER IS DANGEROUS. Seriously, I've done it without thinking on several occasions, and twice been left with big bruises on my backside. It's dangerous. Don't do it.
However if you can keep your body from bee-bopping,  then the Moxie showerhead could definitely be the one for you. The center of the showerhead itself is a removable speaker that connects magnetically to the head and plays music from your phone or tablet via wireless Bluetooth technology. It's pretty brilliant.
I scoped out several reviews on the Moxie, only because it's been my experience that when things appear too good to be true–they usually are. However, all of the reviews I read gave this 4 or above stars out of 5, which in my opinion is pretty solid. The only complaint I could find (and not even in every review) was that the speaker "doesn't get as loud as you might demand."  But, in Kohler's defense, the same reviewer mentions that "you're looking at the first real try at this from a company that doesn't have a rich history in electronics," and also advises, "Buy with confidence." Others complained at the price tag, which rings in around $150, but for what you're getting, backed by the quality of Kohler products, I think for a music lover, it's well worth the price tag.
Sound good to you? (Pardon the pun!) We've included a link where you can grab one for your own bathroom below and we'd love to hear your reviews once you get it!
KOHLER K-9245-CP 2.5 GPM Moxie Showerhead and Wireless Speaker, Polished Chrome