As we continue to explore technology in the bathroom this month, today we decided to "jump in the shower," as it were. We've already discussed the Kohler Moxie Showerhead here, which allows a seamless music experience for those music lovers out there. But what about those who could care less about music and really want a more spa like experience directly from their showerhead? Well, for those of you who haven't realized it yet, the future is now. These spa showerheads and massage panels are not only available, but they're reasonably priced for the value they provide! Let's take a quick dive in to look at some of the features and benefits available from these shower pleasers!
One of the great features about shower systems is the number of options they provide. For stress relief or sore, aching muscles, lower jets with adjustable streams can be angled directly at trouble spots. (Insert heavenly angels singing here.) Or, alternately, if it's just a "normal" shower that's desired, the jets can be switched off so that only the overhead mount is activated. On top of that, most shower systems have a handheld option as well, which is ideal for not only rinsing yourself, but also for rinsing your shower walls after cleaning! (Or even for bathing the family dog or the toddler that no longer wants to take baths–the list goes on and on!)
Shower panels are relatively easy to install and to repair years down the road. Most models are mounted on wall brackets onto the shower wall. Behind the face of the shower panel lies the plumbing and water hookups, allowing for easy installation initially, and easy access if ever repairs or adjustments are needed. Additionally, with the number of designs and finishes available, it's easy to find one that matches any type of bathroom decor!Alternately, if you are looking to retrofit your current shower with one of these models, the most major part of the swap will be running hose to where the existing showerhead was and attaching the water lines with the connectors.  Here are a few of our favorites! Click on any of the pictures for more information!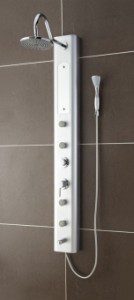 Provided by: Hillary Hansen