How to Choose the Right Faucet for Your Bathroom Sink
If you view your bathroom vanity as many people do, as the centerpiece of your entire bathroom, then the faucets that adorn your vanity should be chosen with just as much care. Additionally, if you're just doing an easy upgrade and changing out your existing faucets, adding unique and stylish pieces can bring a tired vanity back to life. As with everything, there are a few important pieces to consider before you make your purchase. We've outlined those for you here!
Style: This one should be a no brainer. If your style is consistently modern, then choose a simple, sleek faucet that is aligned with your existing modern finishes. If you lean towards a more traditional theme, opt for something with curved lines and ornate details.
What Are the Different Types of Bathroom Faucets?
Configuration: For most remodelers, this choice has already been made for them. Many vanities come with holes pre-drilled for a certain configuration, whether that be a single hole, or 3 hole with a 4 or 8 inch spread. For those that are having their own tops fabricated, some thought should be put into this. Do you want to have separate controls for your hot and cold water? Is your sink undermount or a vessel sink that sits on top? (This will often determine single or triple hole.) Here are a few of the configurations you have to choose from:
Widespread Faucets: These are used in 3 hole spreads varying from 6 to 16 inches which is the distance between the hot and cold handles. These will have separate controls for hot and cold water that will not be connected at all to the spout piece.
Center Set Faucets: These are like miniature versions of a widespread. They will have separate controls for hot and cold water but are only available in a 4 inch spread. Additionally, the hot and cold handles WILL be attached to the spout.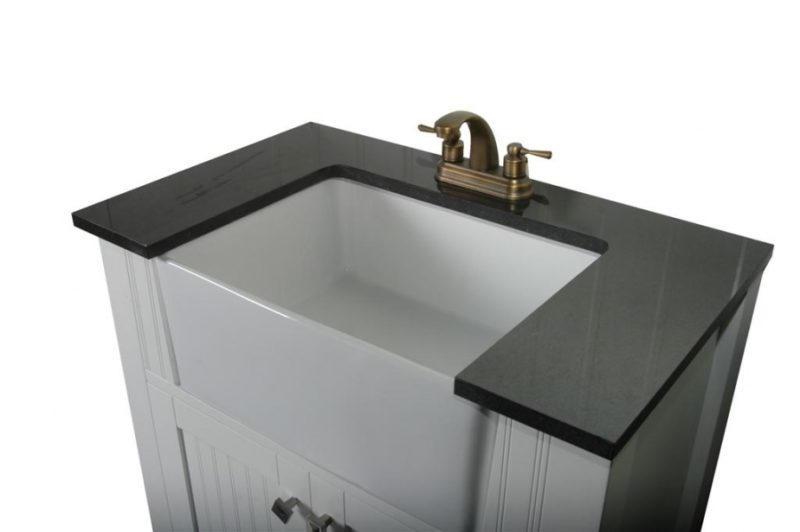 Single Hole Faucets: These have a single mixing lever to control both hot and cold water. They are often used as vessel sink faucets, but may be used with any type of sink drilled for a single hole faucet.
Wall Mount Faucets: These are, as the name would suggest, mounted from the wall behind or next to the sink. You'll want to make sure if you opt for this item, that the spout is long enough to provide proper clearance to the sink.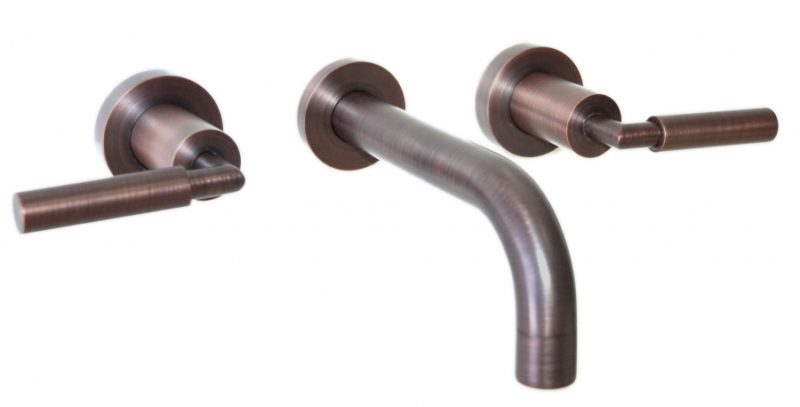 Faucet Finishes Pros and Cons
Here is another category where options are primarily based on your personal style preference. Modern lovers generally gravitate towards chrome or brushed nickel faucets, while those who are more traditional might choose an oil rubbed bronze or antique brass faucet.
With so many finishes to choose from, we found this article to be a great resource.
Either new construction or simply giving a bathroom a fresh facelift, even simple design decisions can seem daunting. Picking out the fixture finishes doesn't have to be. With the variety of options out there, chrome, brushed nickel, oil rubbed bronze, gold, antique brass, and more, you are sure to find the one that works best with your design aesthetic. Typically most homeowners will want the finishes for all the bathroom faucet fixtures to match. Of course, you can go even further and match the fixtures to the finishes of your home's door hardware, but keep in mind that each finishes appearance fits in with particular styles. Of course, all of these options stem from two different color schemes, silver and gold. This distinction may assist in establishing a starting point when making this decision.
The top trend these days is brushed nickel. Playing off the popularity of chrome, which fits in with almost any design style, brushed nickel has its added bonuses. Both chrome and brushed nickel has an essence of sleek and modern. Brushed nickel, however, has an upper-hand on ease of use over chrome. Brushed nickel will not show finger prints and water marks as easily as chrome tends to. Satin nickel is a close relative of brushed nickel, both going well with either traditional or modern styles.On the opposite side of the spectrum you have gold and brass. Both go well with more traditional styles, polished and antique finishes can be added to accommodate formal or informal spaces respectively.
If chrome is more your style, then satin chrome can also be considered. These two are more suitable for and modern and chic design. Chrome giving off more of a retro vibe, would be great in a sleek and streamlined bathroom.
On the opposite side of the spectrum you have gold and brass. Both go well with more traditional styles, polished and antique finishes can be added to accommodate formal or informal spaces respectively.
Oil rubbed bronze, also a trending favorite, has a very special quality to it. With its quiet sophistication, oil rubbed bronze has a continuous change as it ages. It will acquire a natural beauty over its lifetime. This characteristic may not sit well with some, but many will appreciate the charm that goes along with this finish.
So now that you have chosen the perfect finish for you and your bathroom's design style, the next step is to choose a faucet. Also dependent on the style of the bathroom just keep in mind factors such as reach of faucet, configuration, and preference of handle styles that will work best for you.
Can You Mix Metal Finishes in the Bathroom?
There are lots of common metal hardware and fixture finishes in bathrooms. Of course, they are all available in different styles as well, such as: brushed nickel, oil-rubbed bronze and patina-ted iron. The juxtaposition of the two metals can be subtle or you can make it a focal point. The best way to see how each of these can be mixed well is to see it!
Finishes include: copper, brass, nickel, bronze, chrome, stainless steel, iron, and gold.
These oil-rubbed bronze handles pick up the colors in the mirror, and the shiny nickel faucet looks great between them.
A lovely antique gold chandelier adds dimension to this bathroom otherwise outfitted with nickel fixtures.
Dark bronze pendants with lighter chrome drawer handles make this contemporary bathroom unique.
A gold mirror and sconce punctuate this pedestal sink with nickel fixtures.
Match your mirror with the cabinet hardware and choose a contrasting metal for the sink faucets.
What Size Bathroom Faucet Do I Need?
Will Any Faucet Fit My Sink?
The short answer is no. You need to make sure that the faucet you choose is compatible with your sink. This means how many faucet holes does the countertop have? What is the spread between the faucet holes? What type of sink is it, etc. We will teach you about all the different types of faucets and what to look for to make shopping a breeze.
What Does Spout Height and Spout Reach Mean?
The spout height is how high the faucet is; the measurement from the bottom of the base to the highest point of the neck of the faucet. The spout reach is how far out the spout comes into the sink. This is measured from the center of the spout base out to the water stream. These details will come in handy especially if you are looking at single hole faucets or vessel sink faucets. You will want the spout reach to hit the bottom area of the sink…not necessarily the drain which is sometimes mistakenly assumed. This will help reduce splashing and leave ample room for hand washing.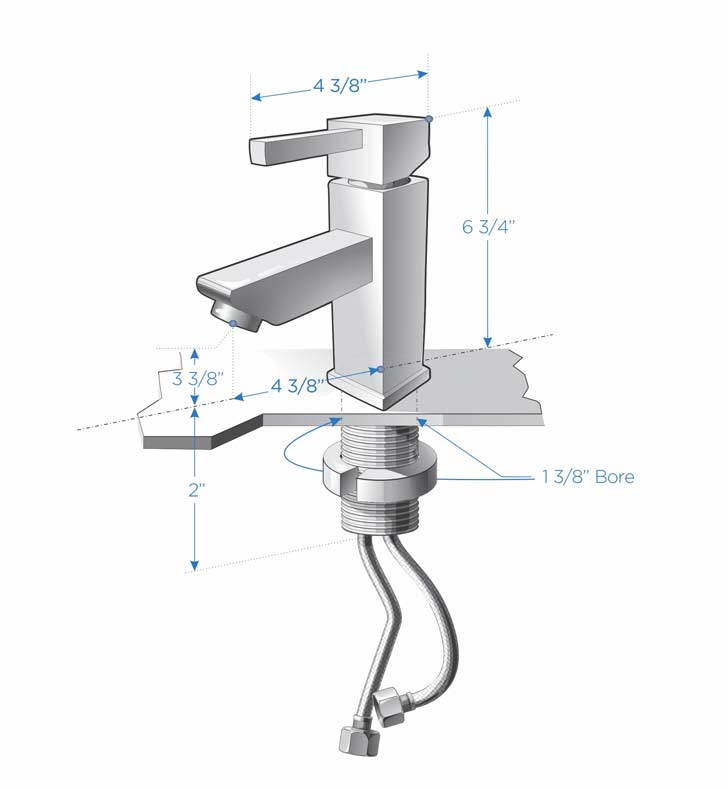 Do Bathroom Faucets Come With Drains?
The answer to this question is difficult to answer. Some do and some don't. It all depends on the manufacturer if they include them or not. If one is not included, we recommend you purchase one from the same manufacturer as the faucet to guarantee the finish matches. You will also need to determine what type of drain you need. The most commonly used drains are either a grid drain or a pop-up drain. A grid drain will not allow you to stop up the sink whereas a pop-up drain will allow you to do so.
Are Bathroom Faucets Easy to Replace and or Install?
Installing or replacing a faucet might sound complicated or a bit scary to try on your own, but really it is not as difficult as you may think. With only a few common household tools and supplies, you can accomplish the task in as little as an hour.

How to Install or Replace a Bathroom Sink Faucet
This video is brought to you by MrFixIt so you know it is good. Aaron goes over how to install a bathroom faucet making it look easy. It is very thorough and gives good tips. It gives you the step by step instructions on either a single handle faucet or a two handle faucet. Not only does it go over how to install the faucet, it goes over the drain as well. Most faucets come with a drain, but in the case they don't, be sure to get the correct drain that is compatible with your sink. Do you need an overflow valve or no? Always know that we are only a phone call away.
How to Clean Bathroom Sink Faucets?
When you want to just do a routine cleaning, it is very simple. Just use a few drops of a mild dish soap and some water. Mix these and then simply use a soft cloth to clean the base, handle and neck of the faucet. Use an old toothbrush to get in the nooks and crannies. If you have soap build up, try using a baking soda paste by mixing baking soda and water. Then rinse the surface with cold water. To not flood the area, dampen a clean cloth and wipe away the soap and gunk. Then dry the surface which will give it a nice shine.
How to Clean Brass Faucets?
Brass tends to tarnish over time. To avoid this, you'll want to keep it dry by wiping it down after every use. For routine cleaning, you can follow the same easy steps as above using only a soft cloth and a mixture of dish soap and water. If you need to bring your brass back up to that shiny finish, there are a few tricks of the trade you can try. The easiest is ketchup…yes really! Rub a thin coat of ketchup onto your brass faucet and let it sit for about an hour. Then rinse it away with hot water.
Another option you can find in your cupboard is to make a paste using equal parts salt, flour, and white vinegar. Apply this to your faucet and let sit for up to an hour and then rinse it with warm water. Dry it well with a soft cloth and the shine should be restored as new. If this doesn't work well enough for you, you can find a brass cleaner at your local hardware store like Lowe's or Home Depot.
Bathroom Sink Faucet Hard Water Removal
Recently, my mother in law had a water problem in her master bathroom. We didn't know about it until after the fact, but apparently when she went to turn on her faucet on her double vanity, the spout blew off and water was coming out from the line like a hose. She finally figured out how to turn the water off, but only after much flooding in her bathroom. As she described this to my husband, who is a contractor, he couldn't believe what she described. Taking a look for himself, he found that the entire faucet was corroded. He had never seen anything like it. His initial conclusion was that surely this was a defective faucet.
While we were visiting, we were obviously discussing what seemed to be a "crazy fluke" faucet issue. In conversation, she mentioned that she used the product CLR on her faucet to get rid of build up from the water. As soon as she mentioned it, I knew right away what went wrong with the faucet. I took a look at it myself. This was not a defect. This was the effect of CLR on brass.

What's scary about this is that the product was recommended to her by a plumber, even though it says on the bottle: "DO NOT USE CLR ON," and a list of 16 material types, including brass, aluminum and copper. She also ruined her marble countertop, which is not repairable.
So, in an effort to remove some buildup, this mistake cost 2 new faucets (cheap ones at $250 total), installation of the faucets, and a ruined countertop. Not to mention the time to clean up the water flooding.
CLR is a great product, and I have used it myself many times. But please, before you use any cleaning product, it stands to reason, you must read the instructions to be sure it's appropriate for the material you intend to use it on, even if the product is recommended by an "expert". One product we have found that will work on brass without the negative repercussions is a cleaner called barkeepers friend. And it's relatively inexpensive. Find it on amazon here!
Troubleshooting Faucet Problems
How To Stop A Leaky Faucet?
Is there someone in your family that enjoys taking things apart and then putting them back together again? If so, this is the job for them. Give them the tools, and push them towards the kitchen or bathroom vanity cabinet that is giving you the problem! Usually the problem derives from a worn out washer, o-ring, or valve seat that sits inside the faucet. Unfortunately, there are about 300,000 of these in existence. So, to figure out the right one, you'll need to take the handles apart from the top. Make sure you turn off the water before disassembling the valves. You'll need to take the whole stem out so that you can see what type of valve seats, washers, or o-rings you need to get. Make a quick trip to your local hardware store to get the proper components, put it back together again, and Voila! No more drips!
Hands Free Faucets: Is There Any Way to Make them More Sensitive/Respondent?
We've all been frustrated in a public restroom at least once, waving our hands under the faucet, willing the sensor to catch our movement… to no avail. While, in general, the majority of us will either keep waving our hands until it "catches," or simply move to another sink; what happens when these auto sensing faucets start to fail in our homes? The first step to take is to make sure that the sensor is clean. This most often times is the cause of the problem. However these faucets use the same technology as motion sensing security lights. So, that being said, they have the same sensitivity and runtime setting as a security light would, which can be changed based on your preferences.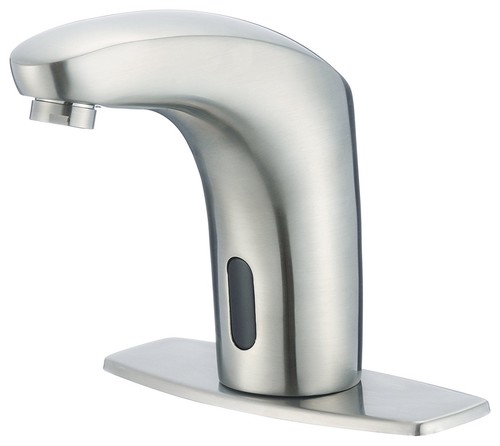 Plumbing Problems: The Water from my Faucet is Brownish and or Cloudy?
There are a number of reasons that a bathroom faucet could be running brown and cloudy water. One of the reasons is that the faucet has not been used in some time (in a house you've just moved into, as an example.) If water has remained in the lines for a period of time, it could have begun to deteriorate the inside of the faucet or the shut off valve. This is especially true, if the iron content in the water in your area is high.
If it seems like it is an isolated event, or if it is from a faucet that is used regularly, there is a chance that there may have been a break in the water line somewhere from the water supplier that may have allowed dirt to enter the line. You'll want to notify the water company if this is the case, as usually if a water line is broken, they will issue a boil alert to all consumers.
Finally, the last possibility is that if you live in an older home (built prior to 1950) you may have some of the old steel galvanized water pipes instead of copper or plastic that have not been replaced. Steel will eventually rust, so this is a possibility too. If this is the case, it may be time to replace the lines!

---
My name is Julia Ritzenthaler, Founder and President of Unique Vanities, started in 2005. I started this business as an extension of our residential remodeling business, which focused on the design and build of custom cabinetry and architectural trim. I also worked as a financial advisor for 10 years at Ameriprise Financial, helping clients make sound money decisions, including budgeting for home improvement expenses. This expertise led me to start Unique Vanities, which offers a handpicked selection of high quality bathroom vanities, sinks, mirrors and more. You can find me most days sitting in Starbucks, my second office, or in my car driving my daughter across Dallas to gymnastics training.
---
More Great Bathroom Faucet Resources
A Crash Course in Bathroom Faucet Finishes
Vessel Sink Faucet Placement Tips