Linear Shower Drains
Posted on

December 24, 2012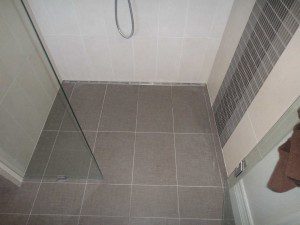 The linear shower drain is a gorgeous streamlined option for an instantly unique bathroom.  This type of drain has many names, trench drains, linear drains or even slot drains.  Whichever name you choose, they are all beautiful.  As a designer, I hope that this option is something you'll look into on your next bathroom remodeling project.  There are many advantages to incorporating a trench drain, and one of the most important is that it is barrier free design!  Barrier free means that able-bodied and handicapped people alike can use the space with ease.  If you or a loved one is bound to a wheelchair, this is a great implementation to add to the shower.  The one-slope construction alleviates the need for the shower step, and that means that a wheelchair can roll right into the shower.  (Besides, I'm not sure how many times I've stubbed my toes on that thing!)
Water is guided to the trench drain via a single slope, preventing water from spilling all over the floor.  Many homeowners like to think to the future, designing for when they have aged and may not have the mobility as they do now.  Many times these homeowners will finish their basement or retrofit one floor to house all of the rooms needed to live, erasing the need for going up or down stairs that have become difficult, or impossible to climb.  This type of drain is a great design decision if this is your goal.  The shower step can be a trip-hazard to the elderly and can be difficult to lift legs over after you've aged.
Trench drains are very low-maintenance!  They are easy to clean and require less silicone in their installation, meaning less areas for mold to grow.  The sloped floor guides all water into the drain, drying the floor by gravity which also reduces the chance for mold.  Installing is a bit of a challenge for these drains, so make sure you have someone who has had experience with these drains before.  You may need to move your existing drain if you're retrofitting, and that definitely does not sound like a DIY project for me!  Laying tile is a breeze with this drain type, as the need for cutting a round hole is gone.  There are very few tile cuts, if any, and that saves you money by not wasting tiles!
This type of drain could allow you to turn your bathroom into an open shower wetroom, and many people love this for saunas or pool areas.  Because the floor slopes the water away from the room interior, there really is no need for a barrier in the opening of the shower.  If you have heating in your bathroom, this could also be a seamless modern design technique, but would be quite chilly if you didn't have this amenity.
Jacque Link is the featured writer for the websites UniqueVanities.com and UniqueMirrorsOnline.com, where you can find the best and most magnificent vanity center faucets and antique cheval mirrors.