Pedestal sinks are not outdated. In fact, despite their clear lack of storage, they're a popular option in a lot of smaller spaces and can provide a great minimalist design appeal. They are also affordable, which is why some people choose them, and why you'll often see them in rental properties and commercial spaces. They're cheap, quick to install, and don't require any concerns of assembly like many vanity cabinets do.
Of course, the caveat is that these sinks don't come with the storage of a traditional vanity. So, how do you deal with the pedestal sink storage issue? Fortunately, there are a lot of different options out there today. Before we dive into the solutions, however, let's look at what pedestal sinks are and why they're popular.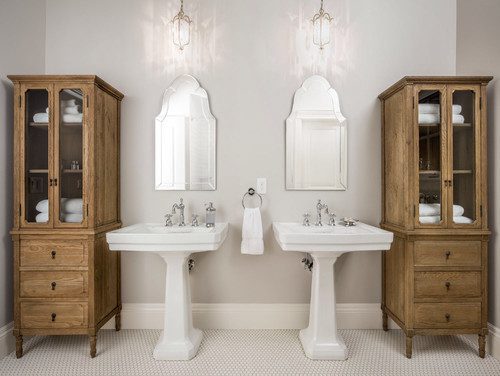 What is a Pedestal Sink?
Pedestal sinks are typically made of porcelain and consist of the lower shaft and the upper basin, or sink. The two elements will be joined at the time of installation, and usually, the plumbing can be hidden behind the base. Most of these sinks are designed to be centered on the drain in the wall, but that sometimes leads to the need for re-routing the pipes so that the sink fits appropriately within the space and isn't awkwardly installed somewhere just because that's where the plumbing is located.
Pedestal sinks offer tons of different styles and designs. Even today's modern spa-like bathrooms can find great pedestal sink designs in their space. Choosing a pedestal sink means giving up some storage space, but that doesn't mean you can't find storage elsewhere. There are tons of options for storage in the bathroom, even without a standard vanity cabinet.
Related: 8 Trending 24 Inch Bathroom Vanities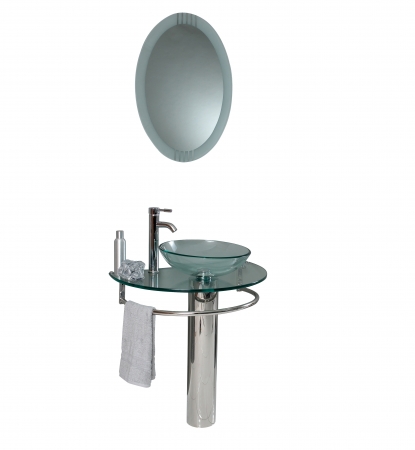 29.5 Inch Modern Glass Bathroom Vanity with Frosted Edge Mirror
What are the Pros and Cons of Pedestal Sinks?
Pedestal sinks are a popular choice for those who need something that doesn't take up much space. Limited space in bathrooms is a common issue, which is where these sinks came from in the first place. The look is streamlined and stylish, and they can be great for smaller half-baths where there isn't much room for larger fixtures. And believe it or not, pedestal sinks are customizable. They come in all styles and designs, from traditional to modern, and you will never have to compromise on style for quality.
Pedestal sinks are much more durable than wood or composite vanity cabinets, and they don't have the concern of moisture damage. Thus, they can last much longer. They're also easier to clean and maintain over the years, making them an ideal choice for those who want something simple.
The biggest drawback of these sinks is their lack of storage. It could deter potential buyers or renters from properties up for sale or rent. Of course, you can also combat that by installing other bathroom storage solutions so there's never a question of whether there's enough space. Some pedestal sinks cost more than vanities, but they're generally worth the investment for the above-mentioned reasons and many others.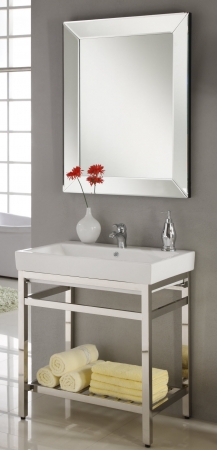 31 Inch Industrial Console Bathroom Vanity – Custom Options

How Can I Store Bathroom Essentials with a Pedestal Sink?
There are several options for bathroom storage when facing a pedestal sink. Depending on whether you want to renovate and create more built-in hard storage or you just want to head to the local discount store and pick up some unique options, you'll find plenty of solutions out there. Check out sites like Pinterest and Houzz for inspiration on bathroom storage when you lack space.
You can also consider using the bathroom door for storage. Over-the-door hooks are great for towels, robes, etc. Shoe organizers and dedicated door storage caddies are also available to store all kinds of items, including toiletries, beauty items, and more. You don't have to spend a fortune on bathroom storage if you get creative; in most instances, people will never be the wiser.
Related: Decorating A Half Bath: Tips And Insight To Create The Perfect Aesthetic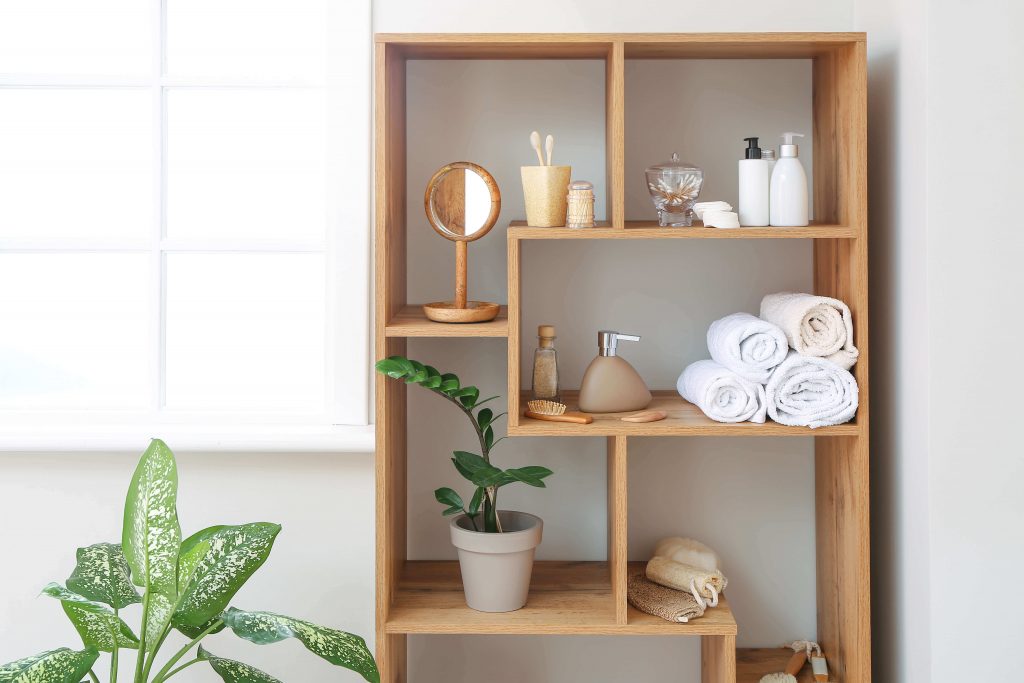 Mason jars are great for countertop storage. They look nicer than traditional bathroom accessories and are easy to clean, which is essential in a bathroom. Consider repurposing an old ladder to create a towel rack if you've got the space. Otherwise, you can look into over-the-toilet storage cabinets. Plenty of prefabricated storage cabinets and shelving units exist in every material, from plastic to premium hardwood, and in every budget range.

Other Great Bathroom Storage Options Include:
A medicine cabinet or vanity mirror with storage built-in
Shelves that can be added under the sink
Floating wall shelves over the toilet or on other walls
Baskets that you can use to separate and organize things
A narrow bathroom storage cabinet (today's market has something for every space)
Wire racks and collapsible storage that can be used when needed and put away otherwise
A simple Internet search for bathroom storage could send you on an endless quest through the hundreds of thousands of options today. That's why spending a few minutes getting inspiration from others is helpful, as mentioned above. That can help you go with a more focused idea of what you want, which will lead to a better outcome in the end.
Related: Medicine Cabinets: Mixing Functionality And Style
Three Mirrored Door Medicine Cabinet
Create Your Perfect Storage Solution
The best thing about today's bathroom storage options is that there is much to choose from. You can even create custom storage for your space if you want something truly the perfect fit. Adding storage to a bathroom increases its value. It also increases its functionality, which is more important for most families because being able to use the space well is what counts.
Take the time to browse through the selection of storage ideas for your bathroom space. Then, you can handle that pedestal sink or even install a new pedestal model that catches your eye without worrying about losing valuable storage.
Related: 10 Tricks To Create A Spa-Like Bathroom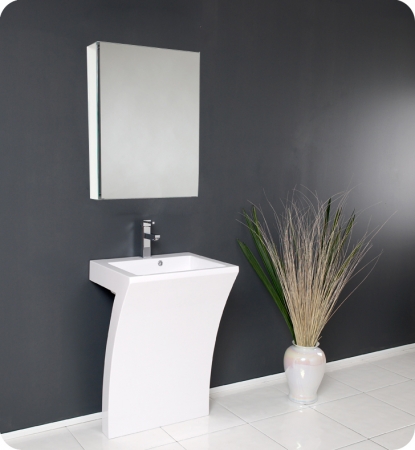 22.5 Inch White Modern Pedestal Sink Bath Vanity with Medicine Cabinet
---
My name is Julia Ritzenthaler, Founder and President of Unique Vanities, started in 2005. I started this business as an extension of our residential remodeling business, which focused on the design and build of custom cabinetry and architectural trim. I also worked as a financial advisor for 10 years at Ameriprise Financial, helping clients make sound money decisions, including budgeting for home improvement expenses. This expertise led me to start Unique Vanities, which offers a handpicked selection of high quality bathroom vanities, sinks, mirrors and more. You can find me most days sitting in Starbucks, my second office, or in my car driving my daughter across Dallas to gymnastics training.
---
Resources
https://www.clutter.com/blog/posts/organize-bathroom-without-drawers-cabinets/
https://designingidea.com/pedestal-sink-storage/
https://deavita.net/pedestal-sink-storage-and-organization-ideas-238658.html
https://arinsolangeathome.com/pedestal-sink-storage-ideas/
https://blog.kitchenandbathclassics.com/pedestal-sink-storage-ideas
https://www.hunker.com/13729826/pedestal-sink-storage-ideas-and-inspiration