The Best Bathroom Countertop Organization Ideas
It's all too easy for our bathroom counters to succumb to disorganization. That's particularly true with kids in the house, but adults can be just as organization challenged. Between toothbrushes, toothpaste, floss, mouthwash, deodorant, razors, shaving cream, perfume, cologne, makeup and other necessities, it's amazing there's room for the sink, much less actual empty space to use the counter. If you're struggling to find the counter through the mess, here are some of the best bathroom countertop organization ideas.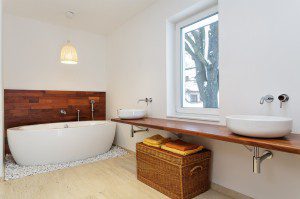 Tried and True – The Medicine Cabinet
There's a reason those old bathrooms all had medicine cabinets. They're really handy, and it's easy to store most of your stuff away out of sight. You'll find the modern world filled with cabinets designed for the bathroom, ensuring that you can match pretty much any style you want. You're not limited to the old glass and steel cabinets. With a little research, you can find a cabinet capable of holding most of your sundries.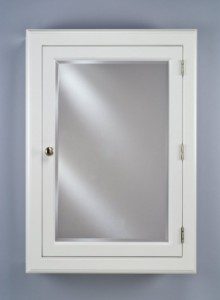 Get Cabinet Space
Another option in bathroom organization ideas is to change out the vanity cabinets. Most cabinets are little more than utilitarian cubes with a couple of doors that open on unorganized, empty space. You can make the most of what you have by adding shelves or cabinet organizers, or you can go one better and install a new vanity that offers cabinets and drawers for storage. With the right cabinet, you can get all of your items out of sight and organized, leaving your countertops clean and clear.
Shop Unique Bath Vanities with Tops and Sinks
Storage Cups
You're probably familiar with the standard bathroom storage cups designed to sit on top of the counter, but you can also find flat-backed cups with adhesive tape designed to be affixed to the inside of your cabinet doors. These do a great job of holding things like toothbrushes, combs, hairbrushes and the like, and keep them organized in an upright position for easy access.
Get a Door Caddy
There's no rule that says you have to keep your items on the bathroom counter, or in the vanity cabinets. If you have items you need to access regularly, consider getting a door caddy. These are available in a range of different styles and types, from plastic hangers to terrycloth, pocket styles to shelves and cups. Accessing your items is as simple as closing the bathroom door, and everything's kept upright and ready for you.
A Lazy Susan
Lazy Susans have found uses in many areas of the home. They work great on a table to let everyone access dishes and condiments, but they also work in cabinet organizing, letting you make the most of corner cabinet depths. They can also be used to great extent in your bathroom. Smaller ones can be used directly on your counter, but you can install larger ones inside the vanity.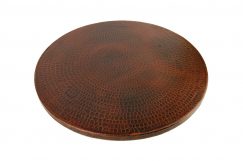 Put Baskets on Your Shelves
Most of us have a lot of small items that clutter up our bathrooms. You can collate and gather those items with this innovative bathroom organization idea – use wicker baskets of different sizes on shelves to help you keep related items together and keep small items from cluttering up your counter. Whether you choose to make your linen closet pull double duty or add baskets to another shelving area in your bathroom, this is one of the best ways to ensure that you're able to organize and access everything easily.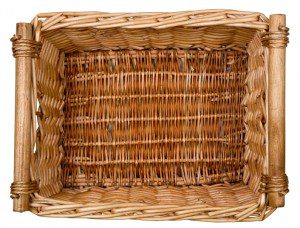 Trays and Dividers
Similar to the idea above of using wicker baskets, you can also use trays and dividers on shelves. This is a great bathroom organization idea for very small items – think fingernail polish, tweezers, fingernail clippers and the like. Store related items in the same tray, and use dividers to help you stay organized. You'll find plenty of tray styles out there to help you add to the panache of your bathroom as well.
Above Counter Cabinets and Shelves
Most bathrooms keep the cabinets below the counter, but you don't have to. You can install matching cabinets and shelves above the countertop. You can either opt to wall mount them or you can use freestanding options that sit on your counter. Of course this is a better solution for larger bathroom countertops, particularly dual vanities, and can also help divide his/hers spaces. Make sure you keep the style the same as your vanity (or choose a complimentary yet contrasting style to mix things up a bit).
Floating Shelves
Another excellent bathroom countertop organization idea is to install floating shelves to either side of the sink. These work particularly well beneath light sources, but you can install them wherever it's convenient. Limit the number of items placed on these shelves, though, or they could become cluttered themselves.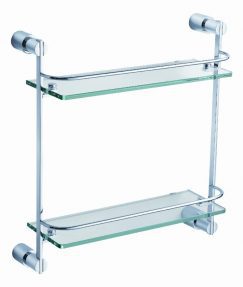 As you can see, there are plenty of bathroom countertop organization ideas out there. Those listed above are really just the tip of the iceberg.
Written by Julia Ritzenthaler