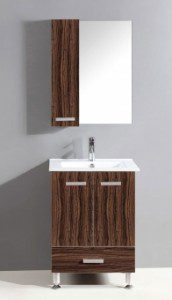 Tired of cluttered up countertops? Here are a few hidden storage tricks that will get you a calming clutter free bathroom.
If you are short on square footage, use vertical space. Build narrow pull out cabinets that run up to the ceiling in small nooks. This can be built in the one or two feet space between your sink and tub or even a feet of space behind your tub. Use the extra storage efficiently by storing things you use rarely on the top and bottom shelves and things you use frequently at chest and shoulder level.
http://webecoist.momtastic.com/wp-content/uploads/2012/08/space-saving-bathroom-storage.jpg
Store behind closed doors. Create additional storage by adding shelves, racks or hooks to the back of your vanity door.
If you have enough space, install two sinks. Not only is it a great convenience in shared bathrooms, it also immediately doubles the storage space.
Install recessed mount vanity mirrors with medicine cabinet. They come in variety of styles and since it is recess mounted, there appears to be just a vanity mirror installation from the outside.
Use the corners. Install triangular shelves up to the ceiling. It can serve the purpose of display or storage.
If you live in an apartment and are not allowed to make changes to the existing structure, you can arrange stackable baskets on either side of your sink pipe in your vanity cabinet. This not only adds extra storage space, it also helps you organize your things better. Put in suction hooks behind your vanity door to hang hand towels.
Install a bathroom storage caddy. It can be hung on your toilet tank to hold magazines and toilet paper. You can also hang it over your shower door to store your wash cloths, loofahs etc. Suction storage caddy works great if you live in an apartment.
Use the space above your toilet tank. Get an organizer caddy or place a basket on top of the toilet tank and use it to store toilet paper, lotions or make up.
Install cabinets with built in hamper feature. This way you can keep your dirty laundry out of sight. It would be even more convenient if you can remove the hamper-cabinet and tote it to your washing machine.
Under your vanity, over your toilet tank, on shower doors, in nooks and corners; with careful planning you can have a well-organized and clutter free bathroom always.
This post was brought to you by UniqueVanities.com, where you can find the best vanity mirrors with medicine cabinet