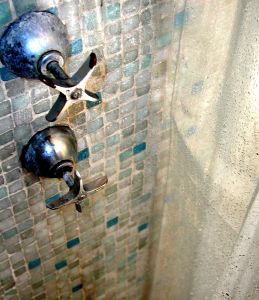 Since we are in the bathroom remodeling business, we often get questions about the proper height for different fixtures/features that a homeowner will install in their bathroom renovation. Lucky for us (and our clients!) our Contractor on staff is always willing to share his knowledge with us!
Today we are talking about the recessed shelves many people build into their walk in showers. For design's sake, many people don't want their soap or hair products hanging from the old school wire drop downs and, certainly for hygiene reasons, don't want to put those items on the floor. Our Contractor mentioned that the best height for shower shelves is about 54″ (about the same as you would mount a thermostat.
Got any bathroom related questions? Leave them in the comments section below, and we'll relay them to our Contractor and feature them in a future post!
Content provided by: Randy Ritzenthaler