Picture this: You've got a big meeting today and you're getting ready to go. You get out of the shower, put on the perfectly cute outfit you chose the night before, and you start doing your hair. The hairdryer is on the side of the sink, along with your brush, and then the flat iron comes out. You glance at the clock and notice that you have to leave in just a few minutes! In a hurry, you try to find a spot to set the flat iron down without burning anything, but your jewelry, makeup bag and lotion are taking up the rest of the space on the vanity. You think to slide the makeup bag to the left just a little … and there goes an earring, down the drain.
Having no space on your bathroom vanity can be the most frustrating thing sometimes. I've been there too, but here are some tips to help with that awful problem. To start, try to have only the necessities out on the counter. If you can, store your lotions, makeup, and other beauty items in another space, perhaps in a bin in the linen closet, or below the sink, toothbrushes included. Bathroom germs can travel through the air, and the last place you want them is on your toothbrush. Yuck!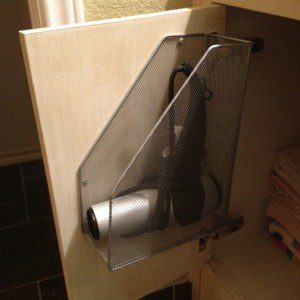 Photo via: pinterest.com
If you have a sink vanity (and not a pedestal sink) try to incorporate door mounted storage for your bulkier items, like the hair dryer. This DIY solution is made from an office folder organizer. Be sure that when you are attaching this to your cabinet door, you check to be sure the screws will not poke through to the outside of the cabinet door. To test, hold the screw up to the edge of the cabinet door. If the door is deeper than the screw, you're safe!
If you can, try to incorporate a storage unit in your bathroom. There are many cabinets suitable for all styles that would work in a bathroom setting, and most of them are narrow and tall, so fitting one in isn't such a challenge. Many times when you are shopping for a small single sink bathroom vanity, you can find one in a matching finish or even as a complete set! (Bonus!)
Jacque Link is a contributing author for Unique Online Furniture and an upcoming Interior Designer who enjoys spending time with her boyfriend and her dog, and working on new projects!