Your Mirror Buying Guide for Your Entire Home
Think of all of the mirrors you've ever had in your home – or in your parents' home when you were growing up. Whether it was a small one that opened into a medicine cabinet or a large one that covered an entire wall, you most definitely had a mirror in the bathroom.
Did you have a wall mirror in your room? Were there decorative mirrors hanging in hallways? Was there a mirror near the door so that your mother could quickly check her makeup on the way out in the morning?
Mirrors aren't just great for checking makeup or making sure that the clothes you've chosen for the day fit well and go together. Of course, they're great for those purposes – and most people couldn't live without them – but they also make fantastic decorative additions to rooms throughout your home.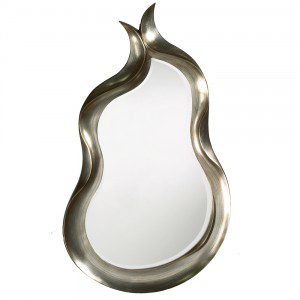 A floor mirror in the guest room can be a great way to show your visitors a little bit of extra hospitality, when they can check themselves out before coming down for breakfast. A series of small mirrors can be placed in a pattern to reflect light and make a room look brighter and larger. A beautifully framed mirror in the living room or in a hallway can be as striking and elegant as a painting.
In this article, we'll walk you through different types of mirrors, how you might use them, and where you might want to install them. We'll talk about appropriate shapes and sizes for different rooms. We'll go over styles and frame materials. We'll even give you a few tips for when to install a mirror yourself, when to hire a professional, and what to look for when you're ordering your mirror online.
Let's get started on guiding you through everything you need to know about buying and installing mirrors. First, we'll talk about the five basic types of mirrors you might want to consider for different rooms in your home.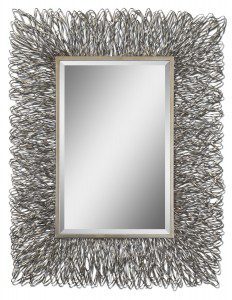 Wall Mirrors
A wall mirror is any mirror that's meant to be mounted on a wall. It could be a large, rectangular mirror with no frame, or it could be an oval or heart-shaped mirror with an ornate, filigreed frame.
Decorative Mirrors
Decorative mirrors are usually small wall mirrors. They can be shaped into silhouettes of birds, flowers, or other interesting and beautiful shapes. They can be small, square mirrors that you arrange in a pattern to give a mosaic look to everything that they reflect.
Some decorative mirrors have simple shapes but ornate frames that lend style to a room. Basically, if it's pretty, and you can hang it on a wall, it might be considered a decorative mirror.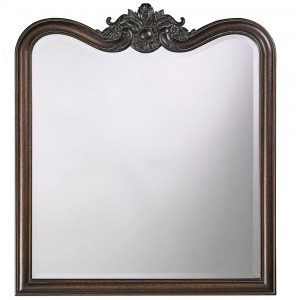 Bathroom Mirrors
You can use almost any kind of wall mirror as a bathroom mirror. If you want a modern feel to your bathroom, you might arrange a rectangular grid of closely placed, small decorative mirrors. You could use a large, rectangular mirror without a frame, or you could choose a more decorative bathroom mirror that will lend its own touch of style to your bathroom.
More and more people are choosing more interesting mirrors for their bathrooms. Two old standards for bathrooms are quickly vanishing. The small mirror that hides a medicine cabinet used to be the norm, but it has been replaced, at least in most medium and large bathrooms, with a mirror that spans the width of the bathroom counter, which is usually almost the size of one wall.
The larger mirrors were a great replacement for those little medicine cabinets, but they really don't add a lot of style to the room. You can see as much of yourself as you like in a mirror half that size, which means that the mirror itself can be a more interesting shape. It also leaves room for more interesting wall décor, too.
Large Mirrors
If you have a small room that gets a fair amount of natural light, a large mirror on one wall can lend depth to the room, making it appear more spacious. Large mirrors are great for bathrooms and bedrooms, as well, especially if you want a full view of your outfit for the day.
The right large mirror can give a room ambience and a larger, airier feel. If the frame matches the rest of the furniture and accessories in the room, it will be a welcome addition to the design of the room.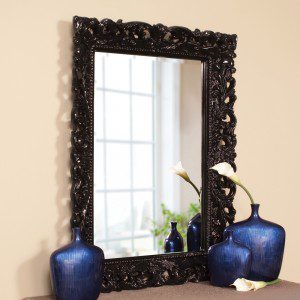 Floor Mirrors
A floor mirror is a full-length mirror with a frame constructed to hold it up without support. Floor mirrors can often be angled, which creates a longer, more flattering reflection than a wall mirror. Wouldn't you rather leave for work feeling tall and slim every morning?
People often choose floor mirrors because they have a certain classic look to them. You can get an oval mirror in a brass frame and stand, or you can choose a wooden, rectangular frame. Floor mirrors allow for versatility of use, as well. You can move the mirror from one room to another, depending on who wants to use it, if you're remodeling, or if you just want to move the mirror from one room to another for your own reasons.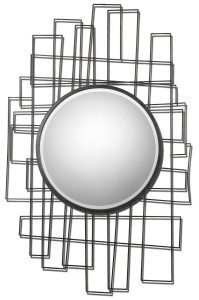 The Shape of Your Mirror
A large, plain mirror that covers half or more of your bathroom wall might seem like the best choice because it gives a large reflection. Do you really need to see all of the bathtub, the laundry basket, and everything else in the room when you look in the mirror, though? A slightly smaller mirror, with a more interesting shape could be a better decision, from a design standpoint.
Large, oval-shaped mirrors with interesting frames are becoming more and more popular for bathroom mirrors, as one of these can reflect you, your outfit, and everything you need to see, and it's a lot more interesting to look at than a plain rectangle with no frame at all.
When choosing decorative mirrors, some people choose a number of different shapes and sizes to make a sort of collage of mirrors on one wall of their bedroom or living room. If you wanted to do something like this, you could choose circles, squares, diamonds, mirrors with interesting geometrical frames, and any number of other shapes.
When choosing a mirror, whatever type of mirror it is, you will usually have a number of shapes to choose from. Most floor mirrors are going to be ovals or rectangles, but even these sometimes have some choices you might not have thought about. Think about your interior design tastes and the style you've cultivated in each room in your house before you settle for a boring rectangle with no frame.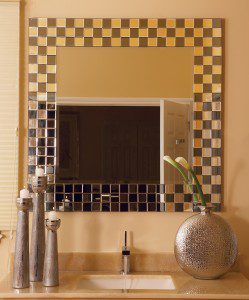 Frame Materials and Finishes
If you've decided to purchase a mirror that really makes a statement, you'll have a choice of all kinds of frames, made of different materials, with different finishes. Some of these include, but are not limited to, wood, aluminum, glass, bronze, and copper.
As with any décor or accessory you add to a room, when choosing a framed mirror, you'll want to think about the style of the room you're putting it in. Is the rest of the room's décor accented with warm, dark wood tones? A mirror with a brushed aluminum frame might look a little bit out of place, but one with an aged bronze frame or a dark wood frame might look just right.
If you have a very modern style in your bathroom, you might want to consider a glass-framed mirror. Opaque white or black glass makes a beautiful frame for a mirror, and it will match your modern theme well, too.
In addition to the material of the frame, you'll want to think about its finish. A frosted glass frame gives an understated look to the mirror without being too plain. You can choose a wood frame with a high-gloss finish, but, again, you'll want to make sure that it matches the furniture and other accessories in the room where you'll be placing it.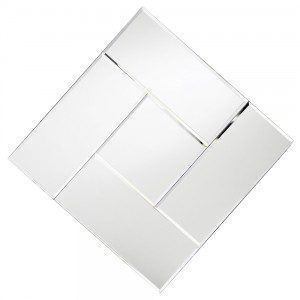 Choosing Between Beveled and Non-Beveled Mirrors
A beveled mirror has non-perpendicular cuts along the edges to add style. Think of the beveling on a mirror like wall molding, if the wall were actually cut to make those shapes, rather than the molding being a separate piece added onto the corners of walls and ceilings.
Choosing beveling or no beveling is purely up to you and your tastes. Some people like a little bit more texture along the edges of their mirrors, next to the frame. Others prefer the mirror to be flat and plain, letting the frame stand out more.
If you decide that you want a decorative mirror without a frame, a beveled mirror could be a fantastic choice. It will add just a little bit of detail to the mirror's shape, while keeping it minimalist and simple.
Installation Considerations
Now that you know a bit about the different types of mirrors, frames, and beveling, you have enough information to start looking for the perfect mirror for your purposes. Once you've found it, you'll need to think about a few factors that affect installation. You'll need to know these when you're deciding where to install the mirror and whether you're going to do it yourself or hire a professional to hang it for you.
If you decide to install your mirror yourself, be sure to research the glue, caulk, and/or hardware that the mirror's manufacturer recommends for installation. If you follow the manufacturer's instructions precisely, you'll be less likely to see your mirror fall off the wall and shatter. If it does fall, you'll have more of a chance that the manufacturer will replace the mirror or give you your money back.
The Weight of the Mirror
If you're placing a few small, decorative mirrors around your living room, you can probably get away with gluing them in place with mirror mastic or another heavy-duty glue. You won't have to worry about the weight of the mirror pulling it down off the wall.
If, however, you're hanging a larger mirror, you should know that they get very heavy. If you're hanging it from nails or screws, you'll need to find the studs in your walls, which some people can do by tapping on the wall and listening for the difference in sound. If you can't hear the difference in sound or are unsure, you can use a stud finder for this purpose. You'll want to make sure that you put the nail or screw into a stud and not just into your drywall. Otherwise your mirror is likely to pull it out of the wall, fall, and break.
If any of that information makes you nervous at all about installing your mirror, you might want to go ahead and call the professionals. If you bought your mirror locally, you can ask the people who sold it to you whom they recommend for installation. They have a vested interest in your satisfaction, so they'll be likely to recommend the best contractor for the job.
Shipping and Handling Issues
Weight isn't just a factor when it comes to installation, either. If you're purchasing a large mirror online, you should find out how much it weighs and how much the seller is charging for shipping and handling. You should also check for any stipulations in their return policy. If they can't guarantee that the mirror will get to you unharmed, you shouldn't buy a mirror from them.
If their return policy isn't clear, but the price is just too good to pass up, you might want to ask about purchasing shipping insurance. That way, if anything happens en route to you, and you can't return the mirror, you can still get compensation.
Now you have the basic tools you'll need to choose the right kind of mirror for your needs. You can spruce up a boring room or add the illusion of more space. You can check your whole outfit out in a piece of décor that adds to the room. Mirrors are fantastic additions to any home when you take the time to pick the right one. Have fun choosing and installing your new mirror!
Content Provided By: Julia Ritzenthaler