Are you thinking about redecorating your dining room? There are all kinds of ways to update the room where your family eats together and where you entertain guests, both formally and casually. Unfortunately, a lot of those updates involve buying all new furniture, repainting, and even rewiring the lighting or refinishing the floor. Thankfully, there are some inexpensive and effective designer tricks you can do with decorative mirrors to create a whole new look for your dining room.
Designers Have Inexpensive Tricks to Spruce Up Your Dining Room 
The design experts at HGTV have a few suggestions for decorating your dining room with mirrors of different shapes and sizes. Depending on the style you're going for, you might want to use a single large mirror or smaller mirrors in varying shapes and sizes to add light and create the illusion of added space and dimensions to the room.
First of all, you'll need to think about your style and how you want your dining room to look. If your style is modern and minimalist, one or two large, decorative mirrors could be placed strategically in the dining room to reflect natural light and give the room a spacious air.
Choose a Single Large Mirror or Several Small Mirrors
You could also decorate with a pattern of smaller square or round mirrors. Creating a grid of small mirrors creates a multi-faceted look that mimics a large mirror with a mosaic-like look and appeal.
If you have a more classic style, you can choose one or more decorative mirrors with interesting frames and beveling. In a room with a warm color scheme, like reds, browns, yellows, and oranges, a mirror with an aged brass or copper frame will add a touch of class to the room. If the room is decorated in cooler colors, like blue or green, mirrors with polished or matte silver or stainless steel frames add light without overpowering the light, cool colors in the room.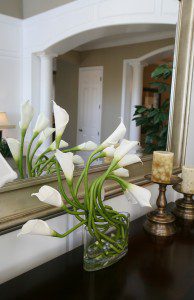 Think Outside the Box With Mirror Placement
If you want to keep your walls clean and simple, or if you already have pictures hung that you'd like to leave in place, you can still use a decorative mirror to add space and light to the room. Instead of placing it on the walls, though, you can use a long, narrow mirror as a centerpiece for the dining room table.
This unique idea can be implemented in a number of ways to suit your room's style, but any way you do it, it adds depth and light. It can even create the illusion of a reflecting pond in the center of your table, or it can create a brilliant, museum-like setting for anything you place upon it.
If you have a more modern style, Riza Cruz of Real Simple recommends a simple, beveled rectangular mirror laid lengthwise down the table. You can then place a series of small, sleek vases in varying sizes across the surface of the mirror, each with a single blossom or sprig of attractive leaves in it. The flowers will not only look beautiful and refreshing, but they'll add to the modern appeal of the room. Better yet, the mirror under them will reflect their beautiful colors, giving the illusion that there are double the flowers in the room.
If you have a more classic and romantic style, and you have an oval shaped dining room table, an oval mirror in a bronze, brass, copper, or wood frame can be placed in the center of the table for a lyrical appeal. This design trick works really well if you have a dark, rich colored tablecloth. We love how a hunter green tablecloth and warm lighting give this decorative mirror a look reminiscent of an enchanted pond in the middle of the forest in a fairytale.
A Quick Warning About Reflections
Decorating with mirrors is fun, and it leaves a whole lot of room for imagination and creativity. However, there are a few things you should keep in mind before you go hanging decorative mirrors all over your walls.
Mirrors are not selective about what they reflect. If you hang a large mirror directly across from your dining room table, you could end up staring at yourself chewing your dinner every night. While self reflection is a good thing, you may not need to know what you look like when you're chomping down on your cereal every morning.
So, when placing mirrors, look at what they'll be reflecting. Designers often recommend placing mirrors higher on the wall so that they catch light but not reflections of you and your guests sitting down to eat.
Take your time when you're placing these reflective pieces of décor. If you get the placement right, you'll have a bright, spacious effect that you and your guests will enjoy for years to come.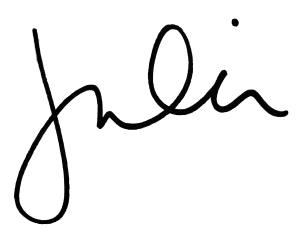 ---
My name is Julia Ritzenthaler, Founder and President of Unique Vanities, started in 2005. I started this business as an extension of our residential remodeling business, which focused on the design and build of custom cabinetry and architectural trim. I also worked as a financial advisor for 10 years at Ameriprise Financial, helping clients make sound money decisions, including budgeting for home improvement expenses. This expertise led me to start Unique Vanities, which offers a handpicked selection of high quality bathroom vanities, sinks, mirrors and more. You can find me most days sitting in Starbucks, my second office, or in my car driving my daughter across Dallas to gymnastics training.
---