You've probably seen a lot of commercials and advertisements for products that claim they leave glass and mirrors clean and streak-free. You might even have bought some of those products. There are special cleaning agents, special cleaning cloths, special treatments that are supposed to keep the mirror from getting dirty in the first place. If you've tried them, you already know that most of them just don't work the way they're advertised.
Fortunately, though, there's a simpler and better way. You'll just need a few things for a clean, streak-free mirror. You'll need a soft cloth, some old newspaper, a bucket, and white vinegar.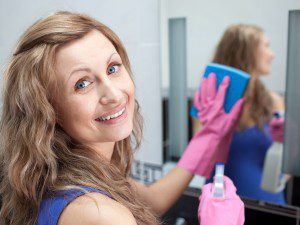 What do you use to clean mirrors?
In your bucket, mix 1 quart of warm water with 1 cup of white vinegar. If you're concerned about the smell of the vinegar, you don't have anything to worry about. It will dissipate as soon as the mirror is dry, and your bathroom won't smell at all like vinegar. You can also use distilled vinegar if you don't have any white vinegar, and you can scale down the amount of solution you use, keeping the proportions the same, if your mirror doesn't require that much.
If, though, you want to use a different solution, you can either use equal parts borax and water, or you can mix 2/3rds of a cup of water with 1/3rd of a cup of alcohol and 1 tablespoon of ammonia. All of these solutions can be very pungent, so make sure that the area is well ventilated, regardless of the cleaning solution you choose to use.
Wipe It Down
With your soft cloth, wipe all of the dirt and dust off of the mirror. This pre-cleaning will take off a lot of the stuff that ends up leaving streaks. It will mean using fewer pieces of newspaper and less cleaning solution, too.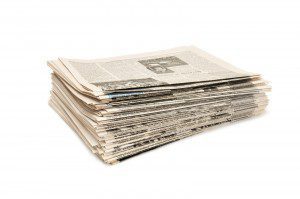 Use Your News
Now, crumble your pieces of newspaper into small, manageable balls and set them next to your cleaning solution. Discard your soft cloth, and it's time to get to work. Dip the newspaper into the warm cleaning solution and rub it around in large, slow circles until you've covered the whole bathroom mirror.
Then, rub it down the same way with dry newspaper. Make sure that you wipe all over and get it completely clean, or it will leave drip marks and spots from the water. If you have a squeegee, you can use it to dry the mirror, too. Use dry newspaper to wipe down the edges and the places that you can't get with the squeegee.
A Few Don'ts When Cleaning Your Bathroom Mirror
Now that you know the best way to easily clean your bathroom mirror, here are a few things not to do when you're cleaning.
Don't spray water or cleaning solution directly on the mirror. It will pool near the edges and seep into the backing. This is called "black edge" and can cause some serious problems.
Don't hesitate to wipe up any liquid that drips down to the bottom edge of the mirror. Letting it sit there could result in black edge.
Don't use commercial cleaners. They're harsh and abrasive. A cleaner that's too acidic, in combination with a rag that's too course can scuff, scratch, and scar your mirror, giving it a cloudy appearance.
Bonus: How to Keep Your Bathroom Mirror From Fogging Up
Are you tired of dealing with a foggy mirror every time you take a shower? When you get done in the shower, you want to be able to start getting ready for the day, brushing teeth, doing your hair, putting on makeup, etc. If the mirror is all fogged up, though, you either have to wait, or you have to wipe it off with a towel or a rag to see yourself.
Wiping your mirror down with a towel can leave behind streaks, which means you'll have to wash it more often. You hardly want to sit down at your bathroom vanity to do your makeup and find yourself peering through a bunch of streaks, but it's hard to find the time to clean that often. What can you do?
The Shaving Cream Trick
Next time you're at the store, buy a can of cheap, foaming shaving cream. Then, next time you shower, before you get in, spread a thin layer of the shaving cream all over the mirror (without getting too close to the edges).
When you get out of the shower, use paper towels to wipe away the shaving cream. The mirror will be clear and streak-free, and the shaving cream leaves behind an invisible coating that will keep it from fogging up again for up to 3 weeks. When you notice it fogging again, just repeat this easy process.
Keeping your bathroom mirror clean and streak-free is actually quite easy and doesn't involve buying a lot of expensive chemicals and supplies. Follow these tricks, and you won't have to worry about streaks and smears.
---
My name is Julia Ritzenthaler, Founder and President of Unique Vanities, started in 2005. I started this business as an extension of our residential remodeling business, which focused on the design and build of custom cabinetry and architectural trim. I also worked as a financial advisor for 10 years at Ameriprise Financial, helping clients make sound money decisions, including budgeting for home improvement expenses. This expertise led me to start Unique Vanities, which offers a handpicked selection of high quality bathroom vanities, sinks, mirrors and more. You can find me most days sitting in Starbucks, my second office, or in my car driving my daughter across Dallas to gymnastics training.
---