Mirrors can establish design style for the entire space, or just help reinforce an existing one. They are great accessories in any room because they are both functional and decorative. Mirrors can also be rotated for a quick update to the room, with minimal time and effort. Uttermost has a unique mirror collection not found anywhere else.
Vanity Mirrors: Bathroom mirrors are seen most often by you, so you should choose one you'll enjoy seeing everyday. Mirrors with an unusual shape can create a fun environment to get ready for the day in without losing functionality. Keep in mind that toothpaste and makeup may occasionally need to be wiped from the frame, so more ornate mirrors can be saved for the bedroom or entryway. You can also go for frameless beveled mirrors which are detailed and easy to clean.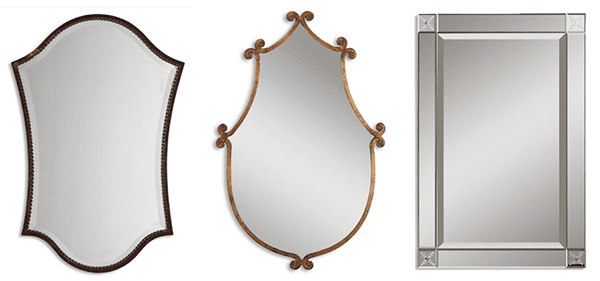 Entryway Mirrors: Mirrors in the entryway are one of the first things guests will notice when they arrive, and are often used by people leaving the house for quick hair or outfit checks. You have more freedom here than with vanity mirrors because you don't necessarily have to be able to see your entire face in this setting.
Bedroom Mirrors: Larger is generally better for bedroom mirrors.Uttermost has floor length mirrors and most of their collection is perfect for above the dresser or bed.
Here are the links for the mirrors shown above:
Gold Unique Mirror: Click Here
Dorigrass Distressed Mocha Mirror: Click Here
Content provided by: Julia Ritzenthaler