For those who need plenty of counter space, the 84 inch bathroom vanity offers plenty of different styles and models to choose from. These are among the biggest vanities you'll find on the market today, and they remain a popular choice for people who want to make a statement, as well as those who just need premium space for their bathroom.
84-inch vanities are typically used in master bathrooms or Jack-and-Jill baths where maximum counter space is necessary. Of course, there's no limit to where you can put these impressive vanities, so long as you make sure that you choose one that fits your space accordingly. Our collection includes something for every taste, along with plenty of countertops options that will ensure everyone gets the perfect design.
Related: Trending Yet Timeless Blue Bathroom Vanities for Calm, Serene Style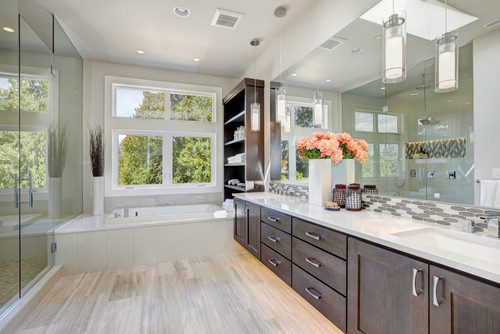 Photo by Limitless Renovations Statewide, LLC
Here are the top trending 84-inch vanities that we have right now.
The Top 8 Large Bath Vanities
This impressive piece is going to make a statement in any space. With dark cherry wood and a Baltic brown counter, the traditional design is ideal for any home with matching decor. Plus, there are plenty of doors and drawers for storage, and it is fully assembled for easy installation. The sinks are set a bit higher than the cabinet's drawers, adding dimension and style.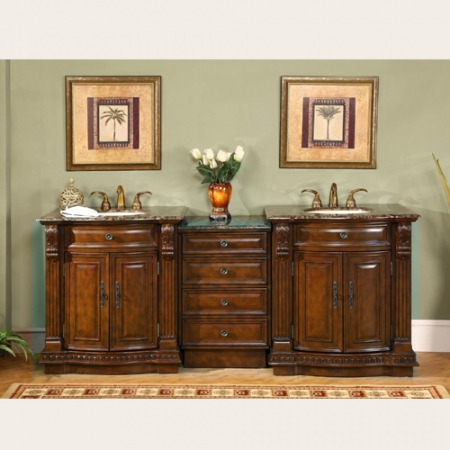 84 Inch Large Double Sink Vanity with Baltic Brown Granite
Distressed gray is probably one of the hottest colors in home design right now. People love the distressed look because it adds a rustic touch and is so easy to mix with other decor and designs. This vanity has what you need when you're furnishing a rustic or modern bathroom. there are 14 drawers total, and the Carrera white marble top is the perfect finish.
Related: How High Should a Bathroom Vanity Be?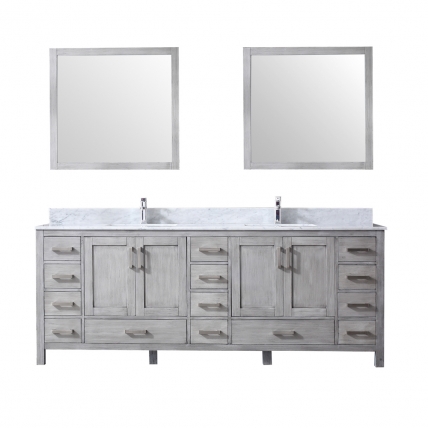 84 Inch Double Sink Bathroom Vanity in Distressed Gray with Choice of No Top

When you want to stick with classic, clean white, this vanity will deliver the style you desire. This vanity almost looks like a desk, with a small makeup area in the middle set lower than the sinks for easy access. There are six drawers and two cabinets for storage, and it comes with your choice of a few different tops, allowing you to create the perfect finish.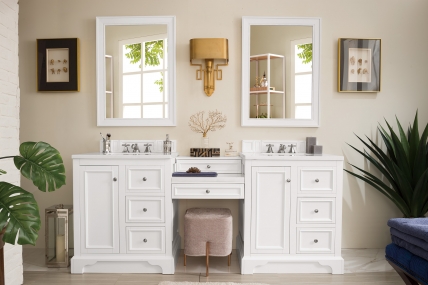 82 Inch Double Sink Bathroom Vanity in White with Makeup Table
Modern spaces need modern pieces, and that's exactly where this wall-mounted double sink vanity comes in. This vanity is a dark navy color, which can go well in any space, and the modern hardware and chrome finishes lend themselves to a contemporary design that is unlike anything you've seen. It comes with the choice of no top and has plenty of drawers and doors for storage. Floating vanities are a growing trend, and this one is a top pick.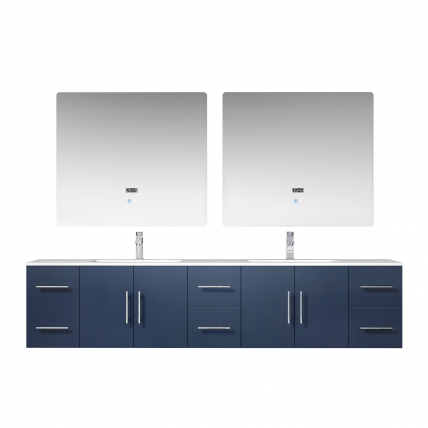 84 Inch Double Sink Wall Mounted Bathroom Vanity in Navy Blue
Traditionalists who still want something different will love this gray vanity. It has a classic style, but the lighter gray finish adds a touch of uniqueness you don't get from the standard white and wood finishes. It offers a Carrera marble top and 14 drawers for storage, with modern chrome hardware to finish the look. Two sinks and plenty of counter space make this perfect for any master bath.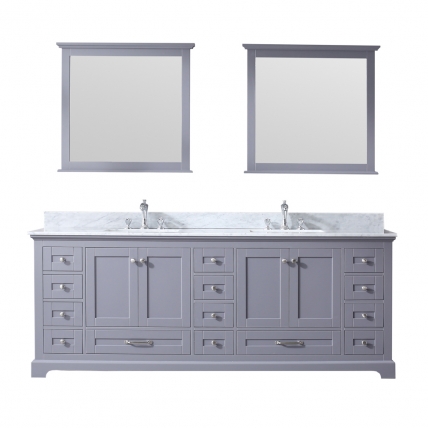 84 Inch Double Sink Bathroom Vanity in Dark Gray with Choice of No Top
If you aim for rustic, this vanity featuring barn-style doors is a great choice. In addition to offering that traditional barn door look, it has a rustic finish and six drawers for storage. This model comes with a white quartz top if needed, and the black bronze hardware finishes off the rustic look, creating an eye-catching design.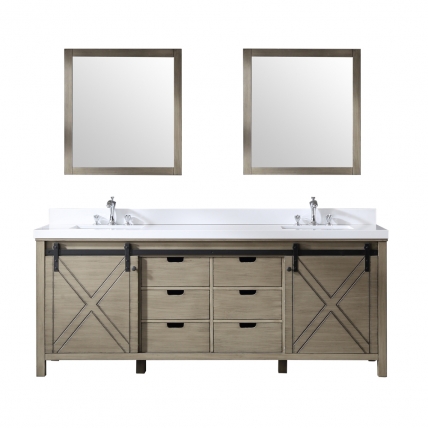 84 Inch Double Sink Bathroom Vanity in Ash Gray with Barn Door Style Doors
This vanity cabinet is a contemporary design that features dark brown espresso-colored cabinets with chrome hardware. It also comes with a white ceramic top with an integrated sink and a single-hole faucet that's included, with your choice of style and finish. There are 13 drawers in total, along with two cabinets, offering premium storage space. The multilevel counters add a touch of style, too.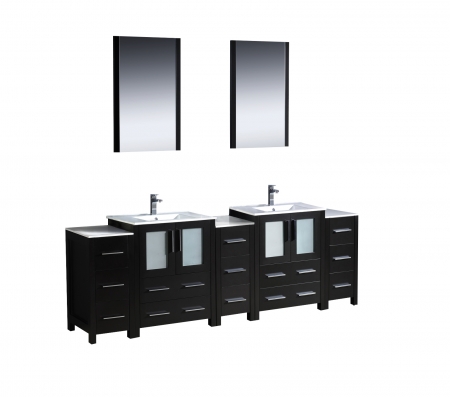 84 Inch Double Sink Bathroom Vanity with Side Cabinets
This classic antique brown vanity takes traditional luxury to a new level. This could be just what you need when you want a statement piece. The antique brass hardware matches the wood tone, and the cream marble top adds the perfect finishing touch. With plenty of storage in the form of drawers and shelves, this is a great fit for a master suite or larger bathroom space.
Related: Tips for Upgrading to a Luxury Master Bath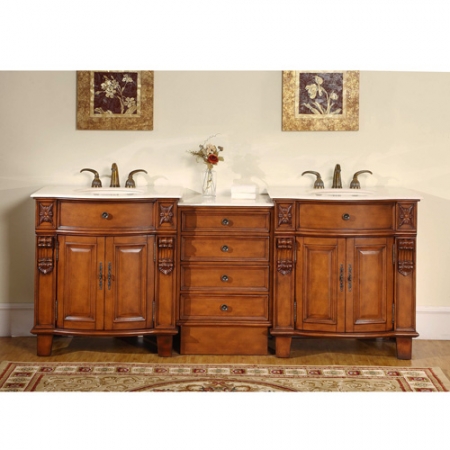 84 Inch Classic Double Sink Vanity with Hand Carved Molding
Choose Your New Vanity Now
Now that you've seen a selection of the best vanities available in this size range, it should be easier to get an idea of what you need and find the piece that best fits your bathroom space. Whether you're renovating or building new, the right vanity can be a statement piece for your bathroom that sets the tone for the rest of the design. As you can see, styles are available for modern, contemporary, rustic, and other design trends, giving you plenty to consider for your new space.
Speaking of considerations, make sure you know how much space you have to work with, and don't choose a vanity that takes up the whole room. You should have about 18-24 inches in front of the vanity to move around for maximum comfort. Measure your space a few times to ensure you know what you've got room for, and then feel free to peruse our selection of vanities to find your next perfect fit. Whether it's one on this list or any of our other large bathroom vanities, you're sure to love your choice.
Related: 10 Tricks to Create a Spa-Like Bathroom

---
My name is Julia Ritzenthaler, Founder and President of Unique Vanities, started in 2005. I started this business as an extension of our residential remodeling business, which focused on the design and build of custom cabinetry and architectural trim. I also worked as a financial advisor for 10 years at Ameriprise Financial, helping clients make sound money decisions, including budgeting for home improvement expenses. This expertise led me to start Unique Vanities, which offers a handpicked selection of high quality bathroom vanities, sinks, mirrors and more. You can find me most days sitting in Starbucks, my second office, or in my car driving my daughter across Dallas to gymnastics training.
---
Resources
https://www.bestonlinecabinets.com/blog/bathroom-vanity/
https://www.build.com/bathroom-vanity-sizing-tips/a224
https://www.signaturehardware.com/ideas-buying-guide-bathroom-vanity.html