Floating vanities are becoming increasingly popular in modern bathrooms. They offer a unique look and open up the floor space, which many small bathrooms can benefit from. They also add to modern design, and there's something for just about everyone with the selection available today.
Are you curious about floating bathroom vanities but unsure if they're right for you? Here are 10 of the most common questions people ask about floating vanities to help you better understand what they offer and whether they fit your design.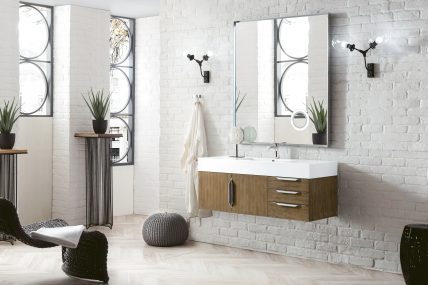 48 Inch Single Sink Bathroom Vanity in Latte Oak with Electrical Component
1. What are the benefits of a floating vanity?
Floating vanities work great for small spaces because they open up the floor space. Narrow, shallow cabinets are also ideal for tiny homes, which are trending now. Having the vanity off the floor also eliminates the worry about damaging the bottom of it if it gets wet. These vanities also fit perfectly into contemporary designs popular in modern bathrooms.

2. What are the cons of floating cabinets?
Floating vanity cabinets don't have a lot of drawbacks. They require special and careful installation with extra securing to the studs in the wall and will have weight limits on what you can put on the counter. However, these aren't usually enough to be prohibitive in any way. They may also have less storage than other vanity cabinets, but that's dependent upon the cabinet you choose. Finally, floating vanities are not ideal in homes with small children as climbing on them can be a safety risk.
60 Inch Blue Double Sink Wall Mounted Bathroom Vanity
3. What height should a floating vanity be?
Wall-hung vanities typically come in three standard height options: 21, 24, and 27 inches. The plumbing height will determine what height vanity you choose and how high off the floor it is installed. If you opt for the standard 34 inch height and select a 24 inch vanity, your floating cabinet will be installed 10 inches off the floor. Several factors come into play here, so it is best to consult the experts before buying and installing this type of vanity.
Related: Floating Bathroom Vanities: What You Need To Know
4. Do you tile behind a floating vanity?
Typically, as with most vanities, you can skip finishing the wall behind the cabinet. This space is going to be covered and will never be seen. Plus, tiling can make it even more challenging to access the plumbing if something goes wrong. You should tile above the vanity, below it, and on both sides. However, you do not need to tile behind the cabinet itself. That's more of a wasted effort than anything.
40 Inch Modern Azure Blue Floating Single Sink Bath Vanity
5. How are floating vanities supported?
Floating vanities are supported by their structural design and how they are installed on the wall. Usually, contractors will add blocking to the wall to provide additional support for a floating vanity, but this can cost more because it requires opening up the wall behind the cabinet. The cabinet will be secured to studs and any added blocking to ensure it is properly supported.

6. How do you hide pipes under a floating vanity?
Like most vanity cabinets, floating vanities usually have a cutout for plumbing or an area that can be cut out to provide access to the plumbing under the sink(s). If your pipes run down closer to the floor than the vanity will cover, you might choose a different style or consider adding extra features to hide the pipes completely.
In some instances, you might decide that you need to relocate the plumbing. If so, you must discuss this with your contractor and/or plumber to determine the best option for the new cabinet.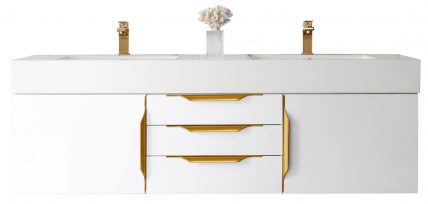 59 Inch Double Sink Bathroom Vanity in Glossy White with Radiant Gold Pulls
7. Are wall-hung vanities safe?
Wall-hung vanities are completely safe if properly installed and secured to the wall. These cabinets have weight limits that must be followed, including the weight of the countertop material you choose. That's why additional blocking is sometimes required with installation—heavy materials like marble might require extra support.
Related: Bathroom Trends For 2023
8. Are floating vanities good for small bathrooms?
Floating vanities are ideal for small bathrooms. Not only do they free up floor space, but there are shallow cabinets that also don't stick out as far, giving the room even more space than a traditional vanity cabinet could offer. If you choose a white vanity, it can even open up the space more by reflecting light off the cabinet and floor, creating the illusion of a bigger room.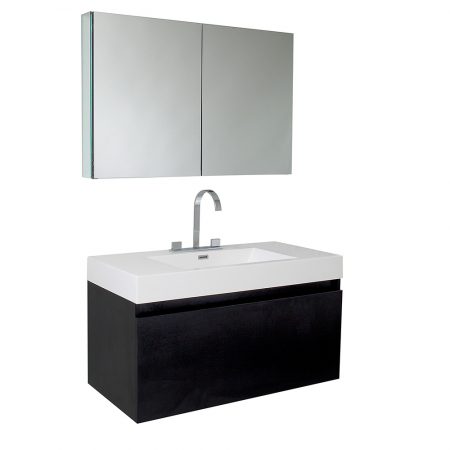 9. How much weight can a floating vanity hold?
Each vanity will have its own weight limit. However, most vanities range around 200-220 pounds, while those made of solid wood could hold up to 300 pounds or more. This depends on the cabinet, its installation, and other factors. Ensure that the cabinet and the counter are factored into the weight limit. Don't let children sit on the vanity for several reasons, including that it could be a safety risk related to the weight limit.
Related: How To Get The Most Space From A Small Bathroom
10. Can you put granite on a wall-hung vanity?
Granite is a popular choice for wall-hung vanities and other bathroom vanities. It's been a popular selection for kitchens and baths for several years, and for good reason. Granite is durable, and every slab is unique because it's a natural stone. It looks great with floating vanities because it lends to the modern, sleek look that they are known for. Plus, because it comes in several colors and styles, you can get a look as unique as your taste.
72 Inch Double Sink Bathroom Vanity in Ash Gray with Electrical Component
The Final Call
So, you have everything you need to know about floating bathroom vanities to determine whether they're the right choice for your bathroom upgrade. Remember to compare all the options, and if you do choose floating vanities, have them professionally installed for safety and proper function.
Related: Advice From The Experts: How To Choose A Bathroom Vanity

---
My name is Julia Ritzenthaler, Founder and President of Unique Vanities, started in 2005. I started this business as an extension of our residential remodeling business, which focused on the design and build of custom cabinetry and architectural trim. I also worked as a financial advisor for 10 years at Ameriprise Financial, helping clients make sound money decisions, including budgeting for home improvement expenses. This expertise led me to start Unique Vanities, which offers a handpicked selection of high quality bathroom vanities, sinks, mirrors and more. You can find me most days sitting in Starbucks, my second office, or in my car driving my daughter across Dallas to gymnastics training.
---