Choosing a bathroom vanity is no easy feat. It might seem simple enough at first, but when you go to start shopping, you'll be inundated with thousands of different potential designs, products, and options. That's why it helps to be prepared by taking the time to learn about the process and what to expect.
What better way to do that than with advice from the experts on choosing the ideal bathroom vanity? Although it's largely a matter of personal preference, some factors need to go into your decision. Read on to learn all about how to choose the right bathroom vanity and what that entails.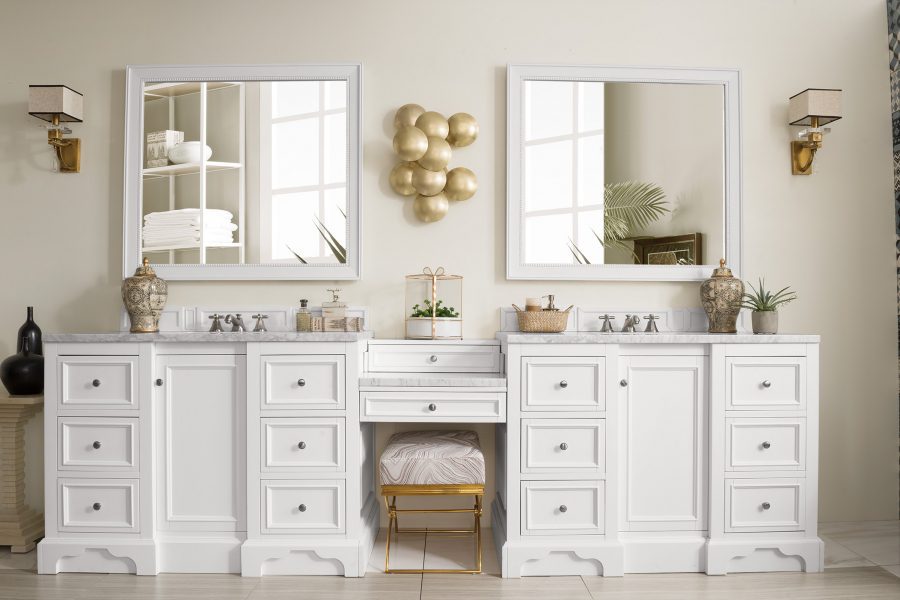 118 Inch Double Sink Bathroom Vanity with Makeup Table and Electrical Component
Where do you Start When Choosing a Bathroom Vanity?
This is a common concern of people who are renovating for the first time—where do I even start? There's a lot involved in choosing a vanity, but it's just like anything else. You need to start at the beginning. Take the time to consider the space you're working with and what size vanity would fit, your current plumbing situation, who the space is for, and other factors.
Of course, the biggest factor is size. If you don't have the space, you don't have the space.
Related: 8 Questions About Bathroom Vanities

Space and Size Considerations
As mentioned, you need to take size and space considerations into account first and foremost. You should think about the width and depth of the vanity cabinet that you are choosing. The height is usually standard, somewhere between 32 and 36 inches, although some vanities are as short as 30 inches for those who need them.
If you have limited bathroom space, you may only be able to fit a small vanity. Measure the area where your vanity will go. Make sure that you leave space to allow for things like corners, vanity cabinet doors, and other details that can impact the function of the vanity and the way it looks in your space.
Along with size, you'll also want to decide whether you want a single-sink or double-sink vanity.
Related: The Rise In Popularity Of Black Bathroom Vanities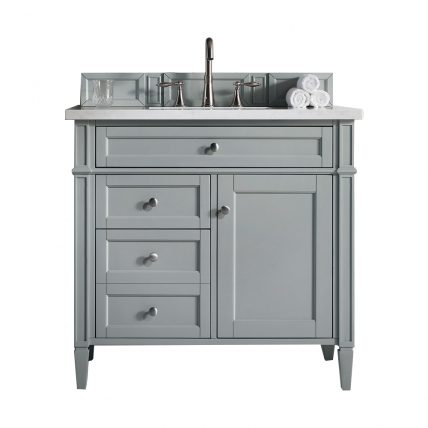 36 Inch Single Sink Bathroom Vanity with Choice of Top
Plumbing Considerations
Where is your plumbing currently located? Is there plumbing for a single sink or is your bathroom set up with double sinks? If you don't want to re-route plumbing or have a lot of work in this regard, you'll need to choose a vanity that fits with your existing plumbing. You will need to measure from the plumbing to the edge of the cabinet to ensure that it fits properly and can be centered in the space. If the plumbing is offset, you may have to make some adjustments.
Most people stick with the same type of bathroom vanity so that they don't have to completely re-plumb the bathroom. However, you shouldn't let that stop you—if you find a vanity you like better, go for it, even if you need new plumbing. It'll be an investment well-made.
60 Inch Small Rustic Double Sink Bathroom Vanity
Who's Using the Space?
Bathroom vanity size, style, and features will also depend on who is using the space. A master bath might need a bigger vanity with extra storage for all the toiletries and personal effects. A smaller shared bathroom or half-bath may require a much smaller cabinet, or even allow for a pedestal sink where there isn't any storage available. If you have small children or older adults in the home, or anyone with limited mobility, a floating vanity could be a great choice to increase accessibility.
Think about the people who spend the most time in the bathroom and which vanity would best accommodate their needs. This includes features as well as sizing and other elements.

Do You Need a Single Sink Vanity or a Double Sink?
One of the biggest questions people have about installing a bathroom vanity is whether they should choose a single or double vanity. This depends on the space that you have available and what kind of vanity storage or function you need. Also, bear in mind that the option of single vs. double doesn't mean that you have to have two sinks. While a double vanity will always include two sinks on a long counter, you could easily install a vanity counter that looks like it's meant for double sinks but only has one.
Sizing and choosing between single or double sinks are two different factors and they should be considered accordingly. Single vanities are the most common choice, but they aren't the only option that you have today.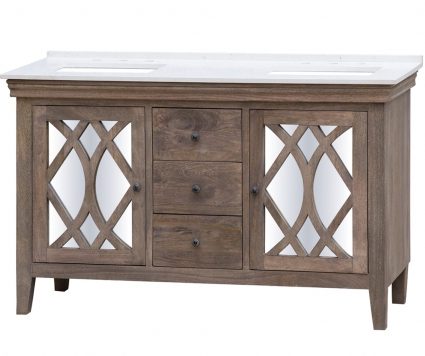 58 Inch Double Sink Bathroom Vanity in Mango Wood
What Should You Look for When Buying a Bathroom Vanity?
So, when it comes time to buy your vanity, what should you be looking for? Ultimately, the answer is whatever you want for your space. With that in mind, of course, here are some considerations that you should have on your shopping list.
Style
The style of bathroom vanity with sink that you choose is an important factor. You can find vanities to match just about every design aesthetic out there, from rustic to traditional to modern and everything in between. Modern designs offer clean lines and contemporary looks, while traditional bathroom vanities have more of that classic furniture-style finish. Transitional vanities are those that include both modern and traditional elements and can make a great piece in any space where you want to embrace the best of both of these designs.
You can also choose rustic farmhouse designs, which are popular right now, to create a more classic, country look that is warm and inviting. If you want to make shopping for your vanity easier, figure out which style you like best and go from there.
Related: 2023 Design Trends To Watch For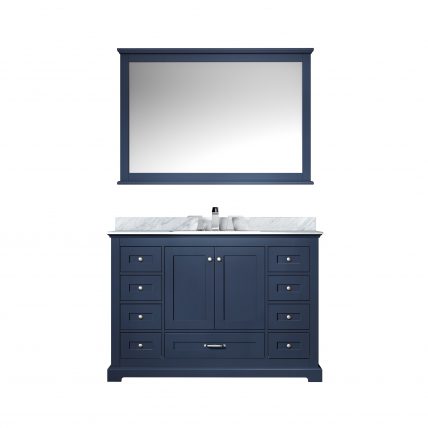 48 Inch Single Sink Bathroom Vanity in Navy Blue with Choice of No Top
Size
As discussed, size is the biggest factor in buying the right bathroom vanity. The good news is that when you're shopping online, you can narrow your search based on the size of vanity that you need. They are usually classified by width, such as categories for:
30 inch vanities
32 inch vanities
36 inch vanities
48 inch vanities
60 inch vanities
72 inch vanities
When you shop by size, you're automatically ruling out anything that doesn't fit your space. However, you might want to consider a few different sizes if you have some room to play so that you can get the perfect finished look.

Mounting Type
Most bathroom vanities stand on the floor and are secured to the wall. However, there are what we call a floating bathroom vanity available that are mounted directly to the wall and kept entirely off the floor. The floating vanity will be great for people who want to free up more floor space but still need vanity storage. Consider standalone vanities, wall-mounted styles, and other options to figure out what best suits your space.
Related: Floating Bathroom Vanities: What You Need To Know
42 Inch Single Sink Bathroom Vanity in Light Mango Wood
Materials
Bathroom vanity cabinets come in almost as many materials as their designs. You can find a variety of wood vanities, including solid wood, bamboo, wood laminate, and even materials that are designed to look like wood, but without the actual wood involved. Then, some vanities are made of particle board or MDF that is more affordable but may not be as durable as solid wood. If you are using solid wood, make sure that it's sealed and properly waterproofed.
Features
Finally, you'll want to make sure that you choose a vanity that has all the features that you want. This includes the drawers and doors available for storage, as well as a sink installation that suits your needs. If there are other features, such as the hardware, that catch your attention, make note of that as well. With modern vanities, you have a lot more features to consider than you may think. Take advantage of that to get the perfect bathroom vanity for your space.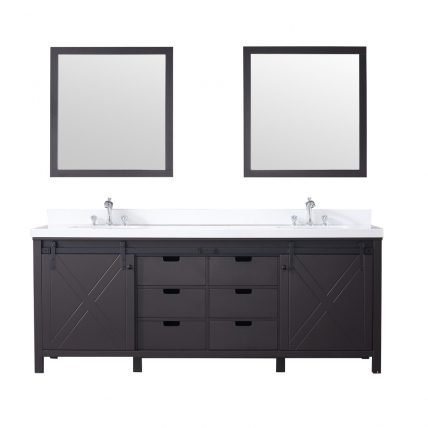 84 Inch Double Sink Bathroom Vanity in Brown with Barn Style Doors
What Are Some Considerations in Choosing a Bathroom Vanity Top?
So once you've got the vanity that you like, what about the top? Some vanities are sold with a counter and/or sink included or already installed. Others are just cabinets that can be fitted with any top that you like. Still more are sold with the option of different counter materials based on your needs. How do you choose?
For starters, think about the durability of the material. In the bathroom, you want something that can stand up to all the regular use, water, and other elements. You'll also want to consider the color and finish of the vanity top, including how it accents the rest of the space. Most people choose granite or marble for bathrooms when they want a high-end finish, but you have a lot of different options.
Choose a vanity top that matches the design of your space, provides the durability you need, and that fits your new vanity like a glove.
Related: Tips To Care For Your Bathroom Vanity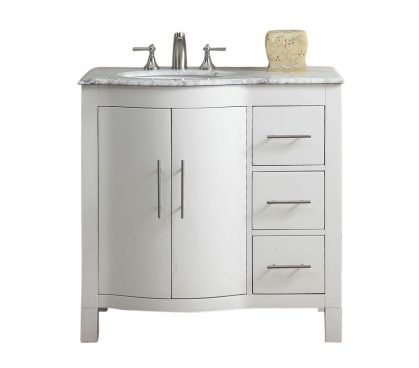 36 Inch White Single Sink Bathroom Vanity with Offset Sink
The Bottom Line
As you can see, choosing a bathroom vanity has a lot of considerations and comes down to an individualized decision. What works for your bathroom may not be ideal for another, and vice versa. Remember that size and function should be at the top of your list but don't forego style because you can find a lot of vanities that can deliver both. You should also consider checking out sites like Pinterest for inspiration on bathroom design and vanity selection to help you in selecting your new fixture.

---
My name is Julia Ritzenthaler, Founder and President of Unique Vanities, started in 2005. I started this business as an extension of our residential remodeling business, which focused on the design and build of custom cabinetry and architectural trim. I also worked as a financial advisor for 10 years at Ameriprise Financial, helping clients make sound money decisions, including budgeting for home improvement expenses. This expertise led me to start Unique Vanities, which offers a handpicked selection of high quality bathroom vanities, sinks, mirrors and more. You can find me most days sitting in Starbucks, my second office, or in my car driving my daughter across Dallas to gymnastics training.
---
Resources
https://www.build.com/vanity-buying-guide/a23220
https://www.badeloftusa.com/buying-guides/choosing-bathroom-vanity/
https://www.wayfair.com/sca/ideas-and-advice/renovation/how-to-choose-a-bathroom-vanity-T1156
https://www.houzz.com/magazine/how-to-pick-out-a-bathroom-vanity-stsetivw-vs~7688299
https://www.laurysenkitchens.com/blog/how-do-i-choose-a-bathroom-vanity/
https://riverbendhome.com/blogs/advice-ideas/how-to-choose-the-right-vanity-for-your-bathroom