Black is the New Black!
The vanity is one of the mainstays in the bathroom. It's also a focal point that sets the tone for the rest of the space. Vanities come in all styles and sizes, and they're functional pieces that can also provide the storage that you need for toiletries, towels, and more.
What about black, though? You've likely seen them by now – the stunning black finishes with complementary hardware that offer a sophisticated, stylish look unlike anything that you've seen before. Some people feel like black is a color that's too dark for a bathroom, but there are plenty of bathroom designs that include black vanities that prove that wrong.
60 Inch Single Sink Bathroom Vanity in Black with Choice of Top

Are Black Vanities Bath Trending?
As people continue to look for the best design trends, black vanities are getting a lot of attention. While many people assume that black vanities are all designed in the modern style, there are actually quite a few options out there today, including contemporary vanities, traditional vanities, and even transitional styles that feature a rich black finish and create a statement piece in any bathroom.
There are a lot of ways that people are incorporating black into their bathrooms, but the vanity is the one that makes the biggest statement. Espresso and dark brown vanities have been trending for some time, and it's allowed many people to realize that they can go completely dark with a black vanity and still create a stylish space that doesn't feel too dark.
Black vanities are hot right now—single sink vanities, double sink vanities, a wall hung unit, it doesn't matter. You'll find plenty of them to choose from and you'll love that this is the trend you chose to embrace in your new bathroom design.
Related: Top 10 Modern Bathroom Vanities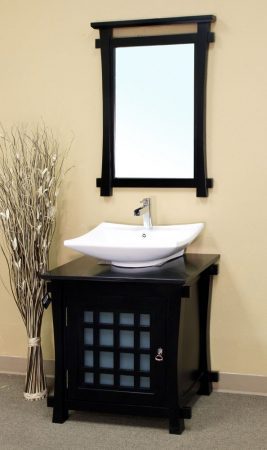 30 Inch Single Sink Bathroom Vanity in Black
Timeless Styles and Modern Finishes
As mentioned, black vanities come in several styles and finishes, just like other colors. You can choose from freestanding vanities, including those that are more traditional with antique finishes like carved feet and those that are more modern with simple, clean lines. You'll also find wall-mounted vanities in black if you want an ultra-modern look that also frees up some floor space.
You will be able to choose from vanities with cabinets, drawers, and a host of sink and size options, including vanities ranging from 18 inches all the way up to 72 inches or more. Your new bathroom will never look better than with a stylish black vanity to change things up. Once the room is complete, you might be surprised at just how much you like it.
Related: 8 Questions About Bathroom Vanities
48 Inch Single Sink Bathroom Vanity in Black with Choice of Top
What Are the Benefits of Black Vanities?
There are several benefits to be had from choosing black as your vanity color. It is a shade that comes with endless possibilities. It's versatile and can deliver as much warmth for a traditional look as it does for a modern design. Although white looks clean, it can also project an image of too sterile or cold, and that's not what anyone wants.
In addition to a black vanity, you can add earth tones in the counters and floors, soft finishes and brass or antiqued hardware and create a warm, inviting space that is more inviting than you may have anticipated. At the same time, the color can add drama if you choose bright colors instead of warm ones—imagine a black vanity against a vibrant yellow or even a deep red wall.

Whether it's drama or warmth that you want, or both, black definitely offers a good starting point. It also epitomizes the modern style. If you're looking to create a more contemporary space, black vanities with clean lines, sleek hardware, and a monochromatic finish around the rest of the bathroom will do the trick. You can contrast with white for a dramatic modern look or keep things dark for elegant modern design.
If you like a little of both (modern and traditional), black also delivers in that regard. It's the perfect touch to a transitional space where you can mix your favorite aspects of these two styles and create a room that is unique and eye-catching without having to commit totally to one style or another. And that will create an even more timeless look in the space, adding yet another perk.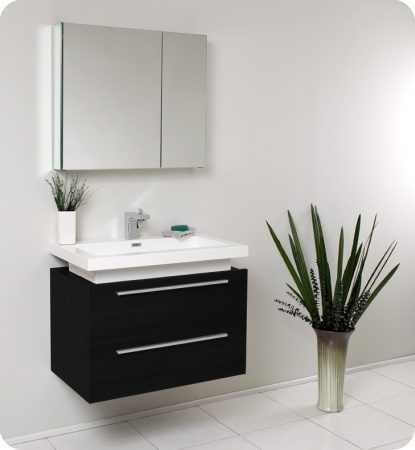 How Do You Offset A Dark Vanity with Other Decor?
If you don't want to go completely dark, you can choose other colors, styles, and finishes for the rest of the space that will accent the black vanity without creating a space that looks closed-in and uninviting. Here are some considerations when finishing your bathroom renovation or just adding details to accent and incorporate that new dark vanity.
Accents
Choose soft accents and light colors. Consider hardware that's made from brushed nickel, chrome, or another light material that offsets the black. Consider towels in the off-white or taupe family if you want a warmer appearance. You can also choose grays for your accents, towels, and accessories if you want to stick with that modern, monochromatic look.
Countertops
You'll have two choices here: complete the dark look or go light for a nice contrast. There's no right or wrong answer, either. You have to decide what works for you. Those who want an upscale contrast like to use materials like Carrera marble, granite, and other stones in a light or white color. Some people choose black granite or a marble top to add drama to the entire vanity. Still more may want a brown shade, or another earth tone. In addition to color, you'll want to consider what material goes best with your vanity—this dramatic look is usually best with bold colors and high-end finishes, so keep that in mind.
Lighting
Lighting is everything in a bathroom, and even more so when you choose a black vanity or another dark color. Make sure that you consider a light fixture or fixtures that include enough ambient light, task lighting, and accent lighting for the room. Brighter bulbs or lighter will help keep the space from feeling small. You can find light fixtures in traditional, modern, and plenty of other styles so don't worry about having to compromise on style, either.
Related: Incorporating The Vintage Look Into Your Bathroom

Hardware and Fixtures
When choosing a black vanity, one good way to offset the dark finish is to choose lighter hardware and fixtures. For example, you might choose black with polished chrome for a sleek modern look, or you could choose antique brass or copper-colored hardware to add a warm, traditional touch with the hardware on your vanity and throughout the bathroom. Think about switch plates and outlet covers, too, because those can be a great simple accent.
Think about fixtures that will best offset the style of the vanity. Choose faucets that fit your taste and feel free to look around online to get inspiration for the perfect fixtures and hardware for your new bathroom so that you can show off that black vanity for all that it's worth.
Paint
The paint color that you choose will also help finish off the look of your space. If you want to create a simple, clean contrast, stick with whites and other light shades, such as taupe or tan, so that the room doesn't feel closed-in. If it's done well, or if you have a larger bathroom, you could choose a darker earth tone for the walls to complement and create a warmer finish.
For those who like to go bold, take a hint from the tips above and use a bright color, such as a bright green or more vibrant purple, to create a statement that will definitely get people's attention. The bright colors of the 80s are coming back into style for those looking to embrace a modern trend that can be the envy of all your friends.
While you're doing your planning, take the time to look at different bathroom designs that feature black vanities and see what they do with the walls—from tile to paint and more, you'll be surprised at all the options that you have.
Related: Remodeling A Bathroom On A Budget: Where Should You Focus Your Money?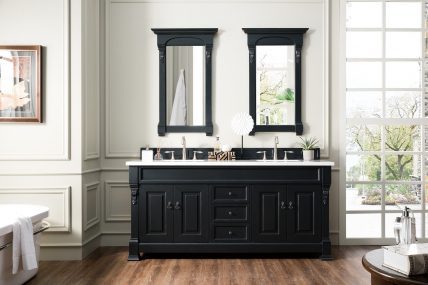 72 Inch Double Sink Bathroom Vanity in Antique Black
How to Choose Your New Black Bathroom Vanity
There is no exact formula for getting the perfect vanity. You simply have to take the time to see what's out there and find what you need in terms of:
Size
Style
Counter space
Number of sinks (single- vs. double-sink vanities)
Storage
Consider everything that we've covered in this guide on making the most of black vanities. And if you've already fallen in love with a black vanity and you were just seeking a little reassurance, go for it! This could be the bathroom makeover that you didn't know you needed.
Embracing trends can sometimes work in your favor, and this is one of those times. Although some people are initially off-put by the idea of a black bathroom vanity, once they see what it actually looks like, they realize it's a lot more desirable than they anticipated. If you want to make the most of your new black vanity, keep the factors in mind above while you're looking around.
So, now that you're confident in your choice, find the perfect black vanity to inspire your bathroom renovation.
Related: How To Install A Freestanding Bathroom Vanity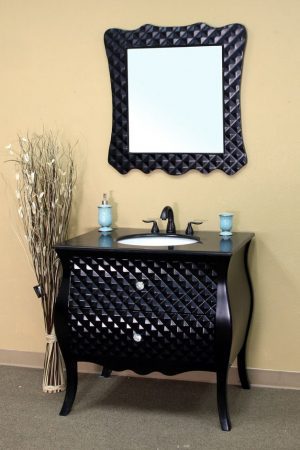 36 Inch Single Sink Bathroom Vanity in Black
---
My name is Julia Ritzenthaler, Founder and President of Unique Vanities, started in 2005. I started this business as an extension of our residential remodeling business, which focused on the design and build of custom cabinetry and architectural trim. I also worked as a financial advisor for 10 years at Ameriprise Financial, helping clients make sound money decisions, including budgeting for home improvement expenses. This expertise led me to start Unique Vanities, which offers a handpicked selection of high quality bathroom vanities, sinks, mirrors and more. You can find me most days sitting in Starbucks, my second office, or in my car driving my daughter across Dallas to gymnastics training.
---
Resources
https://www.modernbathroom.com/blog/post/2022/10/14/benefits-black-vanity-cabinets
https://qpreview.com/bathroom-vanity-color-ideas/
https://www.tradewindsimports.com/blog/decorating-in-black/
https://www.decoist.com/black-vanity-bathrooms/?chrome=1
https://www.homedit.com/black-vanity/
https://www.thespruce.com/black-bathroom-ideas-4153014
https://www.sharperimpressionspainting.com/recent-projects/what-color-should-i-paint-my-bathroom-best-paint-colors