Of all the styles out there today, modern bathroom designs are definitely trending. There are so many unique products and fixtures that cater to the modern look, giving just about everyone something that fits their tastes. This includes a wide selection of modern bathroom vanities that come in all sizes, colors, and finishes, and with a variety of sink and countertop options to help you create the perfect look in your new modern space.
Before we dive into the top modern vanities that you can use to get inspired (or find your perfect fit!), let's talk about what modern style entails and what options you can look forward to with the vanities available today.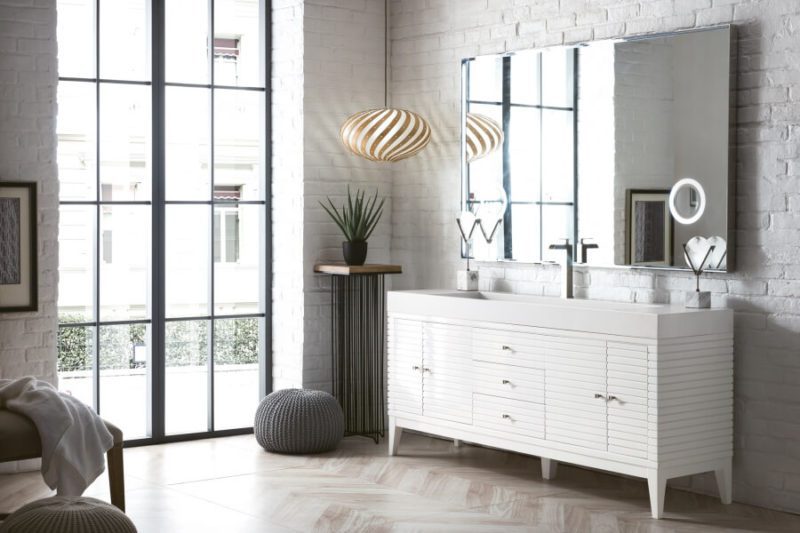 72 Inch Single Sink Bathroom Vanity in Glossy White with Electrical Component
What Defines Modern Style?
Modern style refers to designs that are characterized by:
Clean lines
Minimalist design
Natural light
Natural materials
Monochromatic colors
Complementary hardware
Like all things, modern style means something different to everyone. There are several different styles of modern vanities to choose from today. You can find freestanding units, wall-mount styles that offer that floating vanity look, and even pedestal sinks that give the space a modern touch when you don't plan on using the vanity cabinet for storage or to hide the plumbing.
Like anything, choosing the right style is about finding what's best for you. With that in mind, consider the top vanities below for your new modern bathroom renovation. You're sure to find something to fit your space, no matter what size or style you have in mind.
Related: Remodeling A Bathroom On A Budget: Where Should You Focus Your Money?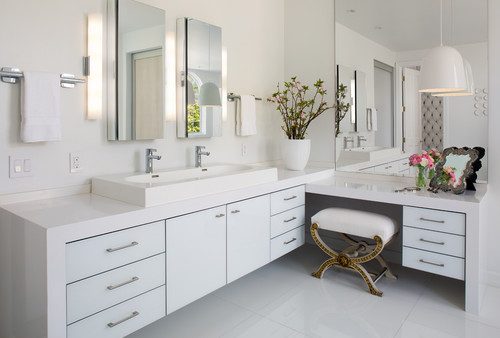 Top 10 Modern Bathroom Vanities
This modern vanity is featured in the ever-popular distressed gray finish and comes with an optional Carrera marble top, as well as chrome hardware to create a sleek, modern finish. It offers room for two sinks with a single-hole faucet, adding even more to the modern look. Plus, there are tons of drawers for storage, as well as two cabinets for larger items.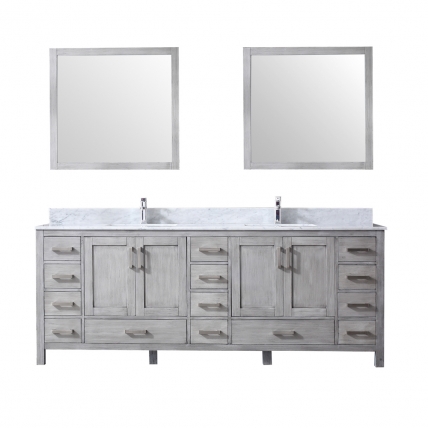 84 Inch Double Sink Bathroom Vanity in Distressed Gray with Choice of No Top
If you're looking for something that's definitely modern with a warm finish, this cabinet is the perfect fit. It also has an electrical component so that you can keep your electrics plugged in and ready to go. The walnut finish and horizontal lines create that clean modern look people love.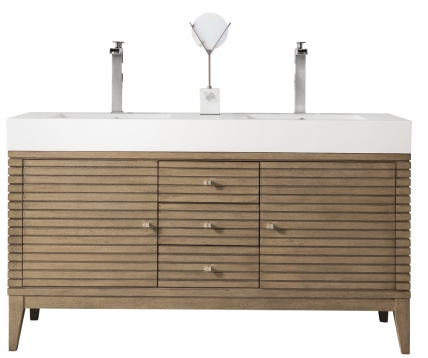 59 Inch Double Sink Bathroom Vanity in Whitewashed Walnut with Electrical Component
For maximum style, this modern vanity features a more traditional look with high-end white marble counters and an espresso finish that looks as rich as the rest of your traditional modern home. In addition to the two sinks, there is a center cabinet set a bit lower, adding plenty of drawers and doors for storage.
Related: 8 Benefits Of A Double Sink Bathroom Vanity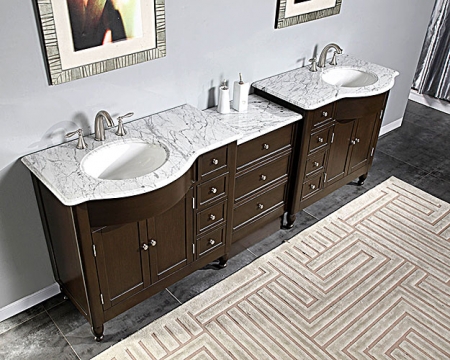 95 Inch Modern Double Bathroom Vanity with White Marble
Blue is in right now, and this single-sink vanity is just one example of how great the style can look. The sleek chrome hardware adds to the clean lines of the design and the floating design offers an even more modern look than a standard floor cabinet. Plus, there's plenty of storage available with two doors and four drawers.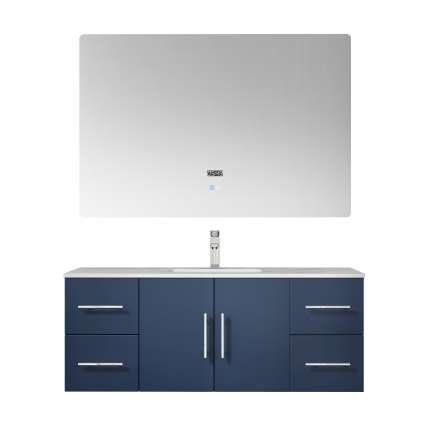 48 Inch Blue Single Sink Wall Mounted Bathroom Vanity
If modern and clean are your style, this white vanity with shelf is a great choice. It fits great in beachy, spa-inspired bathrooms and comes with a Carrera white marble top and four drawers for storage. There is room on the counter in between the sinks, too, which is a nice touch.
Related: 10 White Vanities You Need To See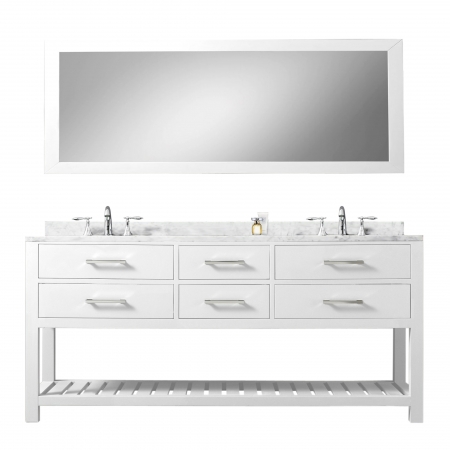 72 Inch Double Sink Bathroom Vanity with Soft Closing Drawers

Vessel sinks are popular because of their modern look, despite being inspired by the sinks of centuries past. This modern vanity features a stylish vessel sink and a simply-designed cabinet that offers storage for small spaces. The unique angled design also adds architectural appeal to your bathroom.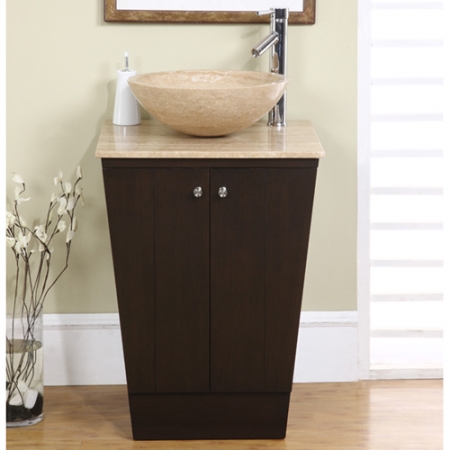 22 Inch Bathroom Vanity with Travertine Vessel Sink
Modern style doesn't get any more perfectly simple than this vanity cabinet. The oak color is sleek and warm while the simple chrome hardware provides a design feature and access to the drawers and doors that are included. This model even comes with a matching mirror and your choice of single-hole faucets.
Related: How To Install A Freestanding Bathroom Vanity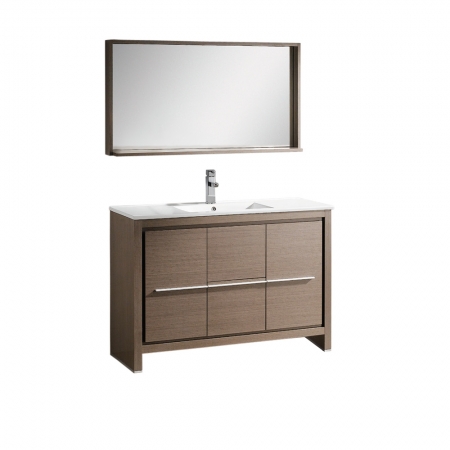 47.5 Inch Single Sink Bathroom Vanity in Gray Oak with Matching Mirror
This bathroom vanity offers cabinets with a shutter-like appearance with wood hardware to blend in seamlessly. It also has several options for tops, giving you customization without having to come up with it all by yourself. The simple feet keep it light and help it stay off the floor to open up the bathroom a little more, too. Seven drawers ensure you never run out of storage space.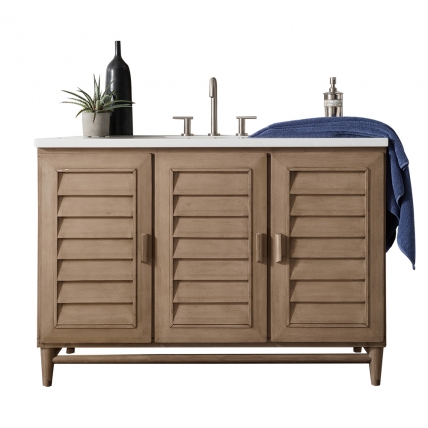 48 Inch Single Sink Bathroom Vanity in Walnut
If sleek, simple modern is your design preference, this vanity has what you need. It's impressively sized so that there's plenty of space between the two sinks. The single-hole faucet finishes off the modern design and the chrome hardware accents the rest of your fixtures and adds to those clean lines that the modern design is known for.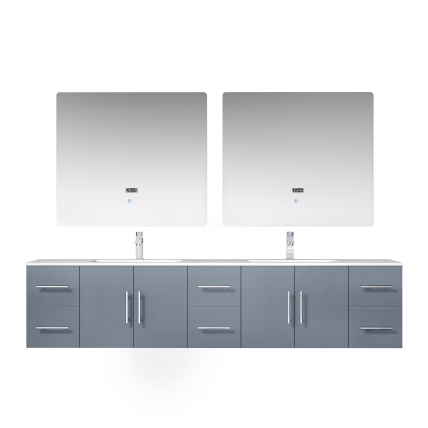 84 Inch Double Sink Wall Mounted Bathroom Vanity in Dark Gray
For those who want a beachy, warm finish, this vanity is a perfect fit. The light wood finish features a textured look and the simple brushed nickel handles add clean lines to the look. It comes with white quartz or no top, and it offers two storage drawers. It's simple, yet stylish, which is the epitome of modern style.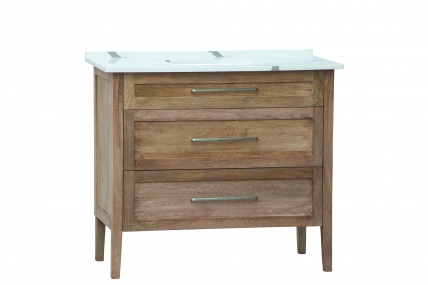 42 Inch Single Sink Bathroom Vanity in Light Mango Wood
The Final Call
There are several modern vanities out there today. And everyone has a slightly different idea of what modern means to them, so we wanted to provide a selection that offers something for just about everyone. No matter which style you ultimately choose, even if it's not from this list, you'll be sure to love your modern bathroom vanity now that you know just how easy it will be to find your perfect fit.
Related: Maintenance Tips For Your Bathroom Vanity

---
My name is Julia Ritzenthaler, Founder and President of Unique Vanities, started in 2005. I started this business as an extension of our residential remodeling business, which focused on the design and build of custom cabinetry and architectural trim. I also worked as a financial advisor for 10 years at Ameriprise Financial, helping clients make sound money decisions, including budgeting for home improvement expenses. This expertise led me to start Unique Vanities, which offers a handpicked selection of high quality bathroom vanities, sinks, mirrors and more. You can find me most days sitting in Starbucks, my second office, or in my car driving my daughter across Dallas to gymnastics training.
---
Resources
https://www.kbauthority.com/news/what-to-look-for-in-a-modern-bathroom-vanity/