When it comes to choosing the right bathroom fixtures, there are several considerations to keep in mind. Today, the market for bathroom fixtures and furnishings is huge. The Internet has expanded the selection available, which makes it easier for people to get something unique for their new space. However, the increased selection can often be overwhelming for some.
To help you get a better handle on your bathroom fixture upgrades, we're going to take a look at all the different elements in the space and what they entail. We'll talk about all the different items that you need to include, what to consider and features to look for, and more. That way, when it comes to choosing your own bathroom fixtures, you'll be prepared to find the perfect mix to create an inviting, stylish space.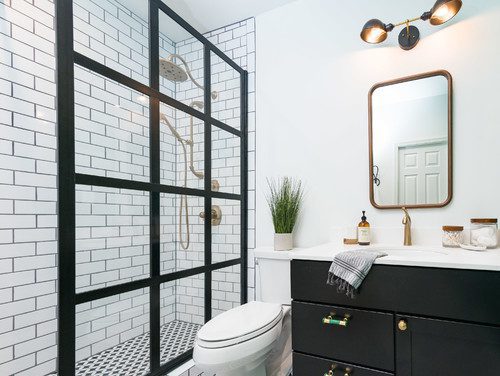 Fixtures 101: The Basics of Every Bathroom
In a full bathroom, you have a lot of different fixtures to consider. While a half or quarter bath might only have a toilet and sink, the main bathroom in the home will have plenty of different fixtures and furnishings that you have to select. Typically, you'll have:
A toilet
One or two sinks (and a bathroom vanity to house them)
A bathtub
A shower
Faucets (or handles) for each of these
Showerheads
Some of these elements are easier to shop for than others. Toilets may have fewer options for variety than faucets or showerheads, for example. However, you still need to go through each category and make sure that you find the perfect fit for your bathroom upgrade, no matter what you have in mind.
Related: Picking The Right Faucet For Bathroom Your Sink And Tub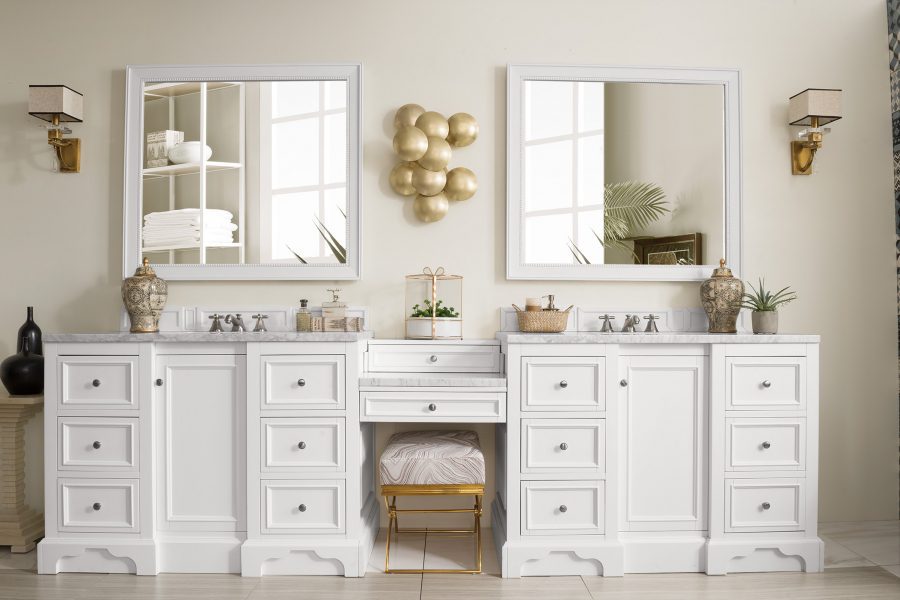 118 Inch Double Sink Bathroom Vanity with Makeup Table and Electrical Component
What Do I Need to Know About Toilets?
Every bathroom needs a sturdy, reliable toilet. It's not a glamorous purchase, but it has a lot more selection than you might realize. Your first choice is going to be whether you want a round or oval (elongated) toilet. The former is great for small spaces, but most people prefer the elongated style because it offers more comfort. If you'd like, you can even sit on a few to get a feel for them.
The next thing you need to consider is what you want in terms of features. Modern toilets can do a lot more than just flush. Some can clean themselves. Others can clean you with built-in bidet features. There are also still plenty of toilets that just get the job done, with no innovations required. What you choose is up to you. High-efficiency toilets can save 0.3.2 to 0.60 gallons per flush as opposed to standard models, so factor that in if you want to save water.
As for height, 16-inch to 18-inch toilets are going to be more comfortable for most people, except for children. 14-15 inches is the standard height for toilets, but that is often too low for many people. Again, this is where it might help to sit on a few models before you decide to see what's most comfortable.
One Piece Dual Flush Toilet with Soft Close Seat
What are All the Different Types of Sinks?
Bathroom sinks come in hundreds of styles and designs. Pedestal sinks save space and modern designs ensure they're anything but boring. You can also choose from a host of inset or drop-in sinks, often called under-mount sinks, which is what most vanities are made for. Bathroom vanities with single and double sink options allow you to select the design that you feel best fits your space.
Today, a popular option is the vessel sink, which sits partially or completely on top of the counter, instead of being inset. It offers a modern style and creates a focal point in the space. You do have to be careful when selecting the faucet for vessel sinks because of issues with splashing, but that's fairly easy to do. Plus, if you're having a contractor help with your fixture upgrades, they might be able to advise on this, as well.
Related: 12 Questions And Answers About Vessel Sinks
Carribean Wave Glass Vessel Sink
What Do I Need to Consider When Choosing a Tub?
The bathtub is another major part of your bathroom upgrade. Are you going to install a shower/tub combo unit that's cost-effective? Perhaps you want a freestanding clawfoot tub or a large soaking tub with room around the edges for a drink and some relaxing candles. The space that you have will dictate what you can install, but you can generally find a lot of different options out there.

Fiberglass tubs are the most affordable option, offering simple durability for small spaces and limited budgets. However, tubs are available in almost any material and style you could imagine.
67 Inch Hammered Copper Single Slipper Bathtub
What About Showers?
The shower itself is a big decision—what type of shower do you want? Perhaps you're going to install a tub/shower combo unit as mentioned above. Maybe you want a separate shower stall. Is it going to be prefabricated or will you have a custom shower built? Will it be a drop-in unit or a custom-tiled design? What about glass doors?
Related: 12 Questions About Farmhouse Bathroom Sinks
Perhaps you'll install smart features in the shower, like a defogger that helps keep steam to a minimum on the outside, or even just a bench to sit and relax while you enjoy the hot water from the shower pouring over you. Today, you can create just about anything you have in mind when you're installing a new shower. Part of that includes the right showerhead.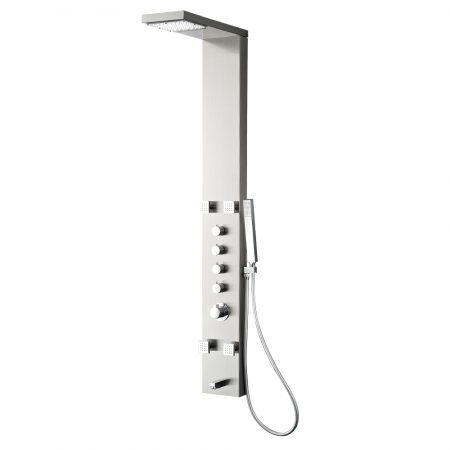 Stainless Steel Thermostatic Shower Massage Panel
What are the Different Types of Showerheads to Consider?
Today, there are a lot more options for a showerhead than many people realize. In fact, custom shower designs have even become popular, allowing people to create a spa-like bathroom space right in the comfort of their own homes. You'll want to choose a showerhead that has good water pressure. However, you should also consider using one that is EPA WaterSense certified to help save water.
You can choose from single-spray, multi-spray, rainfall showerheads, and even handheld showerheads. Today's fixture selection even includes some multi-spray styles that include more than one of these, such as a combination of handheld and rainfall showerheads. If you want to customize the shower, you can choose a sliding bar showerhead, which allows everyone to raise and lower the showerhead to the ideal height.
Rainshower Square Shower Head
Faucets
Several considerations come with choosing the right faucets for your bathroom fixtures. You'll have to select a faucet for your sink(s), as well as for the tub and/or the shower. Usually, you'll purchase these separately from the vanity cabinet, shower, and tub units themselves. This is good because it gives you more selection.

The mounting style of the faucet is your primary concern—what type of mount does the sink or tub have? For example, you may have a center-set faucet on the sink that has three holes: two for handles and one for the spout. You may have a single-hole faucet on the tub that requires the installation of a single knob to turn the water on and from hot to cold.
Related: 10 Questions About Bathroom Backsplashes
Thermostatic Valve Body with Diverter Bathtub Faucet
Vessel sinks also have their own unique faucets that are taller and designed to fit their unique design. There are wall-mounted faucets available, but those are much less commonly found in the bathroom. Once you're sure that you are looking at the right type of faucets, you'll want to consider:
The design and look of the faucet
The finish
Eco-friendly features
Other features or factors relevant to your needs
Choosing faucets is probably one of the most complex parts of outfitting your bathroom with new fixtures. However, it's also one that gives you the chance to create a unique finish on each of the fixtures that you install, so it's worth spending some time on. That, of course, leads us to the next question people have when choosing all these elements: is matching required?
Chrome Single Hole Vessel Sink Faucet
Do Bathroom Fixtures Need to Match?
Some people choose bathroom fixtures that match throughout—the sink faucet and handles, the tub and shower hardware, and even the toilet handle all match. This is not required, however. As long as the fixtures complement each other, they don't have to be identical. It's also possible to match fixtures outside of the tub and shower and then choose something different inside.

Popular Colors and Finishes
As with everything, certain colors and finishes are more popular in the world of bathroom fixtures today. For example, people are choosing a lot of blue shades to create a relaxing feel, while others are selecting gold hardware and fixtures to create that elevated, elegant look. What you choose will depend on your preferences, as mentioned above.
Common and popular fixture finishes in the bathroom include:
Chrome
Brushed nickel
Gold
Bronze
Antique or polished brass
Pewter
Spot-resistant finishes keep the bathroom cleaner, so that's something to consider. You can also choose to install a combination of finishes, but make sure that they have the same appearance (matte, polished, etc.).
Related: Bathroom Trends For 2023
The Bottom Line
As you can see, bathroom fixtures have a lot to offer these days. It can feel a bit overwhelming at first, but if you break it down into individual categories, it will be easier for you to go through the checklist of selecting all the right fixtures for your bathroom renovation or upgrade. No matter your taste, you'll be able to create the perfect space when you keep these things in mind.

---
My name is Julia Ritzenthaler, Founder and President of Unique Vanities, started in 2005. I started this business as an extension of our residential remodeling business, which focused on the design and build of custom cabinetry and architectural trim. I also worked as a financial advisor for 10 years at Ameriprise Financial, helping clients make sound money decisions, including budgeting for home improvement expenses. This expertise led me to start Unique Vanities, which offers a handpicked selection of high quality bathroom vanities, sinks, mirrors and more. You can find me most days sitting in Starbucks, my second office, or in my car driving my daughter across Dallas to gymnastics training.
---
Resources
https://www.deltafaucet.com/il/style-design/how-choose-bathroom-faucet-finishes
https://www.harrisburgkitchenandbath.com/focusing-on-the-details-your-guide-to-choosing-bathroom-fixtures/
https://www.hgtv.com/design/remodel/bathroom-remodel/choosing-bathroom-fixtures
https://interiordesign.lovetoknow.com/bathroom-design/how-choose-bathroom-hardware
https://premiumhardware.net/how-to-choose-the-best-bathroom-hardware/
https://www.lowes.com/n/buying-guide/bathroom-faucet-buying-guide1