Wrought iron sconces add a unique, old-world allure to any living space. In fact, since it was often utilized in early American society as the only type of interior lighting, candle wall sconces are essentially reminiscent of a rustic, romantic time. They are particularly attractive at night, evoking a more relaxed and subdued lighting compared to other conventional lighting sources. Sconces are available with electric bulbs that look just like actual candles. They are available in a wide range of designs and you can often choose between pillar candle style and candelabra style bulbs.
An advantage to using sconces is that because they are relatively inexpensive, you can do as many or as few as will fit in your budget. You can use them as the primary fixture in a room, or as accents to coordinate with a larger fixture. One or two sconces work perfectly in a bathroom and four, one on each wall, look spectacular in a dining room or living room.
Candles are known for their ability to create a warm and relaxing atmosphere with their relaxing and subdued glow. Now you can achieve the same level of relaxation with your light fixtures. Go with low wattage bulbs to preserve an appealing and relaxed feel. A functional alternative would be to utilize a light dimmer switch with stronger bulbs.
Sconces are available in a variety of styles. Contemporary, antique, classic, and more; you'll find a variety of different metals used and many retailers offer the opportunity to choose lamp shades if you decide to go with candelabra lights. Wrought iron is particularly popular and you will find sconces in any style from ornate carvings to simple, clean lines.
Now that you have an idea of what is available, you are ready to incorporate wrought iron sconces into your own home. If you wish to accentuate something with a wall sconce, make sure the sconce coordinates well and doesn't overpower that which you want to accent.
Sconces can be easily mounted to the wall of any room. Most sconces have a plate that connects directly to the wall; then the light extends slightly from the wall. Your new wall sconce should come with easy to follow mounting instruction, so be sure to follow them closely. As with any home project, be sure to keep safety as a top priority. If you are not experienced with electrical projects, consider hiring an electrician to help you.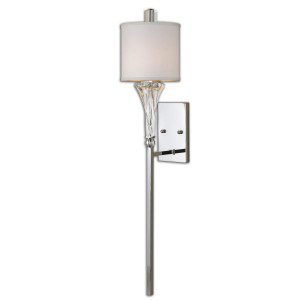 Content Provided by: Julia Ritzenthaler