Wall sconces are really great for hallways, stairways, home entries, and really any living space that could benefit from accent lighting. Adding a wall sconce is just like incorporating any type of new light fixture. The only difference is the location and the kind of fixture box utilized. As with ceiling lights, you can vary the number of lights controlled by a single switch and it's best to affix the fixture box to a framing member as well as the drywall or plaster.
Sconce Lighting Essentials
Sconce lighting can be used to generate a dash of added light to give the illusion that an area is larger than it is. Generally, it is ideal to add wall sconces to one wall where the accent or indirect lighting is necessary. Wall sconces also function particularly well in groups, consider one sconce on the four walls of the room. They are also nice when used to complement another light, such as a dining room chandelier. They are ideal for specific activities, such as reading.
Generally, you should install sconces 72 to 78 inches high. Any lower and they could get in the way and if they are positioned too high they won't cast the appropriate amount of light. When using more than one sconce, position them six feet apart or more.
Not only are wall sconces ideal for adding illumination to darker spaces in your home, but they also do well in generating a particular ambiance or mood in some rooms. You may install a wall sconce in your laundry room to add a bit more interest to an otherwise boring space, or even position one in your dark hallway to make it more warm and cozy. Wall sconces are also great for bedrooms, since they can present light adequate enough when watching a movie or as a nightlight.
Wall scones are a great way to spice up any room in the home. They can be used for a variety of purposes, functional and decorative. A wrought iron sconce will be especially nice for adding a decorative touch. Use them to accent a wall, a work of art, or to add to the beauty of an intricate wallpaper design. Just about any area of your room can benefit from accent lighting with a wall sconce or two.
As with any DIY home project, safety should remain your number one priority. If you are not experienced with electricity, then consider hiring a professional electrician to see you through the installation of your new light fixtures.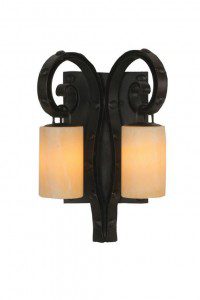 Content Provided by: Julia Ritzenthaler