Wall Mounted Bathroom Sink Faucets: Pros and Cons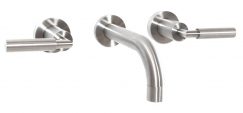 This is a common question we get from clients calling in when designing their bathroom remodeling project. Wall mounted bathroom sink faucets are now growing in popularity, so we thought it would be pertinent to give a brief overview of why we think they "rock," or not.
As far as "pros" are concerned, this style of faucet is mounted above the sink, so there is obviously more space on the countertop to put various bathroom accessories that you might need in your daily routine. Additionally, since this style is just now becoming more "en vogue," you don't see a lot of them in bathrooms. So the "wow" factor is definitely there as well.
There are a few negatives to this style of products however. For one, some of these styles are a bit more expensive. On top of that, to successfully install a wall mounted faucet it needs to be roughed in the exact location of the sink which requires opening up the sheetrock and making sure the faucet and drain are exactly where you want them. To the average DIY person, this can be a little complicated!
Content provided by: Randy Ritzenthaler